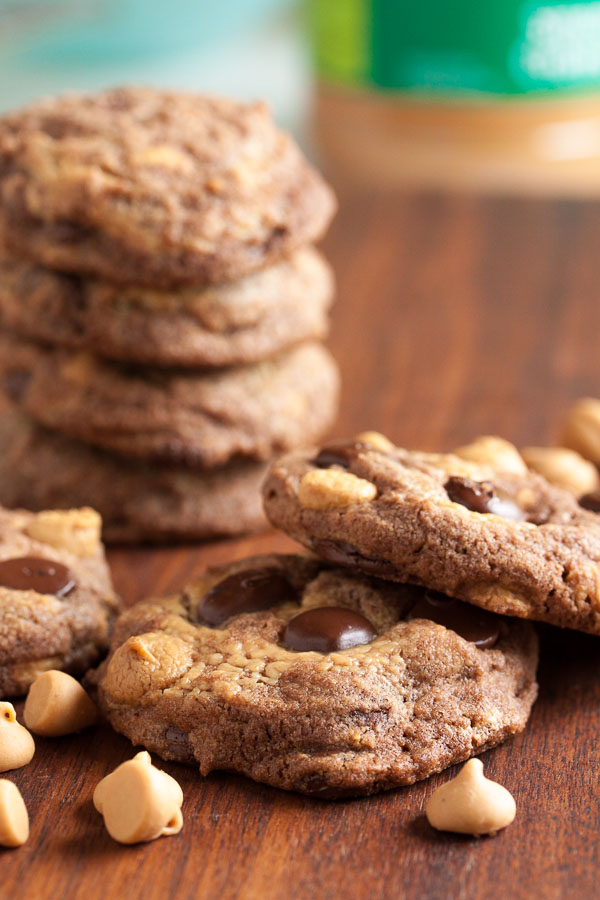 This is my second cookie using the Milk & Cookies double chocolate base cookie recipe. The first time I made them we added coffee flavour to make Mocha Latte Cookies. This time we're adding peanut butter. What's better than chocolate and peanut butter?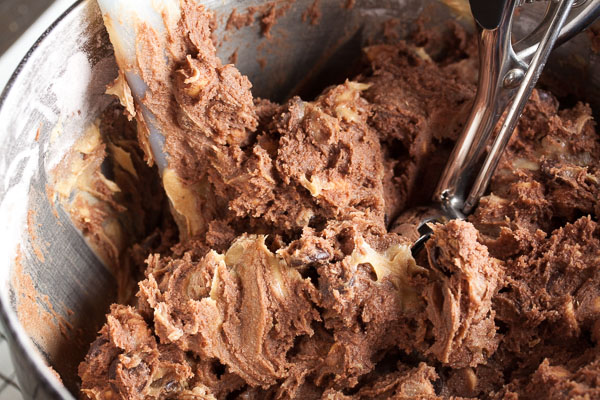 I've made chocolate peanut butter cookies before of course – usually a peanut butter cookie with chocolate chips added, occasionally a peanut butter cookie with melted chocolate mixed right into the batter. This is the first time I've made a chocolate cookie with peanut butter swirled into the batter, not mixed in completely. You want to get those lovely streaks of pure peanut butter. And not only that, but there are lots of chocolate chips and peanut butter chips too.
Wow. What a good cookie.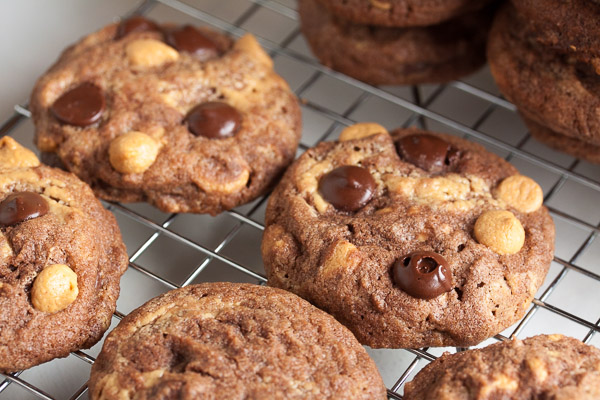 I said the same thing last time I made cookies based on this base recipe – it's a really good basic chocolate cookie. Loaded with chocolate flavour and lots of chocolate chips (so even more chocolate flavour!). Adding peanut butter like this is just a genius move.
The original base chocolate cookie recipe says to bake for about 15 minutes, and so do all the variations. Except for this peanut butter variation. This one says to bake for 20 minutes. But honestly, I found that too long, and I ended up baking them for 16-17 minutes. They would probably be okay even at 15 though, just a bit on the gooey side (and there's nuthin' wrong with that!).
double chocolate peanut butter swirl cookies
Adapted from "Chocolate-Peanut Butter Cookies" from Tina Casaceli's Milk & Cookies. The recipe says it will make 2 dozen cookies (ha!) – I got 82 using my usual slightly larger than tablespoon-sized cookie scoop.
ingredients
2-1/4 cups (281g) all-purpose flour
1/4 cup (30g) Dutch process cocoa powder
1 teaspoon baking soda
1/2 teaspoon salt
1 cup (227g) unsalted butter, at room temperature
3/4 cup (150g) granulated sugar
3/4 cup (165g) light brown sugar
2 large eggs
1 tablespoon pure vanilla extract
1-1/2 cups (263g) semisweet chocolate chips
1-1/2 cups (263g) peanut butter chips
1 cup (250g) smooth peanut butter
Preheat oven to 350°F (177°C).
In a medium bowl, whisk together the flour, cocoa powder, baking soda, and salt. Set aside.
In the bowl of a stand mixer fitted with the paddle attachment, beat the butter and sugars together on medium speed until light and fluffy, about 3 or 4 minutes. Scrape down the sides of the bowl and add the eggs, one at a time, beating well after each. Add the vanilla and beat again to incorporate.
Turn the mixer down to low and add the dry ingredients, mixing until just barely combined. Remove from the mixer and add in the chocolate chips and peanut butter chips, either with a spatula or by hand. I prefer to knead inclusions in by hand to ensure they're distributed evenly. Add the peanut butter and just fold it in gently. Don't mix it completely – you want to keep streaks and blobs of peanut butter throughout your dough.
Using a small cookie dough scoop or by forming the dough into small balls, portion the dough onto the baking sheets about 2 inches apart to allow for spreading. Press each down slightly with the palm of your hand.
Bake for about 16-18 minutes, rotating the baking sheet halfway through the baking time. Allow to cool on a wire rack for a few minutes before removing the cookies from the pan and allowing them to cool completely.