I actually started making this cookie over a month ago, but discovered mid-prep that I was missing both the cranberries and the walnuts. Oops. So I packaged up the already-mixed dry ingredients and set them aside to come back to later. Finally, after all my xmas baking and a nice long relaxing break, I'm ready to tackle them again. This time with all the ingredients at-hand.
This cookie sounded amazing on paper. Chocolate, spices, white chocolate, cranberries & nuts. Yum. In the end? Not so much. I don't dislike this cookie, but it's not what I was hoping for. I'm not saying it's a bad cookie! My coworkers loved them – I got quite a few compliments, and the following week, one of my coworkers said she was really hoping there were some still left over. But I don't think I'd make them for myself again. If I do, I might try substituting dark chocolate for the white chocolate chunks. But like I said, other people loved them – so don't be afraid to give it a shot if it sounds good to you!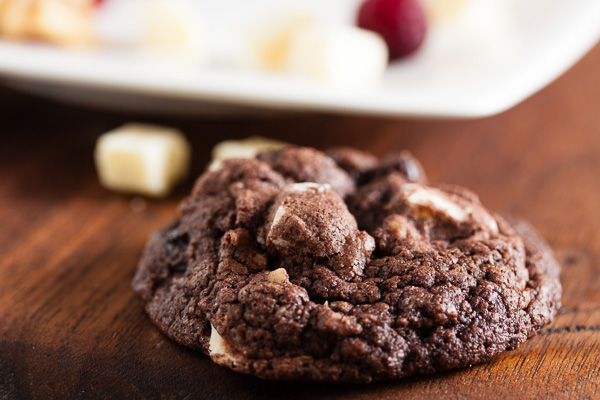 This is the first cookie I brought in after the xmas break. I was a little worried because I was hearing a lot of moaning about how sick of sugar everyone is and that they're definitely not going to be eating any cookies. And yet. They all got eaten. Somehow. Funny how that happens. My coworkers have NO WILLPOWER! Heh.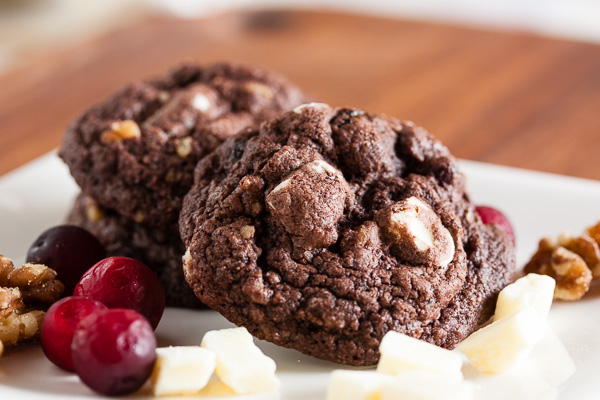 chocolate cranberry spice cookies
Adapted from The Good Cookie by Tish Boyle; recipe originally from Tieaka Blocker. The recipe states it makes about 66 cookies (which is a pretty specific number) – I got pretty close to that.
ingredients
1-1/2 cups all-purpose flour
6 tablespoons Dutch-processed cocoa powder
1/4 teaspoon baking soda
1 teaspoon ground cinnamon
1/4 teaspoon grated nutmeg
1/8 teaspoon ground cloves
pinch of salt
1 cup unsalted butter, softened
3/4 cup firmly packed light brown sugar
3/4 cup plus 2 tablespoons granulated sugar
2 large eggs
1 tablespoon vanilla extract
3/4 cup dried cranberries
7 ounces good quality white chocolate, cut into 1/4-inch pieces
3/4 cup walnuts, toasted and coarsely chopped
To toast the nuts, spread them in a single layer on a baking sheet and toast them in a 350°F oven for approximately 10 minutes, turning them every few minutes or so to cook evenly. They'll start to smell fragrant when they're ready. Allow to cool before chopping and using in the recipe.
In a medium bowl, whisk together the flour, cocoa, baking soda, cinnamon, nutmeg, cloves, and salt. Set aside.
In the bowl of a stand mixer fitted with the paddle attachment, beat the butter and sugars together on medium speed until light and fluffy, about 3 or 4 minutes. Scrape down the sides of the bowl and add the eggs, one at a time, beating well after each. Add the vanilla and beat again to incorporate.
Turn the mixer down to low and add the dry ingredients, mixing until just barely combined. Remove from the mixer and add in the cranberries, walnuts, and white chocolate either with a spatula or by hand. I prefer to knead inclusions in by hand to ensure they're distributed evenly.
Cover the bowl with plastic wrap and refrigerate for at least 3 hours or until firm.
When ready to bake, preheat oven to 350°F.
Form the dough into approximately 1-inch balls (I just used my trusty cookie scoop), and place about 2" apart on a baking sheet to allow for spreading. Bake for about 9-11 minutes, rotating the pan halfway through, until set but still soft. Allow to cool on a wire rack for a few minutes before removing the cookies from the pan and allowing them to cool completely.