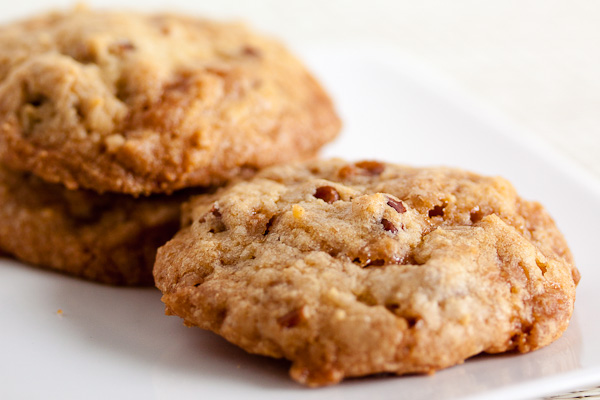 The weather in Vancouver has turned cool and rainy again (boo), and I found myself craving fall flavours. I was looking at a few different ginger cookies, but this toffee pecan cookie won out. It's from Tish Boyle's The Good Cookie. Every recipe I've tried from this book has lived up to that name, including this one. It's a problem – I want to eat them all.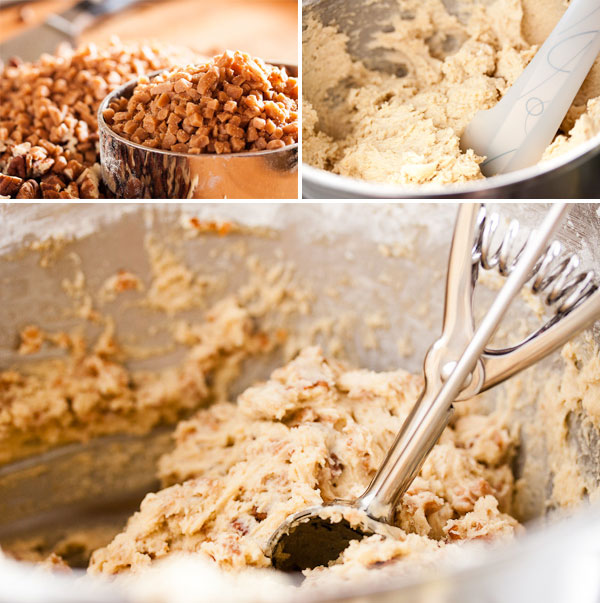 The dough is really soft and sticky. Don't even think about rolling these into balls by hand – definitely use a scoop or a couple of spoons. Not surprising given there are three eggs in this dough.
The inclusion to cookie dough ratio is really high – I was a bit worried they wouldn't hold together, but the bits are so small and the dough is so soft that it wasn't an issue. And the resulting cookie is loaded with bits of toffee and pecans. The best is around the edge where the toffee melted out of the cookie and got even more carmelized. Straight out of the oven, the toffee is soft and gooey. As it cools it firms back up, but doesn't get entirely crisp again because it's melted right into the cookie. The cookie itself stays soft and chewy with a crunch from the toasted pecans.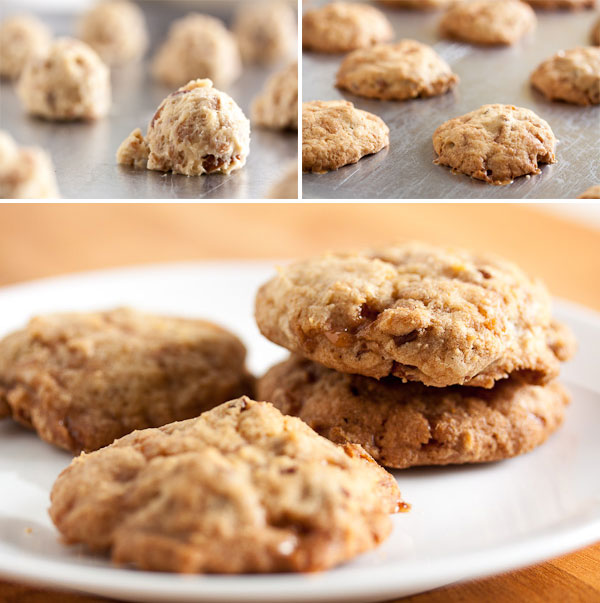 These cookies have an incredibly buttery flavour from all the toffee, and the toasted pecans are a perfect complement. Don't skip toasting the pecans – that extra step really intensifies both their flavour and crunchiness.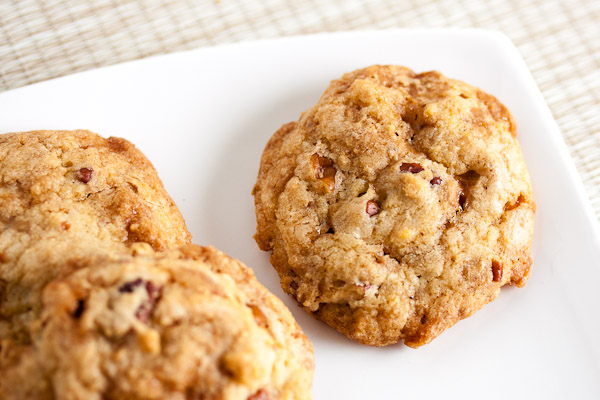 As tempting as it was to keep these all to myself, I took them in to work and my coworkers are loving them. They're a definite crowd-pleaser. One coworker has declared these her new favourite and another said they're the best cookie so far. With most cookie recipes, I find myself thinking of variations or different inclusions to try next time. I can't think of a single thing that could possibly make these better.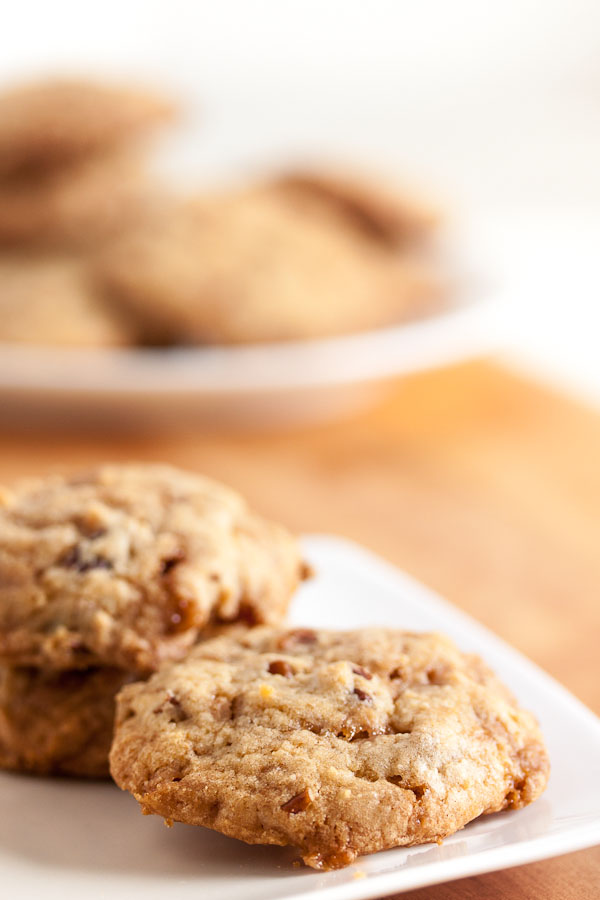 Adapted from The Good Cookie by Tish Boyle. The recipe states it makes about 48, but I got over 90 cookies using a small scoop.
ingredients
2-1/4 cups all-purpose flour
1 teaspoon baking powder
1/4 teaspoon baking soda
3/4 teaspoon salt
3/4 cup unsalted butter, at room temperature
3/4 cup granulated sugar
3/4 cup firmly packed light brown sugar
3 large eggs
2 teaspoons pure vanilla extract
2 cups English toffee bits, such as Skor or Heath
1-3/4 cups pecans, toasted and chopped
Preheat oven to 350°F.
In a medium bowl, whisk together the flour, baking powder, baking soda, and salt. Set aside.
In the bowl of a stand mixer fitted with the paddle attachment, beat the butter and sugars together on medium speed until light and fluffy, about 3 or 4 minutes. Scrape down the sides of the bowl and add the eggs, one at a time, beating well after each. Add the vanilla and beat again to incorporate. The book said the dough would appear curdled at this point, but for me it just seemed like a smooth cake batter.
Turn the mixer down to low and add the dry ingredients, mixing until just barely combined. Remove from the mixer and add in the toffee and nuts either with a spatula or by hand. I prefer to knead inclusions in by hand to ensure they're distributed evenly.
Using a small cookie dough scoop or a tablespoon, portion the dough onto the baking sheets about 2 inches apart to allow for spreading.
Bake for about 14-16 minutes, until lightly golden brown around the edges, rotating the baking sheet halfway through. Allow to cool on a wire rack for a couple minutes before removing from the pan. If you try to remove them too early, they'll fall apart because the toffee is so gooey, but if you wait too long, the toffee will harden and stick to the baking sheet. I learned both these things the hard way... Note: clean-up probably would have been a lot easier if I'd lined the baking sheets with parchment paper.