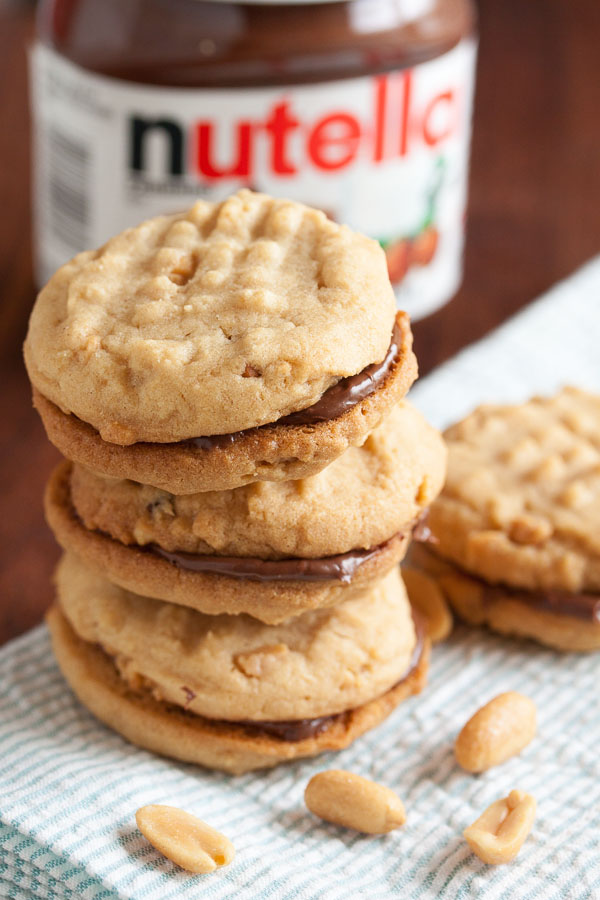 In sharp contrast to these amazing cookies (so amazing), there is sadness at work this week – one of our coworkers is leaving us. Boo. You hear me? You know who you are. Boo. Which is why I wanted this week's cookie to be a little special. Something to remember us by (he's going to miss my cookies most of all, you know it's true). He's told me that peanut butter cookies are his favourites, and I could remember seeing this awesome looking peanut butter sandwich cookie in my travels through my cookbooks one day. I knew I had to find that recipe. Luckily I could remember which of my books it was in (looking for a recipe with no clue which book it's in? not fun.), and even luckier, I'd had the foresight to flag it with a post-it note. We were go for cookies.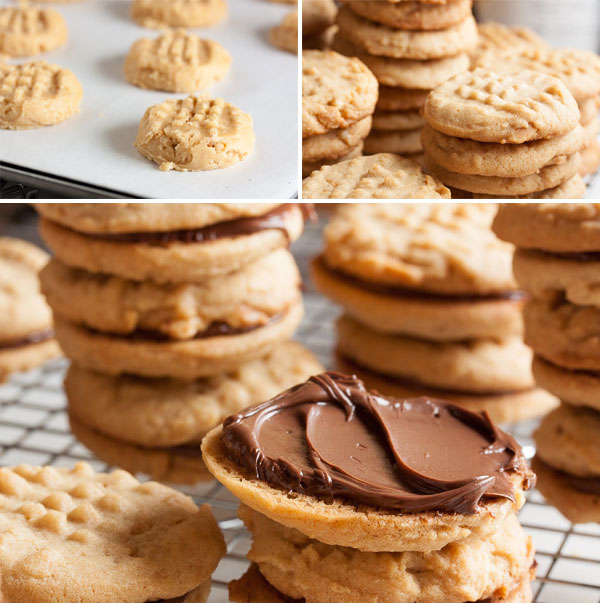 The original recipe just said to measure out the dough and bake it, with no mention of pressing it down first. But the photo of the cookie in the book looked like it had a subtle crisscross pattern in it. So before I baked all the cookies up, I did a test – one not pressed down, and one pressed down with a fork in a traditional crisscross pattern. Pressed down is definitely the way to go. Both versions flattened and spread out, but the pressed down one was flatter and rounder and a better cookie for sandwiching.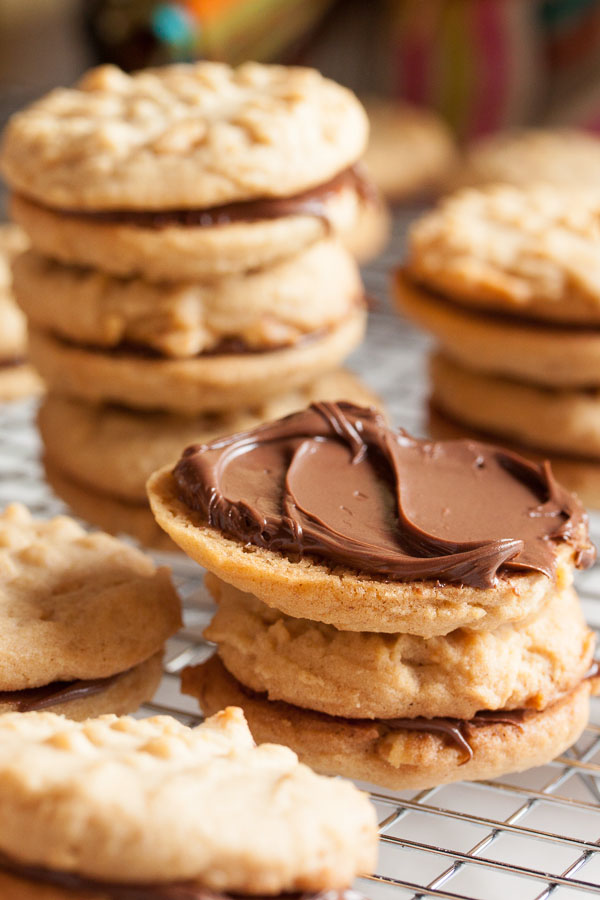 It was also a good thing I did this test for another reason. I used my usual cookie scoop for these first two, and I thought they were way too big for sandwich cookies. They'd be fine on their own, but sandwiching two of them together with filling? I've mentioned before that it's important to know your audience – most of the people I'm sharing these cookies with prefer cookies on the smaller side. They'd be likely to break a larger cookie like this in halves or quarters. Not pretty. So I chose to use a smaller cookie scoop – one slightly smaller than a tablespoon. It's not a huge difference, but it just felt like a better size.
But you go ahead and choose to make them as big as you like! This is totally just my preference.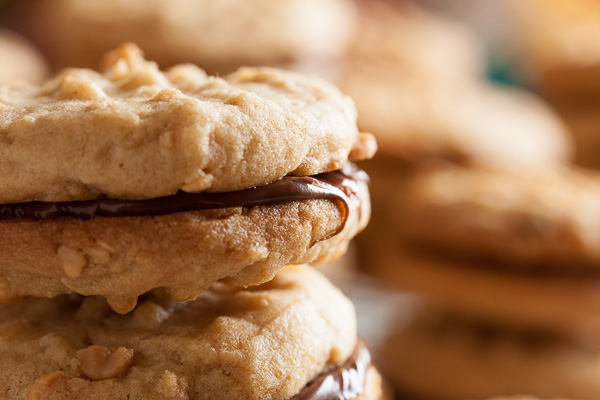 This cookie was huuuuugely popular. They practically flew out of the cookie jar, and I heard a lot of "omg, you have to try this cookie!" comments being passed around. And a lot of people were having them for breakfast (because Nutella is totally marketed as a breakfast food). But really, how can you go wrong with peanut butter cookies and Nutella?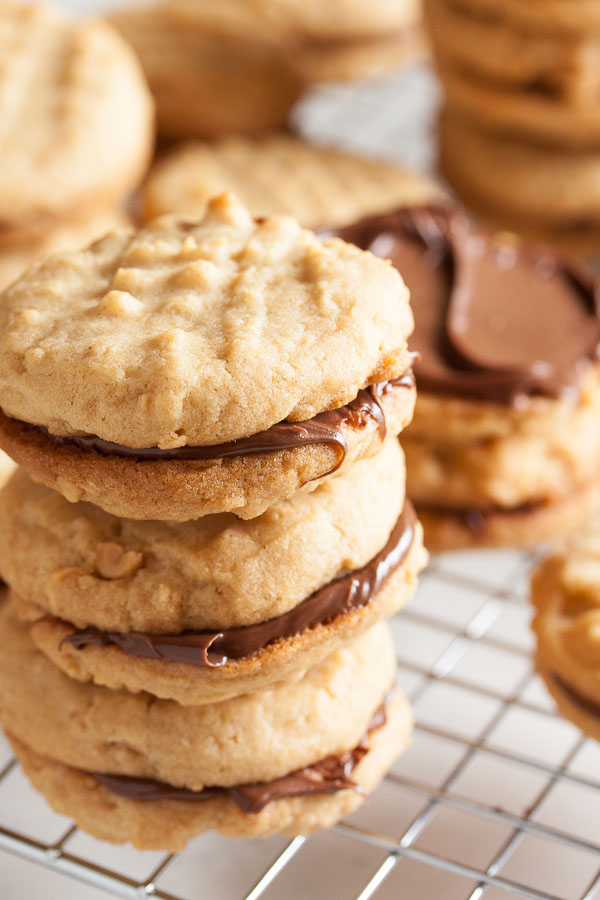 peanut butter nutella sandwich cookies
Adapted from "Peanut Butter Cookies" from Tracey Zabar's One Sweet Cookie, recipe by Marc Murphy. The recipe says it will make about 30 small sandwich cookies, but I got 50 using a slightly smaller than tablespoon-sized scoop.
ingredients
2-1/2 cups (313g) all-purpose flour
1/2 teaspoon baking soda
1/2 teaspoon baking powder
1/2 teaspoon salt
1 cup (150g) roasted salted peanuts, finely ground
1 cup (227g) butter, at room temperature
1 cup (200g) granulated sugar
1 cup (220g) packed light brown sugar
1 cup (250g) peanut butter (either crunchy or smooth is fine)
2 large eggs
2 teaspoons pure vanilla extract
for the filling
13-ounce (368g) jar Nutella
Preheat oven to 350°F (177°C).
In a medium bowl, whisk together the flour, baking soda, baking powder, and salt.
Put the peanuts in the bowl of a food processor with a couple spoonfuls of the flour mixture and process in about 5-second pulses until finely ground (the addition of flour here will help prevent the nuts from turning into nut butter). Add back to the bowl with the rest of the flour mixture and whisk together. Set aside.
In the bowl of a stand mixer fitted with the paddle attachment, beat the butter and sugars together on medium speed until light and fluffy, about 3 or 4 minutes. Scrape down the sides of the bowl and add the peanut butter. Beat again until smooth. Scrape down the sides again and add the eggs, one at a time, beating well after each. Add the vanilla and beat again to incorporate.
Turn the mixer down to low and add the dry ingredients, mixing until just barely combined.
Using a small cookie dough scoop or by forming the dough into small balls, portion the dough onto the baking sheets about 2 inches apart to allow for spreading. Press each down slightly with the tines of a fork.
Bake for about 10 minutes, rotating the baking sheet halfway through the baking time. Allow to cool on a wire rack for a few minutes before removing the cookies from the pan and allowing them to cool completely.
assembling the cookies
Once the cookies have cooled completely, use a butter knife to spread about a teaspoon of Nutella onto half of the cookies. Sandwich together with the other half of the cookies.