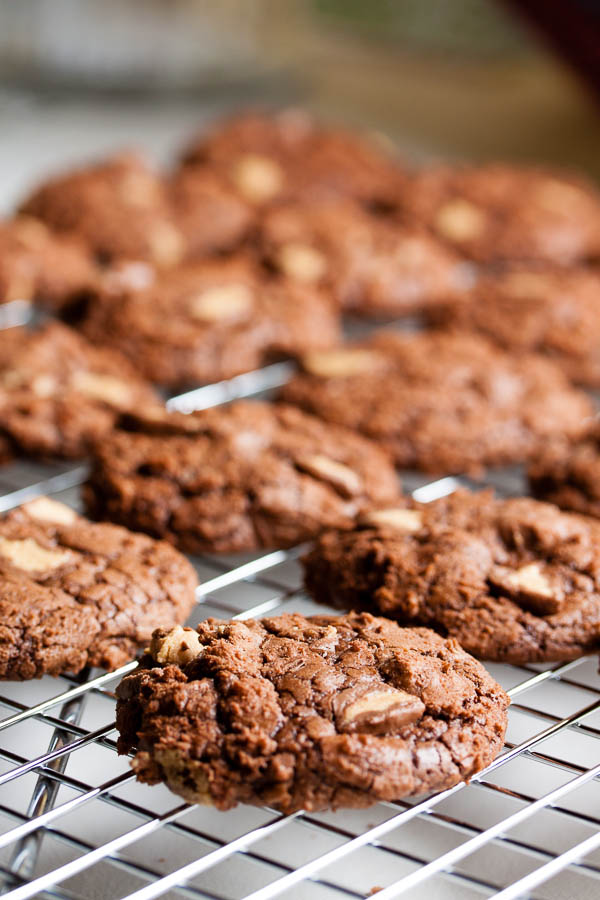 This week's cookie is shamelessly stolen from SugarHero (go check her out – I can guarantee her cookies and photos are much prettier than mine). I'm not a huge peanut butter fan, but the minute I saw this cookie, I knew I had to have it. "Gooey" is absolutely the perfect descriptor.
I mean, don't get me wrong – I enjoy a good peanut butter cookie as much as the next person, but I'm not one of those people who will eat peanut butter by the spoonful straight from the jar. The tag "peanut butter" is generally not enough to make me need to make a recipe (unlike "chocolate" or "lemon" – seriously, look how big those 2 words are in my tag cloud…).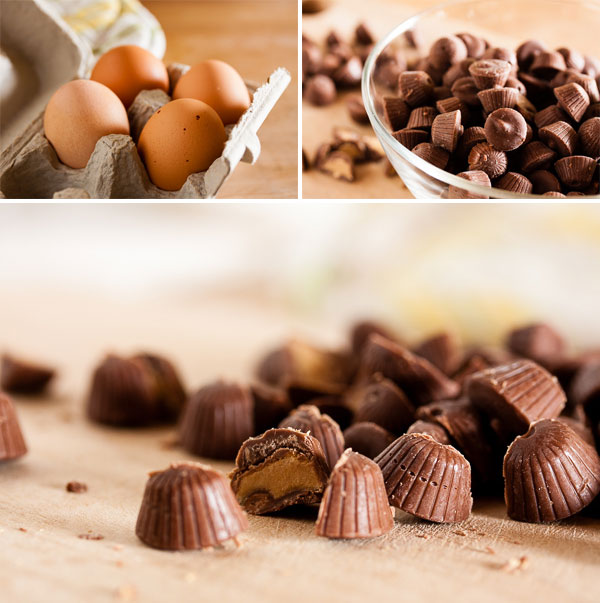 This cookie contains not only a generous helping of tiny peanut butter cups, but also has smooth peanut butter swirled into the chocolate batter. And the chocolate batter? Contains a full pound of chocolate. OMG.
Be sure you use a good chocolate, because that's where most of the flavour of this cookie will be coming from. I used Cacao Barry for mine.
Now I've heard from all the peanut butter cup aficionados that Trader Joe's can't be beat. They're not as sweet as the other brands so you get a truer peanut butter flavour. Also, the mini cups are the perfect size for baking in cookies.
We don't have Trader Joe's up here in Vancouver (although we do have a Pirate Joe's, which is kinda hilarious – they changed their sign to "irate Joe's" after TJ complained). The only brand I could find locally was Reese's, which I find too sweet, and the mini cups are still large enough that they'd have to be cut up before adding to the cookies. So I drafted one of my coworkers into picking up some supplies when she was on a trip to Seattle (thanks Kim!). But then I had so many other recipes I wanted to try that this one kept getting pushed back and the peanut butter cups sat on my shelf for months (I was so strong – I didn't even open the package). But now it's time. The colder weather always makes me crave something gooey and comforting.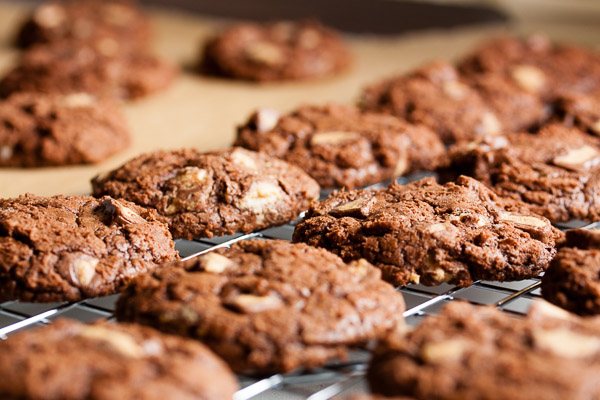 This cookie contains a lot of liquid ingredients, including 4 eggs and a full pound of melted chocolate, and very little by way of dry ingredients. The resulting batter is very thin and runny – it's essentially a brownie batter; and it needs to be refrigerated before it can be scooped and baked.
Fresh from the oven, these cookies are crispy around the edges and – yes, the best word for it is "gooey" on the inside. Once cooled, they're soft and dense and fudgy and chewy. Yes you taste the peanut butter, but this is primarily a chocolate cookie. If you can find them – if they even make such a thing – I think this cookie would be even better with dark chocolate mini peanut butter cups.
This cookie is a huge crowd-pleaser. Most of the people who took one from the cookie jar and walked away turned right around and came back for a second (or third). They were all gone before the end of the second day.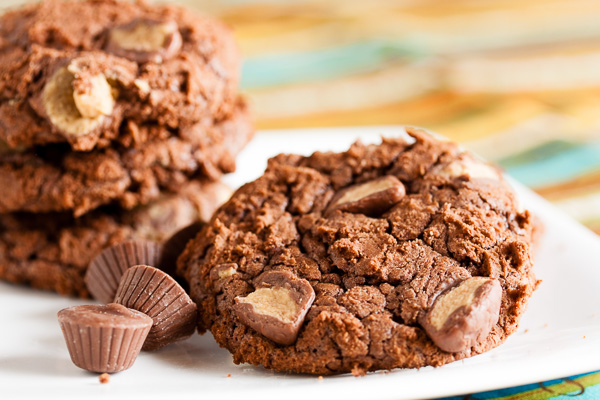 chocolate peanut butter cup cookies
Adapted from "Gooey Chocolate Peanut Butter Cup Cookies" by Elizabeth LaBau at SugarHero. Elizabeth shows her recipe as making 20 large cookies (using a whopping 1/4-cup scoop!), but I got 70 more-modestly-sized 2-1/2" cookies using a smaller scoop (the scoop I used is about 1-1/4 tablespoons).
ingredients
3/4 cup all-purpose flour
1 teaspoon baking powder
1/4 teaspoon salt
1 lb semi-sweet chocolate, coarsely chopped
1/3 cup creamy peanut butter
1/4 cup unsalted butter
1-3/4 cups packed brown sugar
4 large eggs, at room temperature
1 tablespoon vanilla extract
2 cups mini peanut butter cups (conveniently, this is equal to one full 12-ounce package of Trader Joe's brand)
In a small bowl, whisk together the flour, baking powder, and salt. Set aside.
Gently melt together the chocolate, peanut butter, and butter. You can do this by combining them in a microwave-safe bowl and heating in the microwave 15-30 seconds at a time, stirring well after each burst of heat until smooth. Or in the top of a double-boiler or in a heat-proof bowl set over a pot of simmering water. I usually melt chocolate very, very carefully in a heavy saucepan over very low heat, stirring frequently until the chocolate is just melted. Chocolate can scorch really easily, so best to do this slowly and gently.
Set the chocolate mixture aside to cool to lukewarm.
Divide the peanut butter cups into 2 portions – 1-3/4 cup to add to the dough whole, and 1/4 cup chopped in half to top the cookies with before baking (I actually used a bit more than 1/4 cup because I ended up with so many cookies).
In the bowl of a stand mixer fitted with the whisk attachment, beat the sugar and eggs until light and frothy, about 5 minutes. Add the vanilla and the chocolate and continue mixing until blended. Turn the mixer to low and gently blend in the flour mixture. Once that's combined, remove the bowl from the mixer and stir in the 1-3/4 cups of peanut butter cups with a spatula.
The batter will be very runny at this point. Cover with a piece of plastic wrap directly on top of the batter and refrigerate until firm enough to scoop, at least one hour. If you cool it for a longer period, you'll need to allow it to soften at room temperature a bit before you begin scooping.
When you're ready to bake, preheat the oven to 350°F.
Depending on the size of cookie you want, you can use a 1/4-cup cookie dough scoop or a smaller scoop (or anything in between, really) – portion the dough onto the baking sheets about 2 inches apart to allow for spreading. Top each with a few pieces of the chopped peanut butter cups, pressing them into the dough slightly.
Bake for about 12-15 minutes, until the tops are cracked but the centers are still soft when pressed, rotating the baking sheet halfway through. You want these to be soft and gooey, so don't overbake them. Allow to cool on a wire rack for a few minutes before removing the cookies from the pan and allowing them to cool completely.
According to Elizabeth, if you can't eat them fresh from the oven, these are best when microwaved for a few seconds before serving to ensure optimum gooey-ness.
Have I said gooey enough? Do I need to say it again?
Gooey.