It was a busy weekend for me, so my main criteria when picking a recipe this week was "quick & easy". Of course "tasty" is always important, but time was a definite consideration. I had just recently made some oatmeal snickerdoodles (delicious) and that recipe book was still sitting on my coffee table, so I was flipping through it. And oatmeal was still on my mind (isn't it always? between oatmeal cookies and a big steaming bowl of steel-cut oats on a weekend morning – mmmmm.). So when I saw this coconut oatmeal cookies recipe, I thought "yum!" And I knew my coworkers would agree.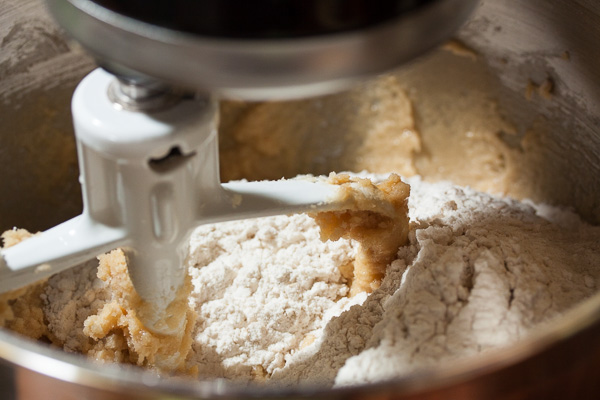 Based on the name, I was expecting these to be similar to the oat and coconut cookies I made last year, which were based on the Australian Anzac biscuits. But while those were dense and slightly crunchy, these are light and soft. They remind me more of a macaroon (not to be confused with macarons, which are another animal altogether).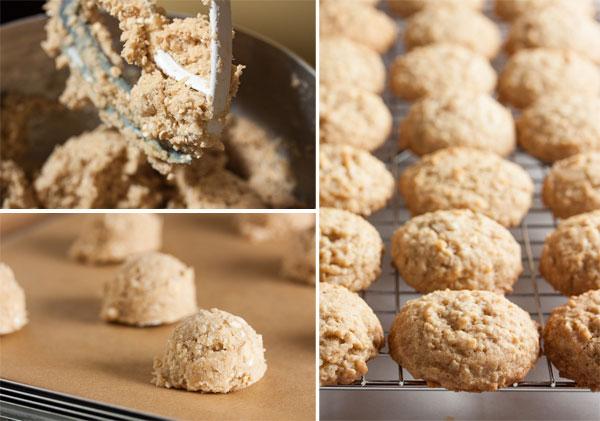 Everyone loved these cookies. The combination of oats and coconut is always popular. If you want to get fancy, I think these would be fantastic with chocolate chips or even some nuts added to the mix, but they're totally great as-is.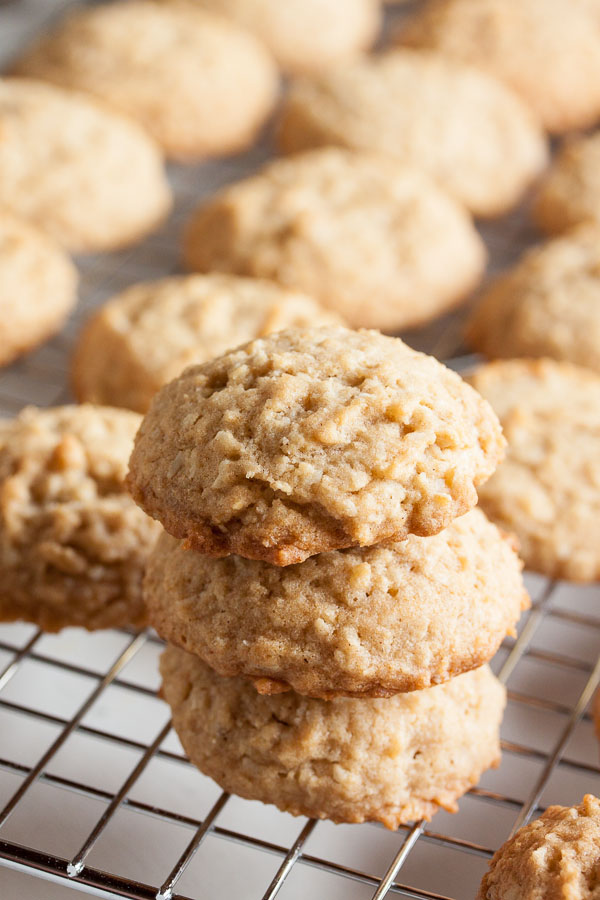 Adapted from Maida Heatter's Cookies. The recipe states it makes about 48 cookies when portioned with a rounded teaspoon. I got 52 cookies using my usual tablespoon-sized cookie scoop.
ingredients
2-1/2 cups all-purpose flour
1 teaspoon baking powder
1 teaspoon baking soda
1/4 teaspoon salt
1/2 teaspoon cinnamon
1 cup unsalted butter, at room temperature
1 cup firmly packed brown sugar (light or dark)
1/2 cup granulated sugar
2 large eggs
1/2 teaspoon pure vanilla extract
1 cup quick-cooking rolled oats (not instant or old-fashioned)
1 cup shredded coconut (sweetened or unsweetened)
Preheat oven to 350°F.
In a medium bowl, whisk together the flour, baking powder, baking soda, salt, and cinnamon. Set aside.
In the bowl of a stand mixer fitted with the paddle attachment, beat the butter and sugars together on medium speed until light and fluffy, about 3 or 4 minutes. Scrape down the sides of the bowl and add the eggs, one at a time, beating well after each. Add the vanilla and beat again to incorporate.
Turn the mixer down to low and add the dry ingredients, mixing until just barely combined. The original recipe says to remove the bowl from the mixer at this point and add in the rolled oats and coconut with a spatula, but I just added them in the mixer on low speed until they were combined.
Using a small cookie dough scoop or by rounded teaspoonfuls, portion the dough onto the baking sheets about 2 inches apart to allow for spreading.
Bake for about 14-15 minutes, until lightly golden brown all over, rotating the baking sheet halfway through the baking time. Allow to cool on a wire rack for a few minutes before removing the cookies from the pan and allowing them to cool completely.