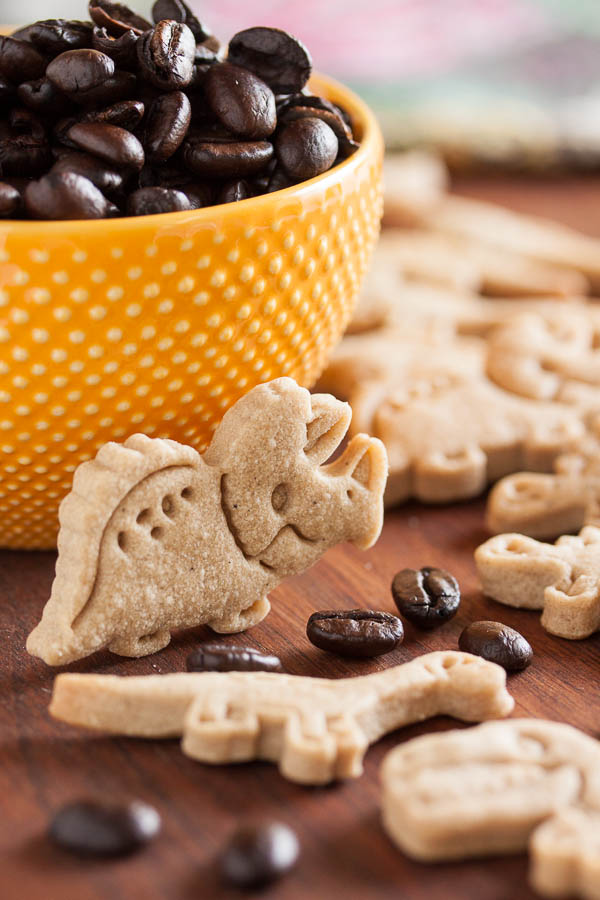 I'm making yet another roll-out cookie this week. Why? Will it surprise you to hear I got new cookie cutters again? Yeahhhh… I can't help it! Just look at them – they're so cute! These are actually not even cookie cutters, but fondant cutters, so the shapes are much smaller than a cookie would typically be – the triceratops is less than 2″ from nose to tip of tail. But I'm totally fine with that. I'm all about the tiny cookies here.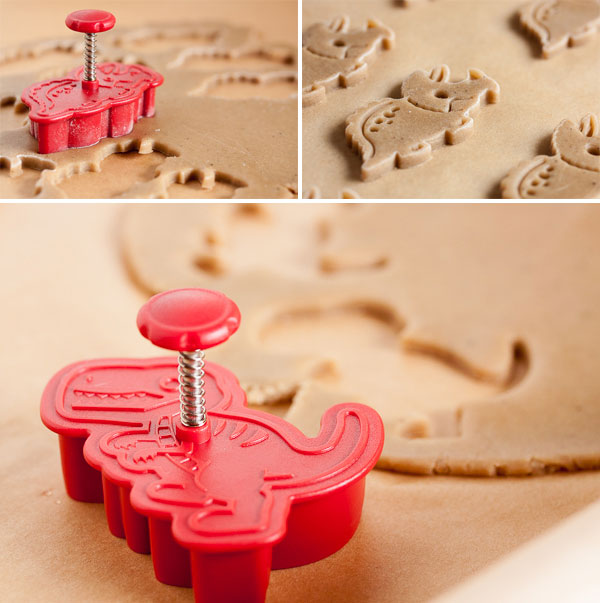 This is the time of year that I do a lot of roll-out cookies. Mostly because most of my cookie cutters are fall- or winter-themed, but also because this is the time of year that I love hanging out in my toasty warm kitchen while it's cold and rainy outside, so I don't mind the extra time involved in rolling the dough and cutting out shapes. Huh, maybe that's why I don't have many summery cookie cutters.
Last November I did moustache sugar cookies for Movember. This year? Dinosaurs for Dinovember.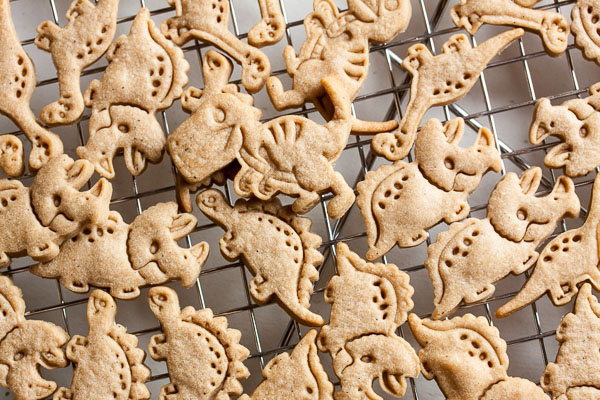 The original recipe includes instructions for making doily-shaped cookies, which are really pretty. So if you don't have awesome dinosaur cookie cutters to use, you may want to check that out. The original recipe also called for sifted flour, but I'm notoriously lazy about sifting so I skipped that step and they turned out fine. I just whisked it before using it, which a lot of people say is a perfectly acceptable substitute. About the only time I actually sift ingredients is with cocoa powder and confectioners' sugar, both of which are impossible to get the lumps out of with whisking alone.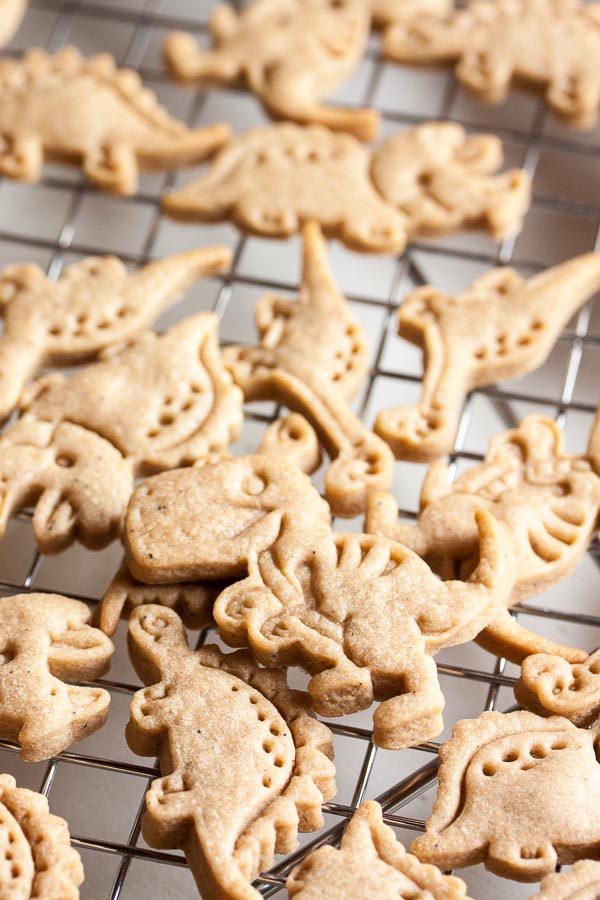 This is a fantastic dough to work with! It comes together quickly, and (after warming up slightly) rolls out really easily and doesn't stick at all – seriously, I didn't even need to flour my cookie cutters.
Being basically a shortbread, this cookie doesn't spread as it bakes. In fact, it actually shrinks a tiny bit. So my wee dinosaurs? Are teeny. Oh well. It just means they're even cuter, right? Absolutely. (omg they're SO cute! look at those faces!)
The finished cookie is soft and tender, as you'd expect a shortbread to be. It's not a particularly sweet cookie – shortbread never is, really – but has a great espresso flavour. It tastes like a latté.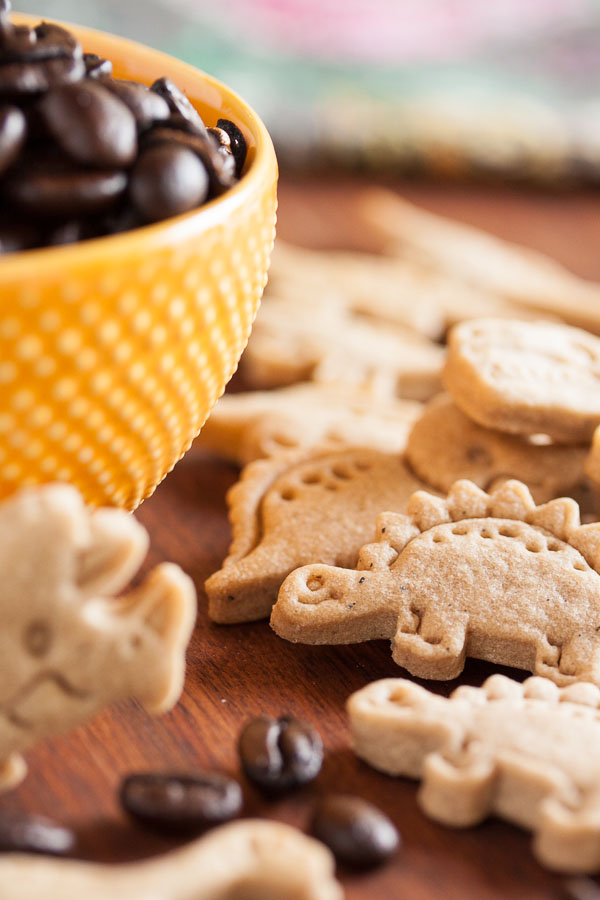 espresso shortbread rollout cookies
Adapted from "Espresso Doily Cookies" from Martha Stewart's site. The number of cookies this recipe will yield will depend on how thick you roll the dough and the size of the cutter you use.
ingredients
2 tablespoons espresso beans, crushed (I used pre-ground)
1/4 cup whole milk
3/4 cup unsalted butter, at room temperature
1/2 cup confectioners' sugar
1/2 teaspoon pure vanilla extract
1 teaspoon pure coffee extract
2 cups all-purpose flour
1/2 teaspoon salt
Combine the crushed espresso beans and milk in a small saucepan and heat to a simmer. Remove from the heat and let stand for about 15 minutes. Strain out the espresso beans and set the milk aside to cool.
In the bowl of a stand mixer fitted with the paddle attachment, begin beating the butter and sugar together on low speed (if you start out too fast, the confectioners' sugar will go everywhere). Gradually raise the speed to medium and continue to beat until light and fluffy, about 2 or 3 minutes. Scrape down the sides of the bowl and add the vanilla and coffee extracts, and the salt. Beat until incorporated.
Turn the mixer down to low and add half of the flour, mixing until just barely combined. Then mix in the milk, then the other half of the flour. Beat just until it forms a cohesive dough. Remove from the mixer, flatten the dough into a disk shape and wrap in plastic wrap. Refrigerate for at least 30 minutes.
When ready to bake, preheat oven to 325°F.
Remove the dough from the fridge. On a lightly floured surface, a silpat sheet, or a sheet of wax or parchment paper (whatever your preference), roll the dough out to about 1/8" thickness. There's a video here that shows my preferred method, except I use a piece of plastic on top of the dough rather than parchment or wax paper.
Cut the dough into desired shapes and transfer the cut pieces to your cookie sheet. If you find the dough is sticking to your cookie cutter, try dipping the cutter in flour after each cut (I didn't find this dough sticky at all). Once you have a sheet full, refrigerate the dough for about 15 minutes (this helps the cookies keep their shape when baking). I don't have a large fridge, so I just left each tray in the fridge until I had another tray of cookies cut and ready to go and then swapped them out.
Bake for about 12-15 minutes, until the edges seem set, rotating the baking sheet halfway through the baking time. Allow to cool on a wire rack for a few minutes before removing the cookies from the pan and allowing them to cool completely.