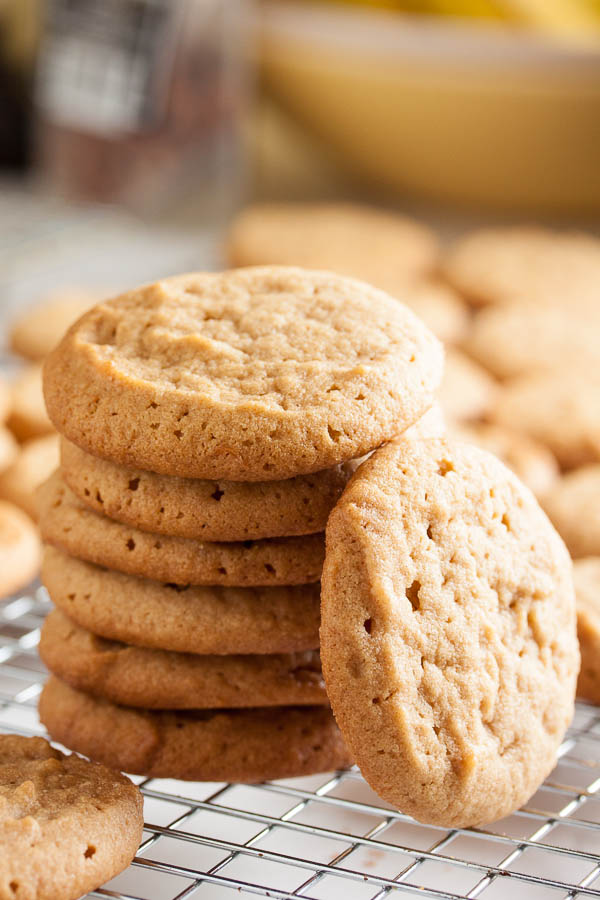 I'm still prepping for my upcoming move – I have over 15 years' of accumulated stuff to sort through and I've got 2 weeks left to get it all organized. I'm donating a lot of stuff to charity, giving stuff away to friends, and throwing a lot of stuff out (I really hate having to throw things away so I'm finding homes for as much as possible). I didn't think I had that much stuff until I really started going through it. Now? Wow, it's a big job. So once again when it came time to bake something this week (yay! baking weather!), I was looking for something super easy. And comforting. Last week we had the classic chocolate chip cookies (what could be more comforting than warm gooey chocolate chip cookies fresh from the oven?). This week? Super soft peanut butter cookies.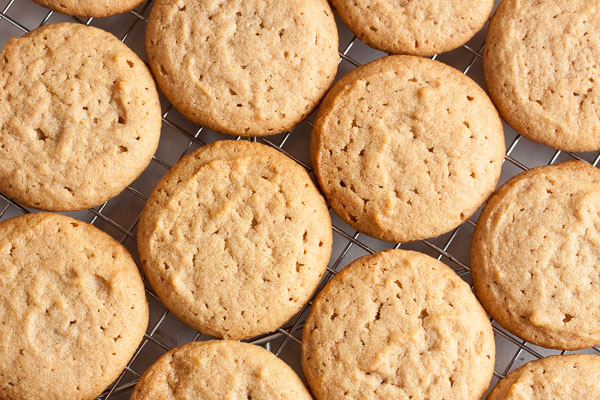 When it comes to peanut butter cookies, there are a couple different ways you can go. There are the crumbly melt-in-your-mouth type peanut butter cookies, and there are the soft and chewy peanut butter cookies. I grew up with the crumbly type and I always gravitated towards that type of recipe. If you'd asked me my preference even just a couple years ago, I'd say the crumbly ones, no question. But as I've tried more and more recipes over the years, I've learned that there's a lot to be said for the soft and chewy ones. If you ask me now which is my favourite? I don't think I'd be able to answer. They're both great! Just in different ways.
This particular cookie is, as I said, super soft and chewy. Most peanut butter cookie recipes aren't fussy about whether you use creamy or crunchy peanut butter, but you'll definitely want to use creamy for this one, and lots of it. And while I was tempted to add chocolate chips, I'm glad I didn't. These cookies are just perfect as-is. The dough for this cookie is light and fluffy, almost like a frosting. As they bake, the cookies spread out and puff up beautifully, and then collapse back down as they cool. The resulting cookie is fantastic. Perfect peanut flavour, and a perfect soft texture. Everyone loved this one, and the cookie jar emptied out really quickly. Trust me, my coworkers are always happiest when I bring in peanut butter cookies and this one did not disappoint.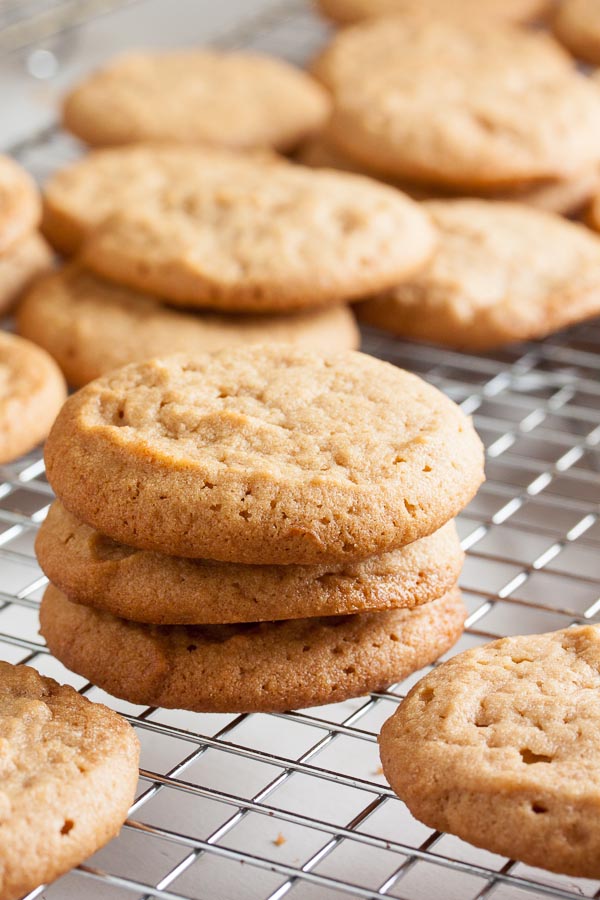 soft peanut butter cookies
Adapted from "Peanut Butter Chews" from The King Arthur Flour Cookie Companion. The original recipe says it will make about 66 cookies, and I got pretty close to that with 74 cookies using my usual slightly larger than tablespoon-sized cookie scoop.
ingredients
2 cups (250g) unbleached all-purpose flour
3/4 teaspoon baking soda
1 teaspoon salt
1 cup (227g) unsalted butter, at room temperature
1 cup (220g) packed dark brown sugar
1/2 cup (100g) granulated sugar
1/4 cup (85g) dark corn syrup
2 large eggs
2 teaspoons pure vanilla extract
2 cups (500g) creamy peanut butter
Preheat oven to 325°F (165°C).
In a medium bowl, whisk together the flour, baking soda, and salt. Set aside.
In the bowl of a stand mixer fitted with the paddle attachment, beat the butter, sugars, and corn syrup together on medium speed until light and fluffy, about 3 or 4 minutes. Scrape down the sides of the bowl and add the eggs, one at a time, beating well after each. Add the vanilla and beat to incorporate. Then add the peanut butter, and beat until light and fluffy.
Turn the mixer down to low and add the dry ingredients, mixing until just barely combined.
Using a small cookie dough scoop or a tablespoon, portion the dough onto the baking sheets about 2 inches apart to allow for spreading.
Bake for about 15 minutes, until lightly golden brown around the edges, rotating the baking sheet halfway through the baking time. Be careful not to overbake these or you won't get that lovely soft texture. Allow to cool on a wire rack for a few minutes before removing the cookies from the pan and allowing them to cool completely.