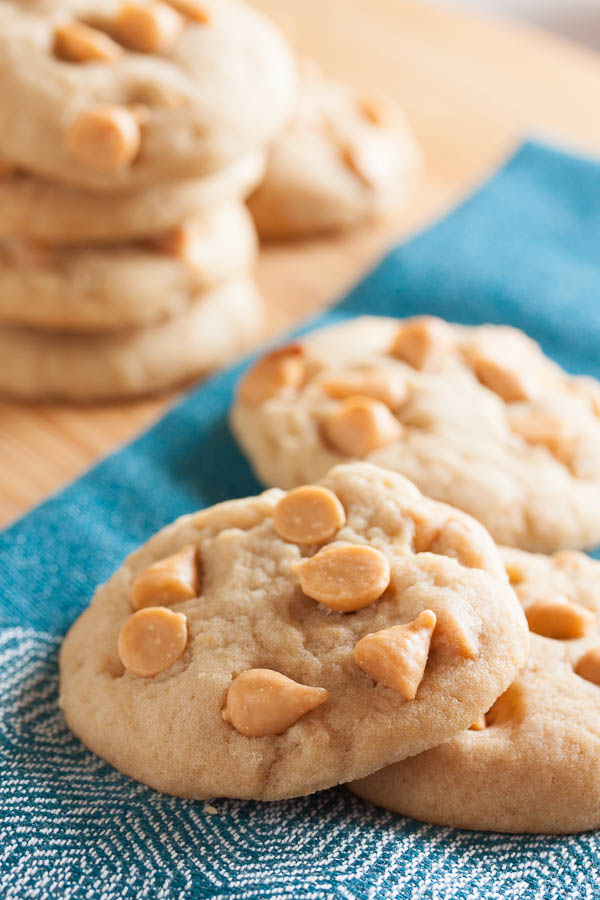 This is the second brown sugar butterscotch cookie I'm posting here (coincidentally both from the same cookbook), and I learned an important lesson from last time. As good as they taste, the Guittard butterscotch chips bake up a horrific orange colour. Seriously, if you click that link, try not to look at the pictures. That was not an attractive cookie (it tasted great though!). This time, however, I used a different brand and the cookies are much prettier. I mentioned before that flavour-wise? I prefer the Guittard. But now I save them for recipes where the colour isn't an issue.
I actually made two different cookies this week. That wasn't my plan, but the mocha walnut cherry recipe only made 39 cookies, and I knew that wouldn't be enough for the week – not even enough to fill the cookie jar – so I picked another recipe to make. And I thought it would be nice to have a completely different flavour.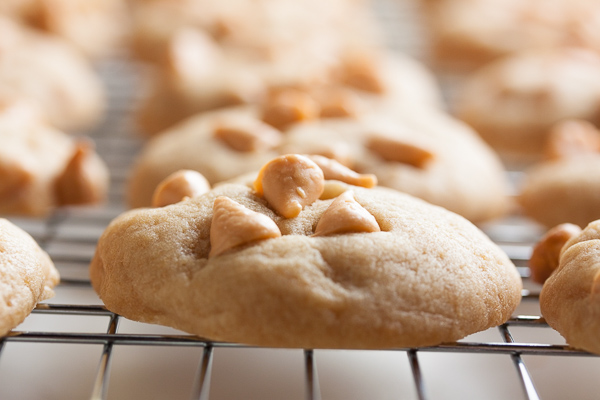 Since the other cookie is chocolate-based, I decided butterscotch would be a nice contrast. This was one of the initial contenders when I was trying to decide what to make this week anyway, so it wasn't a hard choice. I've mentioned before, but I'm really re-discovering a love for butterscotch. It was always a childhood favourite, and then somehow it fell by the wayside… And every time I make something butterscotch-y, my coworkers go crazy for it. Why do we all leave butterscotch behind when we grow up?? So I'm making an effort to flag any recipes I find so I can keep it in regular rotation now.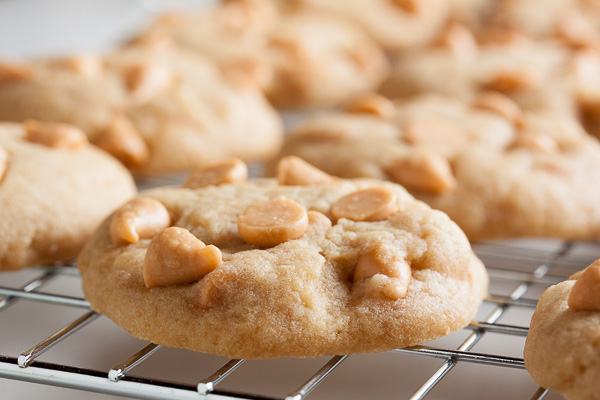 This is a really butterscotch-y butterscotch cookie. It has chips mixed in the dough, and then there are chips added on top of the cookies before baking (love this idea and the way they look). And the brown sugar and dark syrup add a beautiful carameliness (how is that not a word?).
The other cookie I made this week was at its best after resting and cooling fully. This is one you'll want to eat fresh from the oven. It's still fantastic the next day, don't get me wrong! It stays soft and chewy, and really flavourful. Even though I had two different kinds of cookies this week, they were all gone in just two days. Yikes! Both of this week's cookies are winners.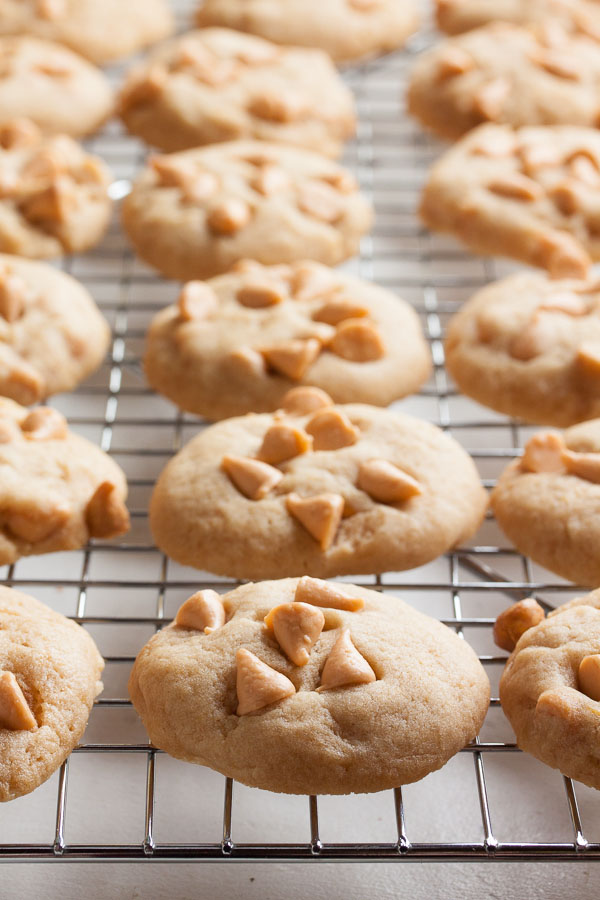 brown sugar butterscotch cookies
Adapted from "Butterscotch Chewies" from Simply Sensational Cookies by Nancy Baggett. The recipe says it will make about 2 dozen cookies, but I got 42 cookies.
ingredients
1 cup unsalted butter
1/2 cup dark corn syrup
1/2 cup packed brown sugar, either light or dark will work
1 large egg, at room temperature
2 teaspoons pure vanilla extract
1-1/2 teaspoons baking powder
1/4 teaspoon salt
2-1/3 cups all-purpose flour
1-1/2 to 2 cups butterscotch chips
In a large saucepan, gently melt the butter over low heat. Remove from the stove and allow to cool.
Add the corn syrup and brown sugar and stir well, until the sugar has dissolved and the mixture is smooth. Add the egg, vanilla, baking powder, and salt, and continue to stir until smooth again.
Stir in the flour and 1 cup of butterscotch chips, and stir until just combined.
Cover and refrigerate for about 30-45 minutes, until just slightly firm. You don't want to chill this one any longer than that.
While the dough is chilling, preheat the oven to 350°F.
Put the remaining butterscotch chips (1/2 to 1 cup) in a small bowl.
When ready to bake, remove the dough from the fridge and form into small balls. Dip one side of each ball into the butterscotch chips. You don't need too many chips on each cookie – there are a lot already in the dough. Place about 2" apart on a baking sheet, with the chips on the top – these cookies will spread out as they bake. Press the balls down slightly with the palm of your hand. Bake for about 10-12 minutes, until lightly browned around the edges, rotating the pan halfway through. Allow to cool on a wire rack for a few minutes before removing the cookies from the pan and allowing them to cool completely.