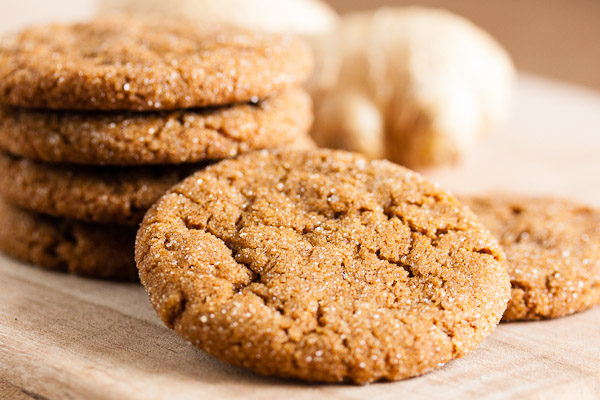 Ginger cookies are one of those foods I associate with colder weather. I always start thinking about making them in the fall, and I always make a couple variations as part of my Christmas baking too. I honestly don't think I've ever made them at any other time of year before… But I was just flipping through a new recipe book and this one caught my eye. (Note: I actually made these back in August, before the server problems I was having.)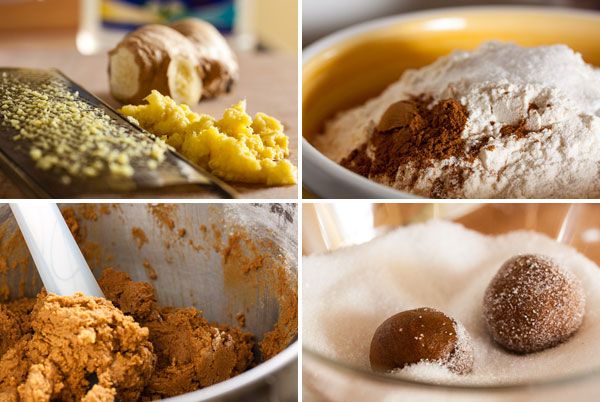 This is the first recipe I've tried from this book, The Dahlia Bakery Cookbook. I've never been to the Dahlia Bakery – never heard of it before to be honest – but it's a really pretty book and has a nice selection of recipes. From cookies to pies to cakes to ice cream, there's a bit of everything. And based on this cookie, it's a good addition to my collection.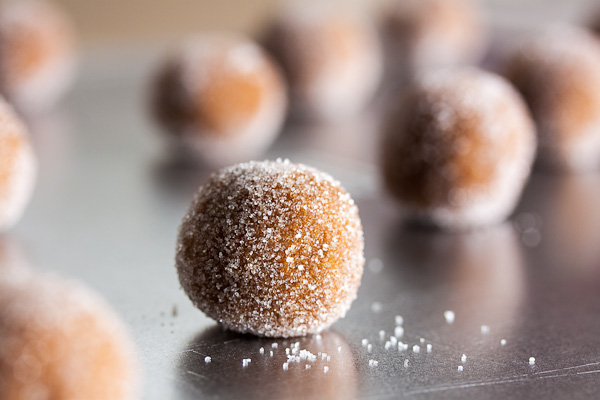 Using fresh grated ginger root adds a bit of heat to an otherwise sweet cookie. Not that there's anything wrong with a regular ginger cookie, but I like the contrast this adds. And rolling them in sugar before baking adds both another level of sweetness and a lovely sparkle to the finished cookie.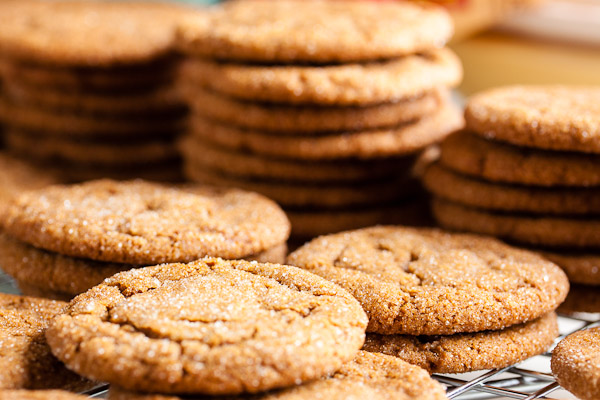 These cookies form a beautiful cracked top as they bake. When they came out of the oven, they were nice and crispy (which is my preference). But by the next day they'd lost that crunch and were soft and chewy. Not sure if that's normal for this cookie or just because it's so humid in Vancouver. Regardless of texture, the fresh ginger, the cinnamon, and rich molasses combine to create a delicious cookie. If I could, I'd eat them all fresh from the oven (you think I'm joking, don't you?).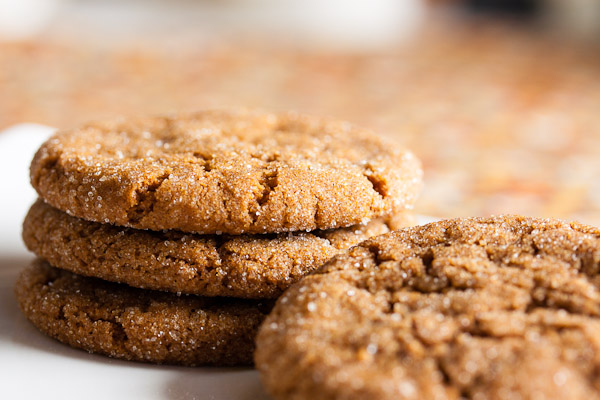 fresh ginger molasses cookies
Adapted from "Old-Fashioned Molasses Cookies with Fresh Ginger" from The Dahlia Bakery Cookbook by Tom Douglas and Shelley Lance. The recipe states it makes 54 cookies, but I got just shy of 70.
ingredients
3/4 cup unsalted butter, softened
1 cup sugar
1 large egg
1/4 cup molasses
2 teaspoons peeled and grated fresh ginger
2 cups all-purpose flour
2 teaspoons baking soda
1/2 teaspoon salt
1/2 teaspoon ground cinnamon
for coating
1/2 cup sugar
In a medium bowl, whisk together the flour, baking soda, salt and cinnamon. Set aside.
In the bowl of a stand mixer fitted with the paddle attachment, beat the butter and sugar together on medium speed until light and fluffy, about 3 or 4 minutes. Scrape down the sides of the bowl and add the egg, ginger and molasses. Continue to beat until blended together.
Turn the mixer down to low and add the dry ingredients, mixing until just barely combined.
Cover and refrigerate the dough for at least one hour.
When ready to bake, preheat the oven to 350°F.
Form dough into small balls, about 3/4? diameter. Roll each in sugar and place about 2? apart on baking sheet to allow for spreading, and press down just slightly with the palm of your hand. I tried a few without pressing them down first, and they spread out perfectly. So you could probably skip this if you want.
Bake for about 7-8 minutes, until golden brown around the edges, but still slightly soft in the middle – rotating the baking sheet halfway through. These cookies will puff up and spread during the first few minutes of baking, but then will begin to crack and flatten out. Allow to cool on a wire rack for a few minutes before removing the cookies from the pan and allowing them to cool completely. They'll firm up as they cool.