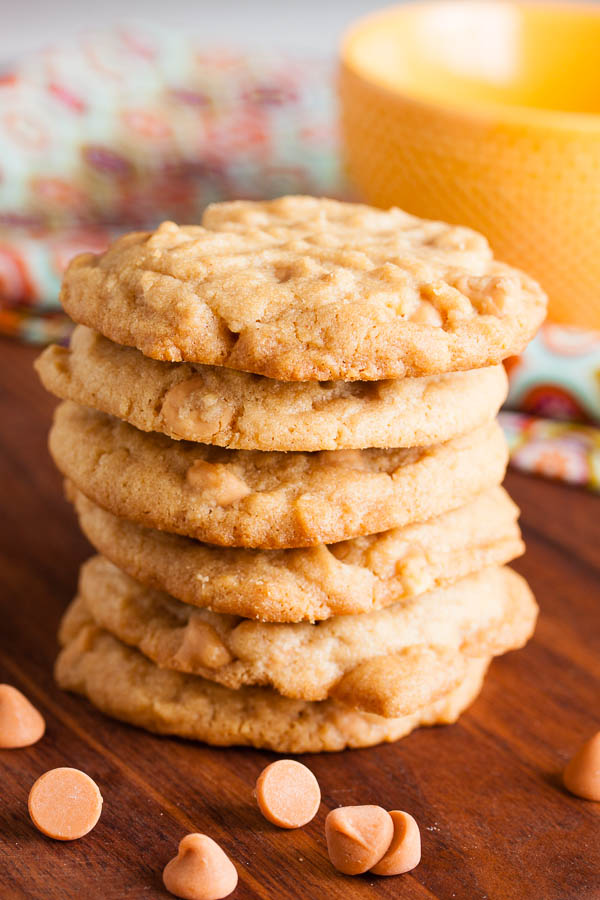 This is another recipe that was a contender a couple weeks ago but got passed over for something else (it's always so hard to choose!). And yet, I couldn't stop thinking about it. I wasn't entirely sure how these two flavours would work together – I couldn't really imagine it – and yet I love peanut butter, and I love butterscotch, so… maybe? One way to find out, right?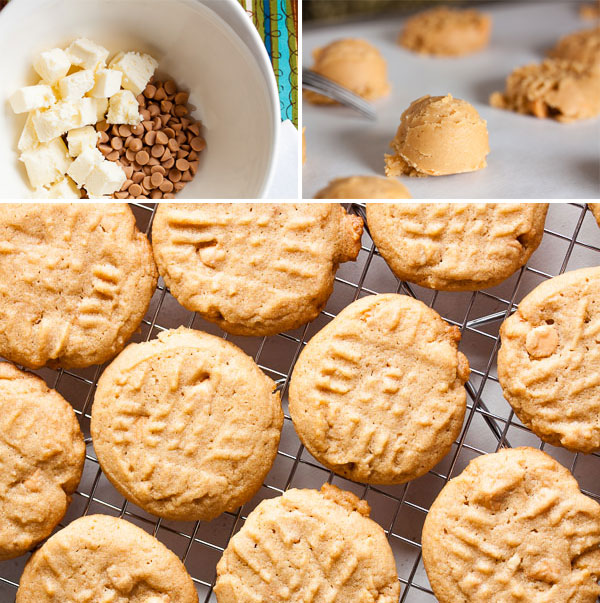 This is a very simple one-bowl recipe, made without a mixer. You start by melting the butter and some of the butterscotch chips, and then gradually stir everything else in. By melting a portion of the butterscotch chips so they're combined with the cookie dough itself while the rest remain whole and are added later, you get the flavour of butterscotch throughout. Which transforms a simple peanut butter cookie into something altogether different.
The texture of the cookie is very soft and tender, and almost creamy. And the flavour is peanut butter, but more. And then there are bursts of pure butterscotch from the chips.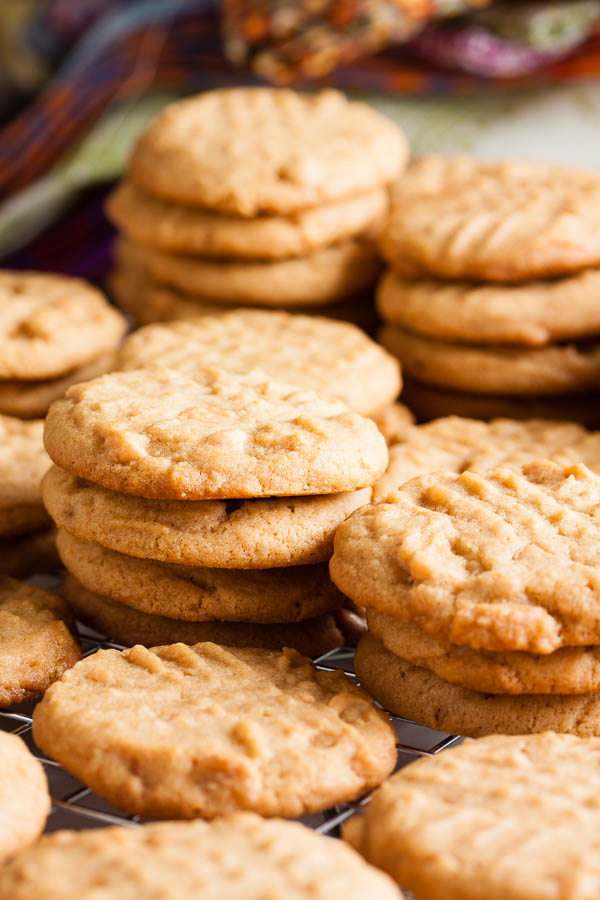 I really like this combination! One of my coworkers has rated this in the top ten of all the cookies I've made so far.
Given the flavour and texture, I think this cookie would be amazing in an ice cream sandwich. Vanilla ice cream would allow the flavour of the cookie to shine through, but I bet chocolate would be great too. Let's see if I get around to trying this during the summer…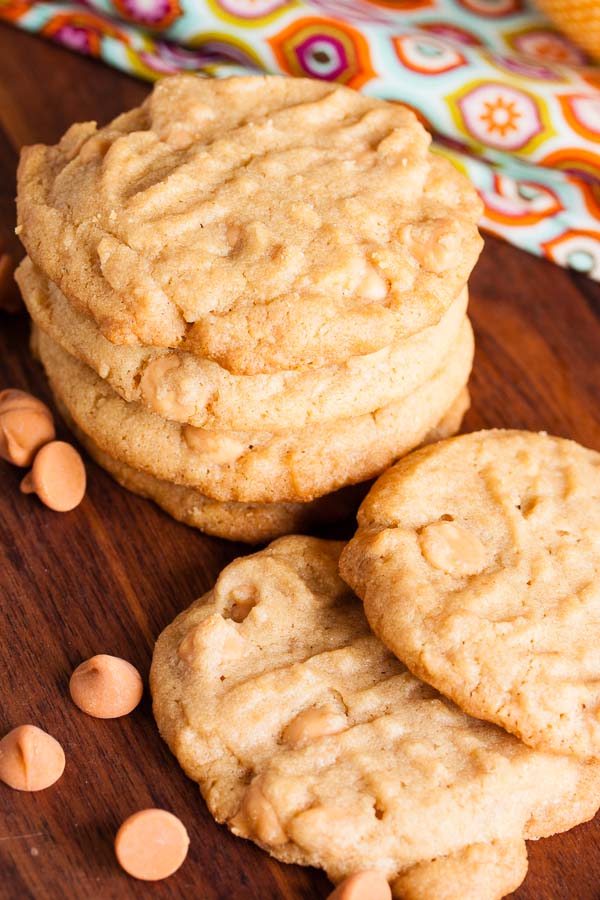 peanut butter butterscotch chip cookies
Adapted from "Peanut Butterscotchies" from Simply Sensational Cookies by Nancy Baggett. The recipe states it makes about 50 cookies using a 1-1/2" scoop, but I got 72.
ingredients
1-1/2 to 2 cups (262-350g) butterscotch chips
1 cup (227g) unsalted butter, cut into chunks
1-1/2 cups (375g) peanut butter, crunchy or smooth, but not natural
1 cup (220g) packed light brown sugar
1 teaspoon baking soda
2 large eggs, at room temperature
2-1/3 cups (292g) unbleached all-purpose flour
In a large microwave-safe bowl, heat 2/3 cup (116g) butterscotch chips and 1/2 cup (113g) butter for about a minute. Stir well, and then continue to heat on 50% power, stirring after every 20 seconds or so, until mostly melted. Remove from the microwave and stir well, squishing the remaining butter and butterscotch chips against the side of the bowl until it's all melted and smooth (the butterscotch chips may never be fully melted, so don't worry if there are a few bits left).
Add the remaining 1/2 cup (113g) of butter and continue to stir until this has melted too (there should be enough residual heat in the bowl to do this).
Add in the brown sugar, peanut butter, and baking soda, followed by the eggs, stirring until smooth.
Add the flour and the remaining butterscotch chips, stirring just until the flour is incorporated.
Cover the bowl and refrigerate about 45 minutes, until the dough is firm enough to scoop.
When ready to bake, preheat oven to 350°F.
Using a small cookie dough scoop or a tablespoon, portion the dough onto the baking sheets about 2 inches apart to allow for spreading. Using a fork, press each mound of cookie dough down slightly. If you like, you can press twice, rotating the fork to form a criss-cross pattern.
Bake for about 9-13 minutes, until lightly golden brown around the edges, rotating the baking sheet halfway through the baking time. These cookies tend to be crumbly before there fully cooled, so be sure to allow them to cool completely on a wire rack before removing the cookies from the pan.