Some time before Christmas, I was on a hunt to find some linzer cookie cutters. I had something very specific in mind and I just wasn't finding it locally. I finally tracked down what I wanted online, and while I was there, I also found a bunch of other cookie cutters that I had to have. Including these fantastic spring-loaded animal cutters. LOVE. I couldn't wait to make something with them! However, I had so many other recipes that I was dying to make that the animal crackers got pushed to the back and these cutters have just sat on the shelf for months. But then, flipping through one of my cookbooks one day, I found a recipe for cinnamon animal crackers. And I knew it was time…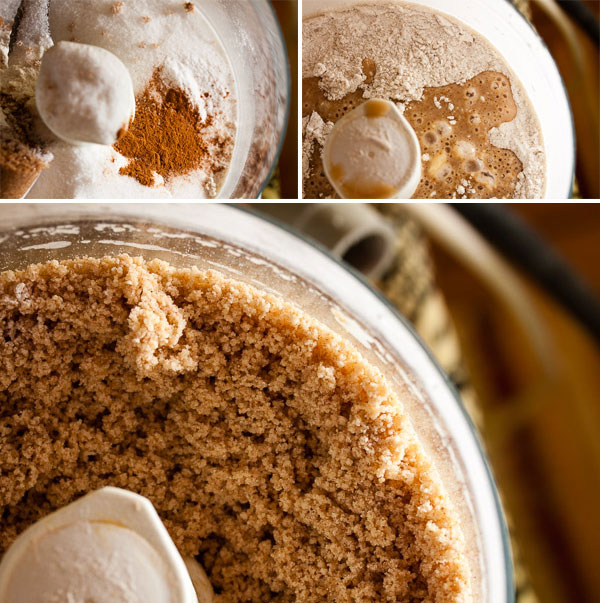 This is a really simple dough to make and it comes together in just a few minutes in a food processor. I'm going to tell you guys a secret – I hate using my food processor. It's nothing to do with how it works or quality of dough compared to a mixer, and everything to do with fear of cutting myself on the blade. Because it's happened. You may need to stop reading if you're squeamish… I don't have a dishwasher so I have to wash this up by hand, and that blade? Is incredibly sharp. One time when I was washing it, my hand slipped and I sliced right through my fingernail and into the finger. Ow. Also gross. So now I'm totally paranoid every time I need to use it. Ugh. This is the only time I really wish I had a dishwasher.
So when I saw this recipe was made in a food processor, I hesitated. I thought about doing it in a mixer instead. But that wouldn't be a fair evaluation of the recipe, right? Right. So here goes… (spoiler alert – I survived unscathed)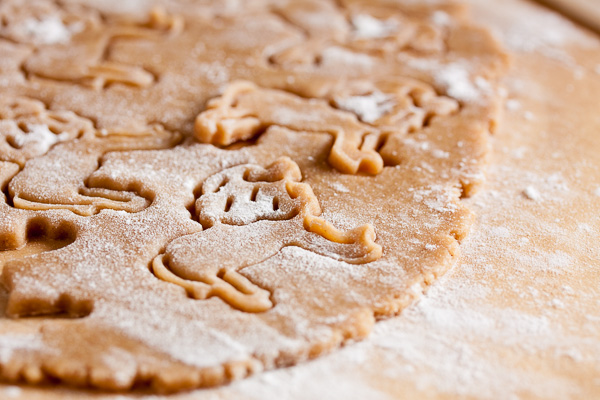 When the dough first comes out of the food processor, it's pretty crumbly, but it kneads together beautifully. It needs to refrigerate for at least half an hour before rolling – probably to hydrate the dough – and at that point I found the dough to be really wet. I don't usually use flour when I roll out cookie dough (just parchment or wax paper), but this dough was so sticky I ended up flouring both my work surface and the top of the dough as well. And the cookie cutters – don't forget to flour your cookie cutters.
The cookies puff up in the oven as they bake, but don't spread. And then they flatten back out again, so their shape isn't really distorted.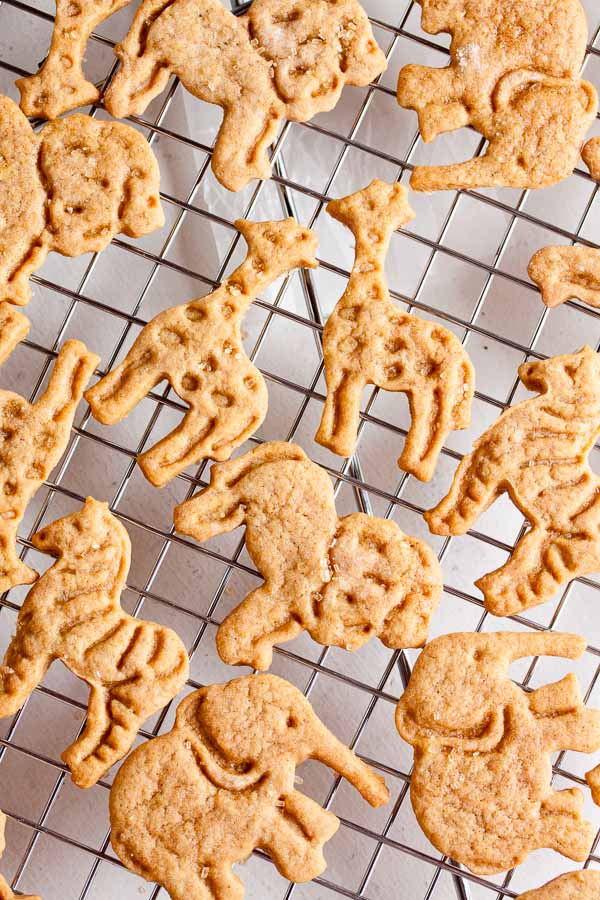 The taste is fantastic. Cinnamon and honey combine to create a flavour that reminds me more of graham crackers than animal crackers, but that's just fine. That means I'm still on the hunt for the perfect animal cracker recipe (and get to use my cutters again!). I think the cardamom cookies I made last year are a pretty good contender, but does anyone have any recommendations?
One of my coworkers says these cookies taste like the mini donuts from the fair, while another says they remind her of cinnamon buns. Both good associations. When they first came out of the oven, they were nice and crisp (my preference), but they'd softened up by the next day and became soft and chewy – I'm sure that's the honey at work there. Still good, but I like the crispiness better.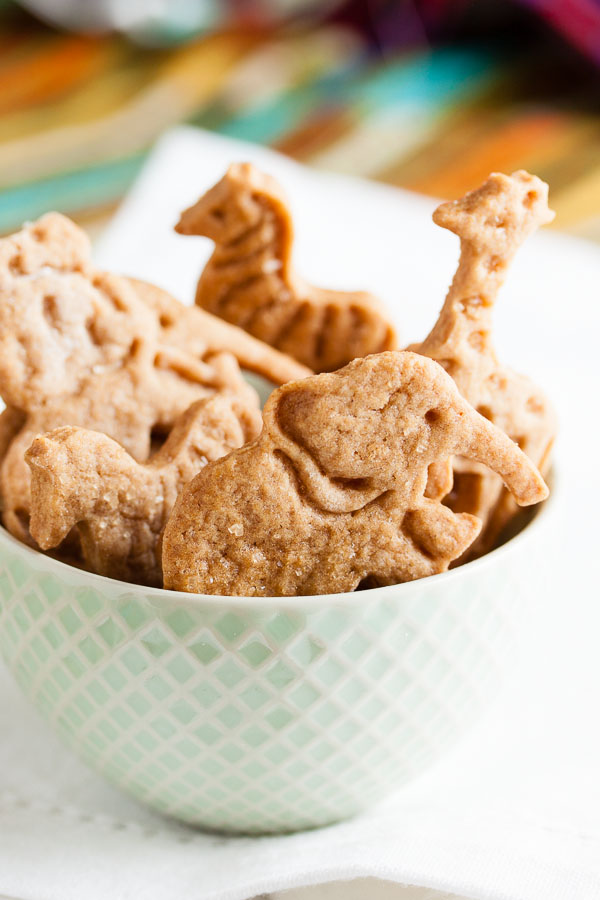 Adapted from The Good Cookie by Tish Boyle. The number of cookies this recipe will yield will depend on how thick you roll the dough and the size of the cutter you use. I got just shy of 100 small cookies.
ingredients
1-1/3 cups all-purpose flour
1/3 cup firmly packed dark brown sugar
1/4 cup granulated sugar
1/2 teaspoon baking soda
1/4 teaspoon ground cinnamon
1/4 teaspoon salt
4 tablespoons unsalted butter, cut into 1/2-inch cubes and frozen
3 tablespoons whole milk
2 tablespoons honey
1 tablespoon pure vanilla extract
for finishing
turbinado, demerara, or brown sanding sugar (optional)
In a small bowl, combine the milk, honey, and vanilla extract and whisk together until smooth. Set aside.
In the bowl of your food processor, combine the flour, sugars, baking soda, cinnamon, and salt. Pulse a few times to combine. Add the butter and pulse until the mixture is crumbly and resembles coarse meal.
Add the liquid mixture and continue to pulse until the mixture begins to come together in a cohesive dough.
Remove from the food processor, flatten the dough into a disk and wrap in plastic. Refrigerate for at least 30 minutes.
When ready to bake, preheat oven to 350°F.
Remove the dough from the fridge. On a lightly floured surface, a silpat sheet, or a sheet of wax or parchment paper (whatever your preference), roll the dough out to 1/8" thickness. There's a video here that shows my preferred method, except I use a piece of plastic on top of the dough rather than parchment or wax paper. Normally I don't use flour when I'm rolling out dough, but I found this one to be quite sticky, so I floured both my work surface and the surface of the dough as I worked.
Cut the dough into desired shapes and transfer the cut pieces to your cookie sheet. If you find the dough is sticking to your cookie cutter, try dipping the cutter in flour after each cut. Once you have a sheet full, sprinkle the cookies with the turbinado sugar.
Bake for about 8-10 minutes, until slightly puffed up and lightly golden brown, rotating the baking sheet halfway through the baking time. Allow to cool on a wire rack for a few minutes before removing the cookies from the pan and allowing them to cool completely.