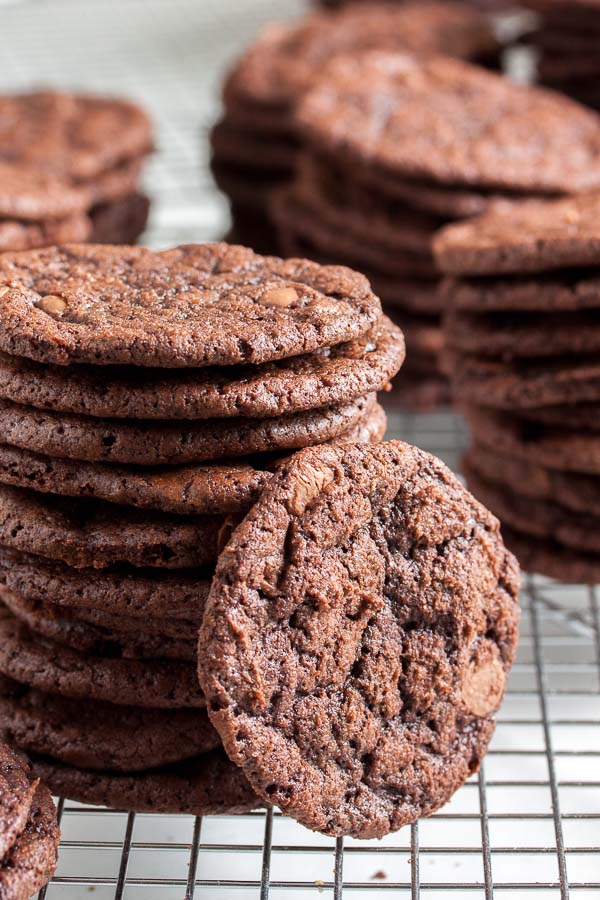 I'm continuing the chocolate trend this week, but this cookie is very different from last week's. There's a lot of chocolate in this recipe – 1/2 cup of cocoa powder, plus lots of melted chocolate and chocolate chips – and while it definitely has a lot of chocolate flavour, it's a milder chocolate flavour than the triple chocolate cookies I made last week. It doesn't have the same oomph. It's simply the difference between milk and dark chocolates. Milk chocolate has a much milder, sweeter flavour, and that's what this cookie is all about.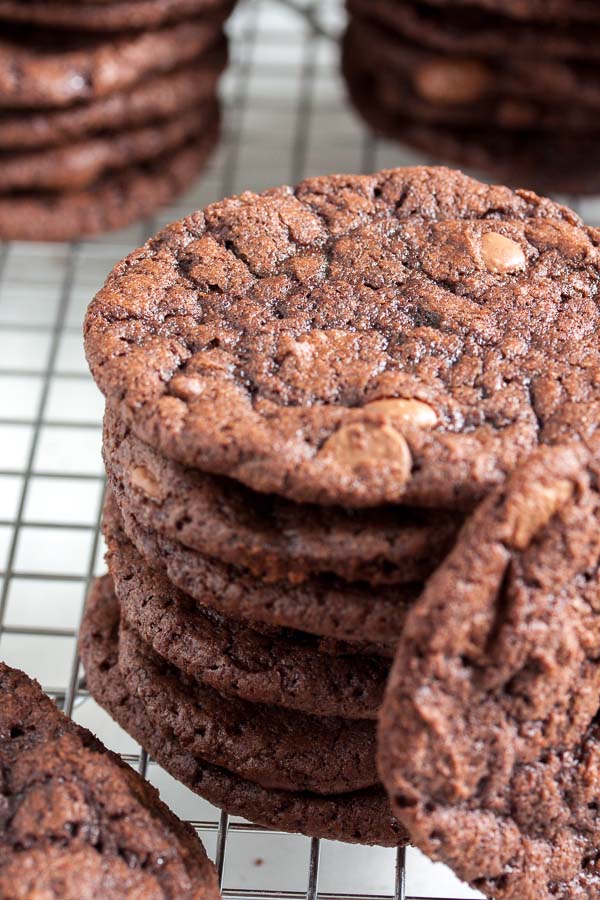 That doesn't mean this cookie isn't as good as the other one, it's just different. And rest assured people loved it. One person took one, exclaimed that it tasted just like a delicious hot chocolate, and immediately went back for another. And there were lots of "omg this cookie is so good!" and "this cookie is the best!" type comments from various people. A couple people specifically mentioned loving the chewiness.
This isn't a flourless cookie, but it is low flour with just 1 cup to 2 eggs and 1-1/2 cups of sugar, making for a light and fluffy batter, almost like a thick buttercream frosting. The cookies spread out a lot, and in the end are crispy and flaky on the outside with an almost melt-in-your-mouth chewy inside.
I'll admit that when it comes to chocolate cookies, this one isn't my favourite. But, it was really popular with my coworkers. Possibly even more popular than last week's!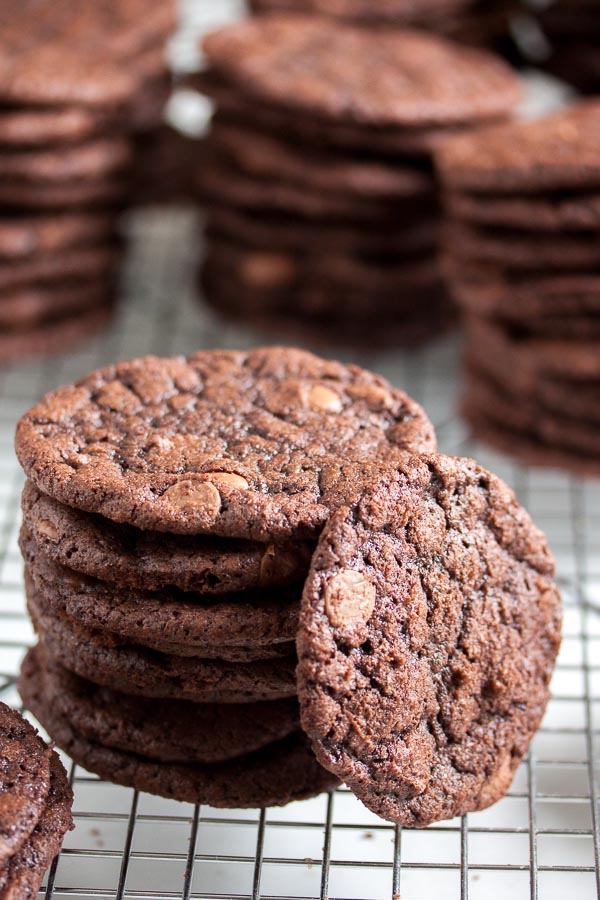 Adapted from Martha Stewart's Cookies. The original recipe says it will make about 36 cookies, and I got about 46 when using my usual slightly larger than tablespoon-sized cookie scoop.
ingredients
1 cup (125g) all-purpose flour
1/2 cup (60g) unsweetened Dutch process cocoa powder
1/2 teaspoon baking soda
1/2 teaspoon salt
4 ounces (114g) milk chocolate
1 cup (175g) milk chocolate chunks or chips
1/2 cup (113g) unsalted butter
1-1/2 (300g) cups sugar
2 large eggs
1 teaspoon pure vanilla extract
Preheat oven to 325°F (165°C).
Gently melt together the butter and the 4 ounces of milk chocolate. You can do this by combining them in a microwave-safe bowl and heating in the microwave 15-30 seconds at a time, stirring well after each burst of heat until smooth. Or in the top of a double-boiler or in a heat-proof bowl set over a pot of simmering water. I usually melt chocolate very, very carefully in a heavy saucepan over very low heat, stirring frequently until the chocolate is just melted. Chocolate can scorch really easily, so best to do this slowly and gently. Once melted, remove from the heat and set aside to cool.
In a medium bowl, whisk together the flour, cocoa powder, baking soda, and salt. Set aside.
In the bowl of a stand mixer fitted with the paddle attachment, beat the cooled melted chocolate, sugar, eggs, and vanilla together on medium speed until fully combined. Scrape down the sides of the bowl. Turn the mixer down to low and add the dry ingredients, mixing until just barely combined. Remove from the mixer and add in the chocolate chips or chunks either with a spatula or by hand. I usually prefer to knead inclusions in by hand to ensure they're distributed evenly, but this dough is so soft that a spatula will work just fine.
Using a small cookie dough scoop or a tablespoon, portion the dough onto the baking sheets about 2 inches apart to allow for spreading.
Bake for about 15 minutes, until flattened and the surface appears cracked, rotating the baking sheet halfway through the baking time. Allow to cool on a wire rack for a few minutes before removing the cookies from the pan and allowing them to cool completely.