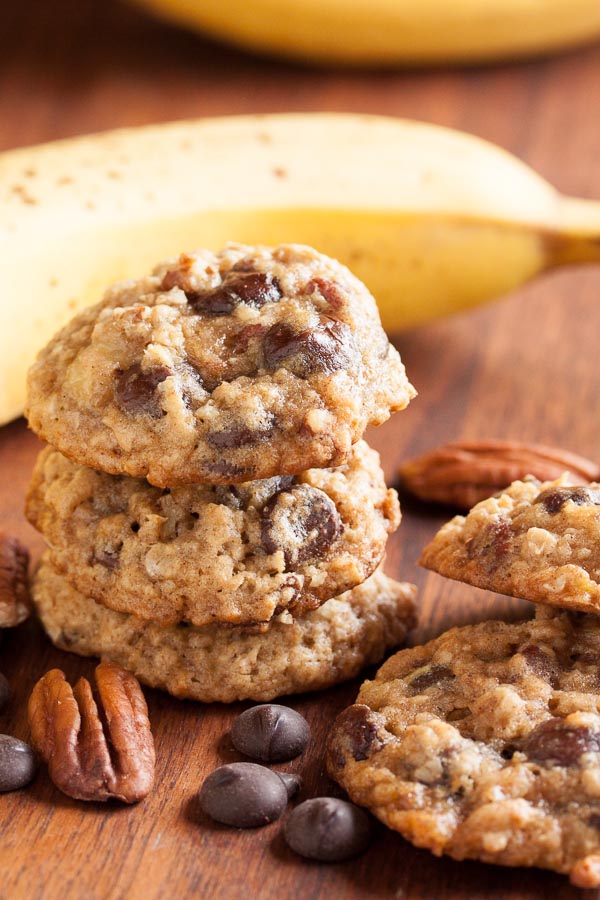 This week I found myself with some bananas that were just a bit past their prime. They're usually way too green to eat when I buy them, so I set them aside to ripen (as you do). And sometimes I forget about them. Oops. Like this week. By the time I noticed them, they were way too ripe to use in my smoothies as I'd planned. So new plan. I made a couple batches of banana walnut muffins for myself (they freeze really well), and had just enough left over to make some banana oatmeal cookies as well. So everybody's happy!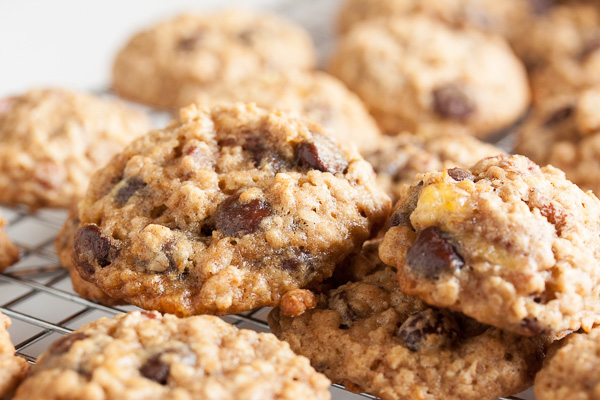 The first time I saw a recipe for banana cookies, I was kinda blown away. I'd never even heard of them before. And since I love banana bread (and of course banana muffins), I was pretty sure I'd love banana cookies too. And yes, yes I did. I've seen a few different recipes scattered throughout my cookbooks, so we'll eventually try a variety.
This particular recipe has only 1/2 cup of butter being creamed with three times as much sugar, and only a single egg, so before the banana gets added this dough is pretty dry. The recipe calls for chopping the banana into 1/4 inch pieces, but because the dough is so dry, it takes a bit of work to mix it all in. By the time I was done, there were very few "chunks" of banana left. However, the banana added some much-needed moisture to the dough, making it much easier to work with.
The cookies don't spread out much – I usually get 3-inch cookies using this scoop, but these cookies turned out just over 2-inch. But that's just fine, because the cookie itself is dense and chewy and satisfying. I joke about it all the time, but honestly, I think this would make a pretty good breakfast cookie. You've got oatmeal, banana, pecans, and dark chocolate. All good things!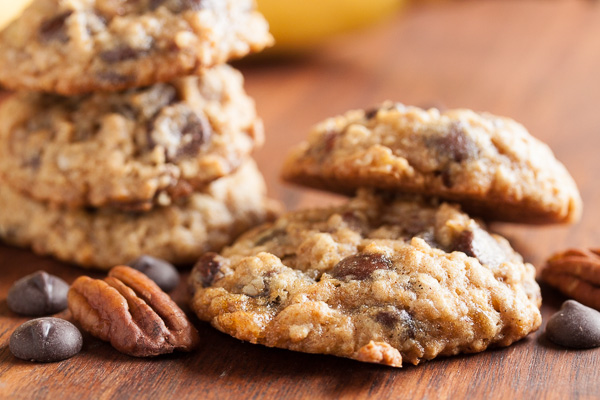 banana oatmeal chocolate chip cookies
Adapted from The Good Cookie by Tish Boyle. The original recipe says it will make about 52 cookies, and I got pretty close to that with 48 small cookies using my usual slightly larger than tablespoon-sized cookie scoop.
ingredients
1-3/4 cups (175g) quick cooking rolled oats (not instant)
1-1/2 cups (188g) all-purpose flour
2 teaspoons baking powder
1/4 teaspoon baking soda
3/4 teaspoon salt
3/4 teaspoon ground cinnamon
1/2 cup (113g) unsalted butter, at room temperature
1 cup (220g) firmly packed light brown sugar
1/2 cup (100g) granulated sugar
1 large egg
2 teaspoons pure vanilla extract
1 cup (175g) semisweet chocolate chips
1 medium-sized ripe banana, peeled and cut into 1/4-inch pieces
1 cup (120g) coarsely chopped pecans
Preheat oven to 375°F (190°C).
In a medium bowl, whisk together the rolled oats, flour, baking powder, baking soda, salt, and cinnamon. Set aside.
In the bowl of a stand mixer fitted with the paddle attachment, beat the butter and sugars together on medium speed until light and fluffy, about 3 or 4 minutes. Scrape down the sides of the bowl and add the egg, beating well. Add the vanilla and beat again to incorporate.
Turn the mixer down to low and add the dry ingredients, mixing until just barely combined. Remove from the mixer and add in the chocolate chips, banana, and pecans, either with a spatula or by hand. I prefer to knead inclusions in by hand to ensure they're distributed evenly. The banana will get a bit squished during this process – don't worry.
Using a small cookie dough scoop or a tablespoon, portion the dough onto the baking sheets about 2 inches apart to allow for spreading. Press each down slightly with the palm of your hand.
Bake for about 11-13 minutes, until lightly golden brown around the edges, rotating the baking sheet halfway through the baking time. Allow to cool on a wire rack for a few minutes before removing the cookies from the pan and allowing them to cool completely.