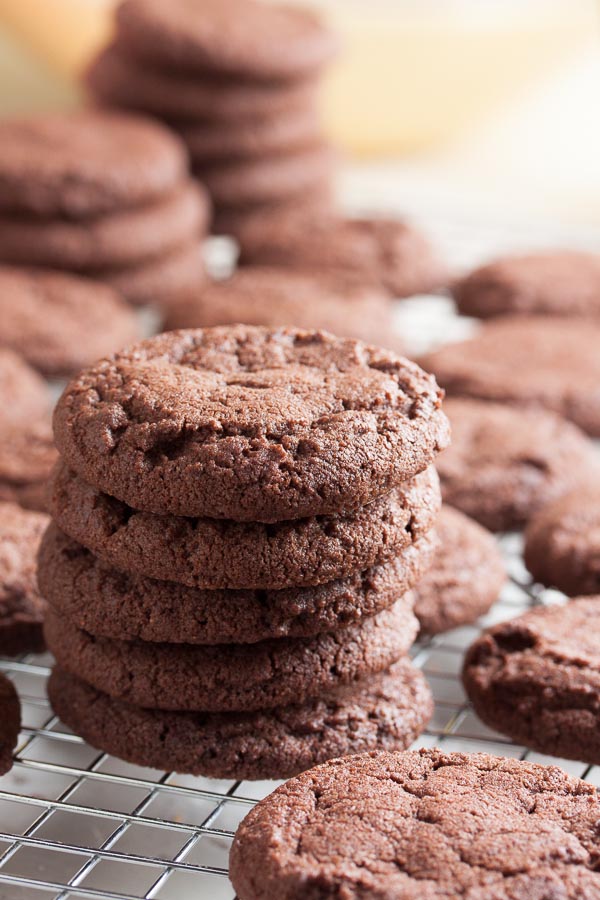 After making the chocolate biscotti a few weeks ago, I realized I haven't been making many chocolate cookies lately. Oh, they've definitely had chocolate in them, but they haven't been primarily chocolate. And as a chocoholic, I decided that needed to be fixed. So this week when I was flipping through recipes, trying to decide what to make, this one really jumped out at me. A nice simple sugar cookie, but a chocolate sugar cookie. Oh yes please.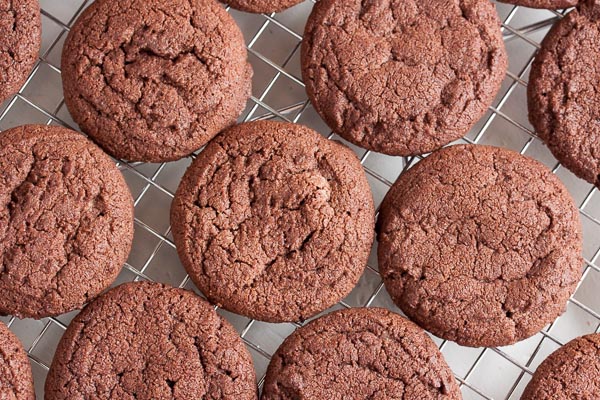 If you want a little extra sparkle on your cookies, you could sprinkle them with a bit of sugar (like these old-fashioned sugar cookies). They're absolutely delicious without that, however.
When you cream the butter and sugar, it won't get too light and fluffy since there's way more sugar then butter, but once you add in the melted vegetable shortening and the egg, the mixture will look like a fluffy buttercream frosting. Gorgeous.
I was expecting a texture similar to a regular sugar cookie, but what I got was a surprise. The outside of the cookie is crisp, but it almost melts in your mouth. Amazing. Hence the name I decided to give this cookie. And the flavour? Deliciously sweet and oh-so chocolate-y. I always say to be sure you use a good cocoa powder, because that's where all the flavour of this cookie comes from.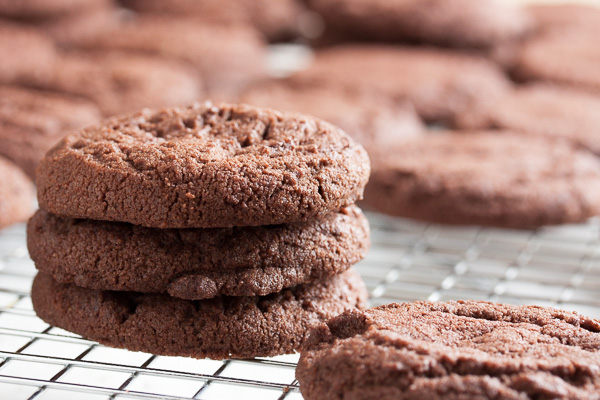 melt-in-your-mouth chocolate sugar cookies
Adapted from "Giant Chocolate Sugar Cookies" from Martha Stewart's Cookies. The original recipe says it will make just 8 giant cookies using a 2-1/2 inch ice cream scoop, but I made them with my usual slightly larger than tablespoon-sized scoop and got 42 cookies. Note: if you don't have vegetable shortening, you can substitute melted and cooled butter.
ingredients
1-1/2 cups (188g) all-purpose flour
1/2 cup (60g) unsweetened Dutch process cocoa powder
1 teaspoon baking powder
1/2 teaspoon salt
1/2 cup (113g) unsalted butter, at room temperature
1-1/2 cups (300g) granulated sugar
1/2 cup (113g) vegetable shortening, melted and cooled slightly (don't cool it too long or it will just solidify again)
1 large egg
1-1/2 teaspoons pure vanilla extract
Preheat oven to 375°F (190°C).
In a medium bowl, whisk together the flour, cocoa powder, baking powder, and salt. Set aside.
In the bowl of a stand mixer fitted with the paddle attachment, beat the butter and sugar together on medium speed until light and fluffy, about 3 or 4 minutes. Note that it won't get too fluffy because there's so much more sugar here than butter. Scrape down the sides of the bowl and add the melted vegetable shortening. Beat well, then add the egg and vanilla, and beat again to incorporate. The mixture should now be very fluffy.
Turn the mixer down to low and add the dry ingredients, mixing until just barely combined.
Using a small cookie dough scoop or a tablespoon, portion the dough onto the baking sheets about 2 inches apart to allow for spreading. Or you can use an ice cream scoop to make monster cookies as the recipe originally intended. In this case, you'll need to space them about 4 inches apart. These cookies will spread out and puff up quite a bit as they bake, but they'll flatten out again as they cool.
Bake for about 16 minutes, until firm around the edges and the tops begin to crack, rotating the baking sheet halfway through the baking time. If you choose to make larger cookies, you may need to bake for about 18-20 minutes. Allow to cool on a wire rack for a few minutes before removing the cookies from the pan and allowing them to cool completely.