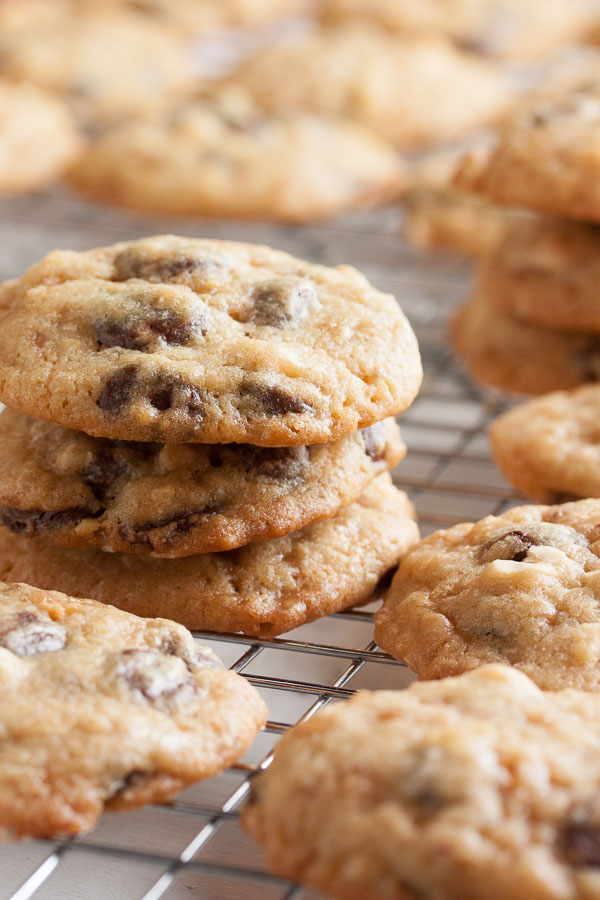 This week's cookie was originally called "candy bar cookies". Doesn't that sound awesome? With a mixture of chocolate, toffee, and peanuts, it definitely does remind me of a few candy bars I've had. I think if you're really wanting that "candy bar" flavour though, you'd be better off using milk chocolate chips instead of semisweet. But for cookies? I definitely prefer the semisweet.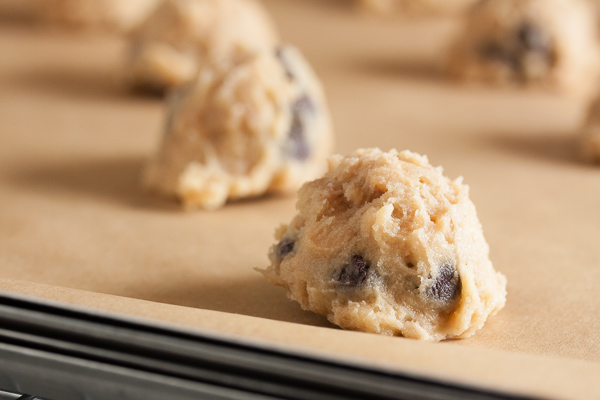 This is the first time I've ever seen vinegar listed in the ingredients for a cookie. Don't worry – you won't taste it at all in the finished cookie. It's just there because baking soda needs an acid to react with (that's how those science fair volcanoes work).
The dough for this cookie starts out really sticky – I'm guessing that's the corn syrup at work there. Given how wet it was, I was a little worried they'd spread out too much, but they actually spread and puff up just the right amount. The original recipe says to bake for just 10 minutes, but they looked pretty underdone at that point, so I left them in until they had a bit of colour. The final cookie is still nicely soft and chewy. If you'd prefer an even gooey-er cookie, you could try underbaking them a bit.
If you don't normally use parchment paper or a silpat sheet when you bake cookies, take my advice – use it for this cookie. Those little toffee bits have a tendency to melt and stick to the pan. Trust me, you'll be glad you did (I learned this the hard way).
These cookies are perfectly chewy (thank you corn syrup!), chocolate-y, peanut-y, with a little extra sweetness from the toffee bits. This cookie is getting a lot of yummy noises from my coworkers, not to mention a few requests for the recipe. And I may have eaten more than a couple myself.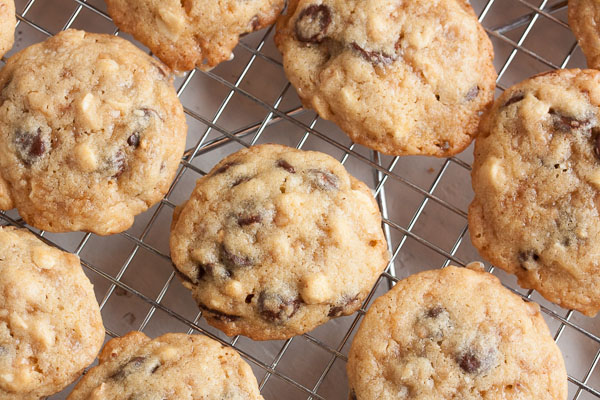 chewy peanuty chocolate chip toffee cookies
Adapted from "Candy Bar Cookies" from The King Arthur Flour Cookie Companion. The original recipe says it will make 48 cookies, but I got 64 using my usual slightly larger than tablespoon-sized cookie scoop.
ingredients
2-1/4 cups (280g) unbleached all-purpose flour
1/2 teaspoon salt
1/2 teaspoon baking powder
1/4 teaspoon baking soda
3/4 cup (170g) unsalted butter, at room temperature
2/3 cup (147g) dark brown sugar
2/3 cup (133g) granulated sugar
2 tablespoons light corn syrup
1 tablespoon cider vinegar or white vinegar
2 large eggs
1 tablespoon pure vanilla extract
1-1/2 cups (263g) semisweet chocolate chips
1 cup (140g) chopped salted peanuts
1 cup (150g) toffee bits
Preheat oven to 375°F (190°C).
In a medium bowl, whisk together the flour, salt, baking powder, and baking soda. Set aside.
In the bowl of a stand mixer fitted with the paddle attachment, beat the butter, sugars, corn syrup, and vinegar together on medium speed until light and fluffy, about 3 or 4 minutes. Scrape down the sides of the bowl and add the eggs, one at a time, beating well after each. Add the vanilla and beat again to incorporate.
Turn the mixer down to low and add the dry ingredients, mixing until just barely combined. Remove from the mixer and add in the chocolate chips, peanuts, and toffee bits, either with a spatula or by hand. I prefer to knead inclusions in by hand to ensure they're distributed evenly.
Using a small cookie dough scoop or a tablespoon, portion the dough onto the baking sheets about 2 inches apart to allow for spreading.
Bake for about 10-12 minutes, until lightly golden brown around the edges, rotating the baking sheet halfway through the baking time. Allow to cool on a wire rack for a few minutes before removing the cookies from the pan and allowing them to cool completely.