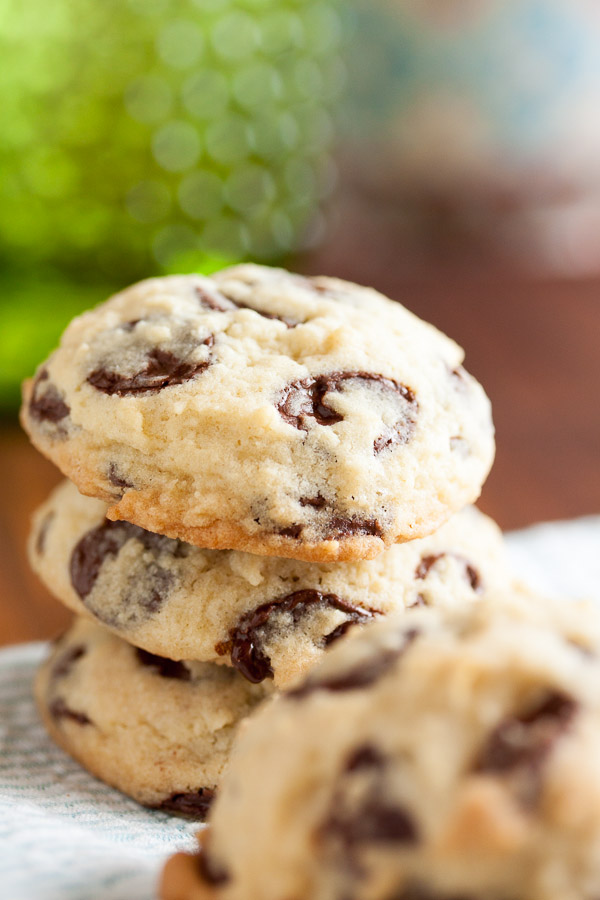 This weekend I was just craving a chocolate chip cookie. Chocolate chip may sound like a really basic cookie, but there are sooooo many different ways to make them. Dense and chewy, crisp and crumbly, with nuts and all kinds of other inclusions (and that's just a few examples – it's never-ending!). This week we're making a soft, cakey chocolate chip cookie. I know not everyone likes cakey cookies, but I'm definitely partial to those soft, fluffy little bites. And my coworkers always love them too.
Honestly, I like all the varieties of chocolate chip cookies, like these crumbly shortbread-y ones and these dense chewy ones, and omg these with the coconut? So good.
This cookie turns out beautifully soft and cake-like, with lots of chocolate chips. I'll confess I ate about six of them fresh from the oven and had to force myself to stop. I'm really trying to limit myself to sampling the weekly cookies only on the day I bake them. The whole point of taking them to the office is that I don't end up eating them all myself. I have to keep reminding myself of that…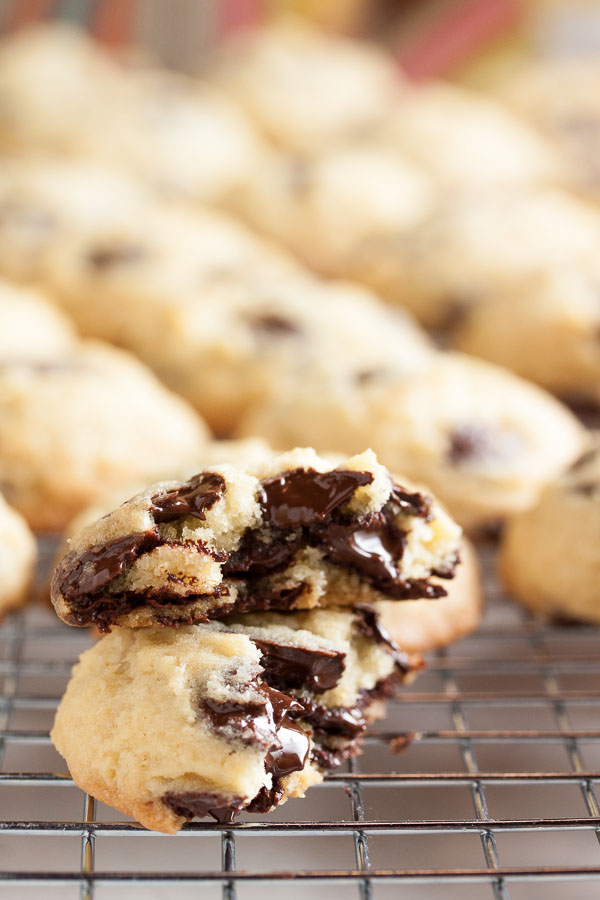 cakey chocolate chip cookies
Adapted from Martha Stewart's Cookies. The recipe says it makes about 36 cookies, but I got 56 using my usual tablespoon-sized cookie scoop.
ingredients
2-1/4 cups (281g) all-purpose flour
1/2 teaspoon baking soda
7/8 cup (1-3/4 sticks) (198g) unsalted butter, at room temperature
3/4 cup (150g) granulated sugar
1/4 cup (55g) packed light brown sugar
2 large eggs
2 teaspoons pure vanilla extract
1 teaspoon coarse salt
2 cups (350g) semisweet or milk chocolate chips
Preheat oven to 350°F (177°C).
In a medium bowl, whisk together the flour and baking soda. Set aside.
In the bowl of a stand mixer fitted with the paddle attachment, beat the butter and sugars together on medium speed until light and fluffy, about 3 minutes. Scrape down the sides of the bowl and add the eggs, one at a time, beating well after each. Add the vanilla and salt, and beat again to incorporate.
Turn the mixer down to low and add the dry ingredients, mixing until just barely combined. Remove from the mixer and fold in the chocolate chips with a spatula. Normally I prefer to knead inclusions in by hand to ensure they're distributed evenly, but this dough is really soft and easy to work with.
Using a small cookie dough scoop or a tablespoon, portion the dough onto the baking sheets about 2 inches apart to allow for spreading.
Bake for about 10-12 minutes, until lightly golden brown around the edges, rotating the baking sheet halfway through the baking time. I actually had to bake them closer to 13 minutes before they began to colour. Allow to cool on a wire rack for a few minutes before removing the cookies from the pan and allowing them to cool completely.