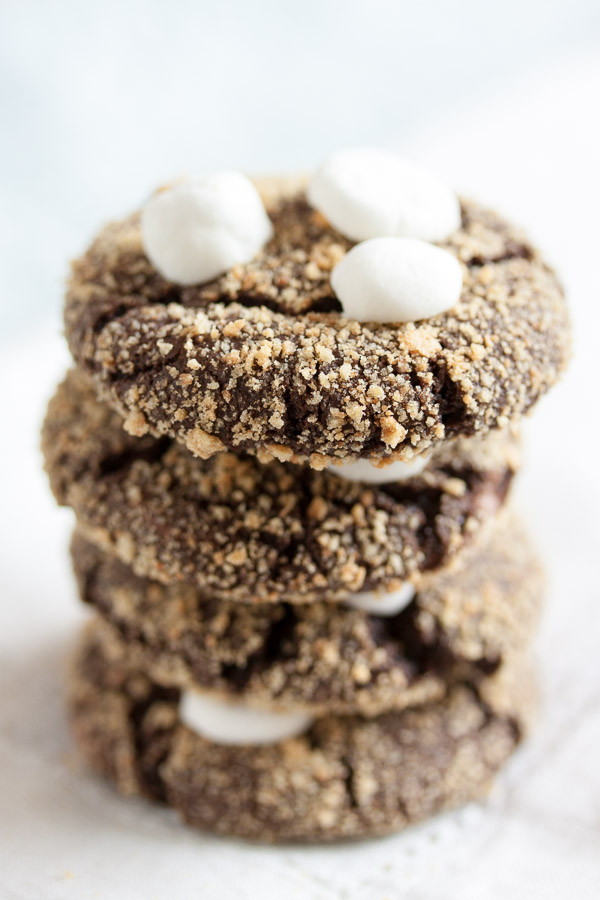 I'm about to shock you all. Ready? I've never had a s'more. Yup. Crazy, right?? Seriously. Never. How, you ask? I'm guessing it's simply because I never went to camp or joined Girl Guides or anything like that. And from what I hear, it's one of those treats that you really only have when you're camping. Am I right? I guess I was just never in the right place at the right time.
Well I've mentioned the last few months that I've been trying to make a certain s'mores cookie recipe that was requested by a coworker. This? This is not that cookie. Unfortunately the cookie in question requires refrigerating overnight after forming the cookies. And honestly, I just don't have room for that in my fridge. So this cookie might just have to satisfy her craving. (spoiler – it totally did. she's loving these!)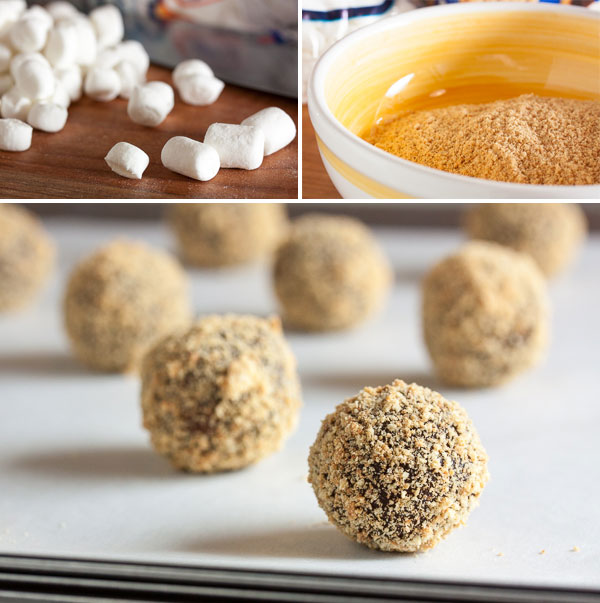 Why does that other cookie need to be refrigerated so long? Well apparently when you bake with marshmallows, they have a tendency to disintegrate. It makes sense, since they're mostly air. No one wants that. To avoid the problem, the blogger came up with a very clever idea. By wrapping the marshmallows with cookie dough, and then chilling them thoroughly before baking, she's essentially insulating the marshmallows to protect them from the heat of the oven. Smart, eh?
This cookie avoids the disintegrating marshmallows problem by simply adding them towards the end of the baking process. You don't get cookies stuffed full of marshmallows, but you do get gooey marshmallows. Close enough for me. But if you really want cookies stuffed with marshmallows and have room in your fridge, this is the recipe. If you try it, please let me know how it turned out!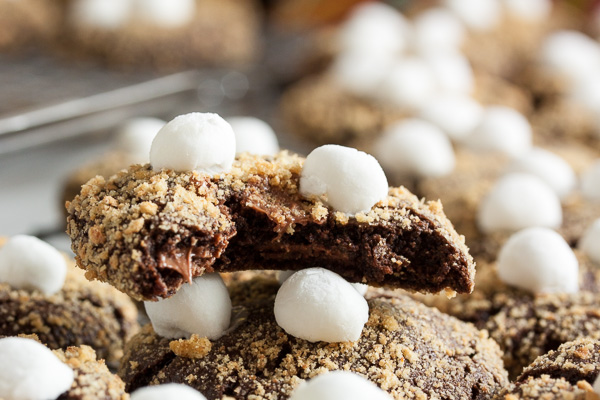 I made a few modifications to this recipe. First off, the original recipe only makes about 20 cookies. That just won't cut it with the group I bake for. So I doubled up on the recipe and made them a bit smaller so I got a much more satisfying 68 cookies. Secondly, while it sounded like it had all the components of a s'more – chocolate cookie, rolled in graham cracker crumbs, topped with gooey marshmallows – I felt like it really needed some melty chocolate too. So I added milk chocolate chips.
The end result is a very satisfying chocolate cookie, with a soft graham cracker coating and gooey marshmallows on top. My friend who requested that other cookie? Emailed me with the subject line "Those cookies are so f'ing good". So there you go.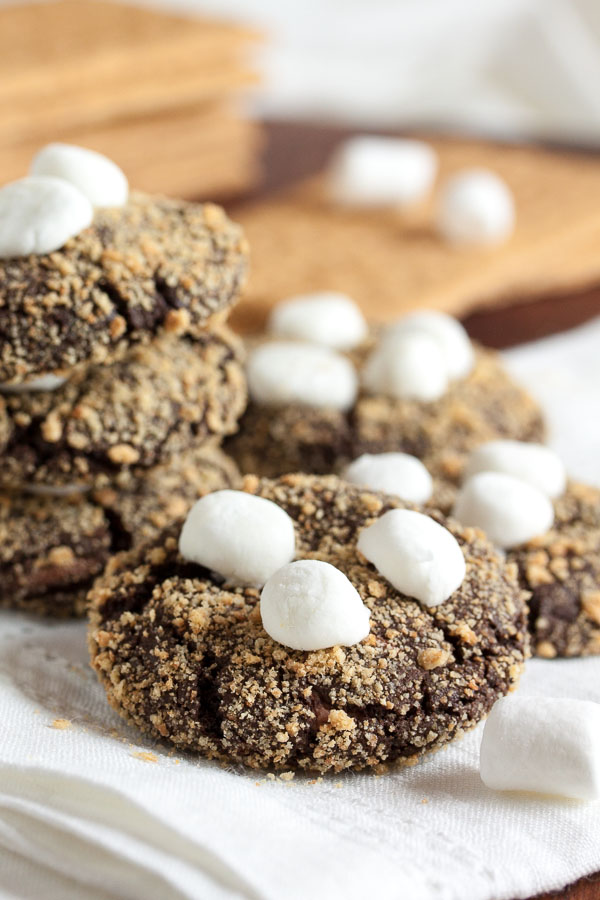 chocolate s'mores cookies
Adapted from "S'more Chocolate Crinkle Cookies" from Sally's Baking Addiction. The original recipe says it will make 20-22 cookies using 1-1/2 tablespoons of dough each. I doubled the recipe and formed the balls about 1" in diameter and got about 68 cookies. I also added milk chocolate chips. The following is the doubled recipe.
ingredients
2 cups (250g) all-purpose flour
1-1/3 cups (160g) unsweetened natural cocoa powder
2 teaspoons baking soda
1/4 teaspoon salt
1 cup (227g) unsalted butter, at room temperature
1 cup (200g) granulated sugar
1 cup (220g) packed brown sugar, light or dark
2 large eggs
2 teaspoons vanilla extract
4 tablespoons (60mL) milk
1-1/2 cups (263g) milk chocolate chips or chunks
for the topping
4-5 full-sheet graham crackers, ground into fine crumbs
about 1 cup miniature marshmallows (50g), cut in half (enough to put 3 or 4 halves on top of each cookie)
Prep the dough first and refrigerate it. When you're ready to bake, bring the dough out of the fridge to warm up a bit. At this point, you can grind your graham crackers and cut your marshmallows. By the time you're done, the dough should be ready to work with.
In a medium bowl, whisk together the flour, cocoa powder, baking soda, and salt. Set aside.
In the bowl of a stand mixer fitted with the paddle attachment, beat the butter and sugars together on medium speed until light and fluffy, about 3 or 4 minutes. Scrape down the sides of the bowl and add the eggs, one at a time, beating well after each. Add the vanilla and beat again to incorporate.
Turn the mixer down to low and add the dry ingredients, mixing until just barely combined. Add the milk, and mix again until just incorporated. Remove from the mixer and add in the chocolate chips either with a spatula or by hand. Usually I prefer to knead inclusions in by hand to ensure they're distributed evenly, but this dough was soft enough to use a spatula.
Cover the dough with plastic wrap and refrigerate for at least 2 hours.
When ready to bake, preheat oven to 350°F (177°C). Remove the dough from the fridge and allow it to warm up for about 10 minutes.
Form dough into small balls, about 1" diameter, and roll each in the graham cracker crumbs, coating completely. It's best to do this one at a time – it's easiest to coat them while they're still slightly warm from your hands. Place them onto the baking sheets about 2 inches apart to allow for spreading.
Bake for about 10 minutes, rotating the baking sheet halfway through the baking time. Remove from the oven and place 3 or 4 marshmallow halves on top of each cookie. Cutting the marshmallows in half gives them a flat bottom so they won't just roll off the cookies. There's no need to push them into the cookies – just set them on top and they'll melt enough to stick.
Return to the oven and bake for an additional 1-2 minutes.
Allow to cool on a wire rack for a few minutes before removing the cookies from the pan and allowing them to cool completely.