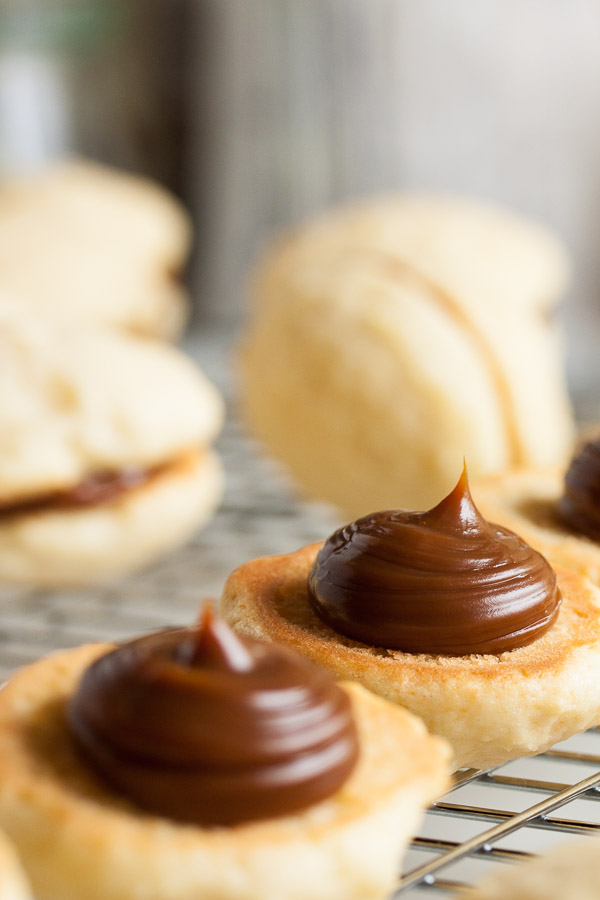 I was browsing eGullet the other day, and someone had posted a photo of some alfajores they'd made. I'd never even heard of them, and they looked amazing. So of course, I had to google and find a recipe. This is the first recipe I looked at, and it sounded good, so I pinned it and added any ingredients I was missing to my shopping list.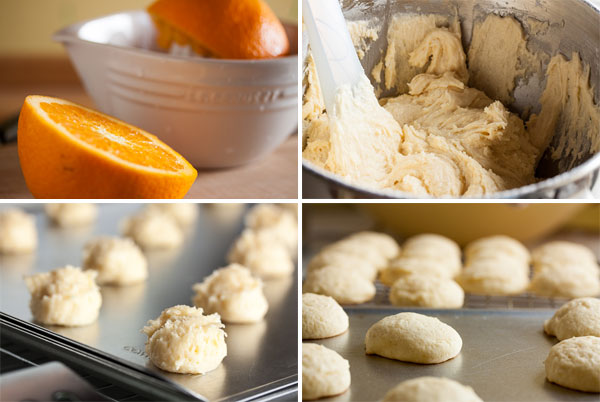 As I googled more, though, I realized that this is not a traditional alfajores recipe. Traditionally, the cookie is more like a crumbly shortbread, made with cornstarch, rolled and cut into rounds, while this one is a drop cookie, and soft and spongy like cake. I'm a little lazy when it comes to rolling out dough (I don't know why I always think it's more time-consuming than it actually is), so I decided to go ahead and try this one. This blog is all about trying a variety of recipes, right? I'll be making other alfajores recipes too, I'm sure. Including a more traditional one.
As I mentioned, this cookie is very cake-like. I've made cake-like cookies before, and they're always really popular. People love the texture; they're light and fluffy and moist. Once mixed, the dough is more like a thick cake batter than a cookie dough. In the photo on Martha's site, the cookies spread out and flattened. Mine, however, puffed up and stayed quite rounded. This is not the first recipe I've had this issue with, so I'm wondering what I'm doing wrong (I'm inclined to blame my ancient oven). Regardless, it's a tasty cookie so I'm not too concerned.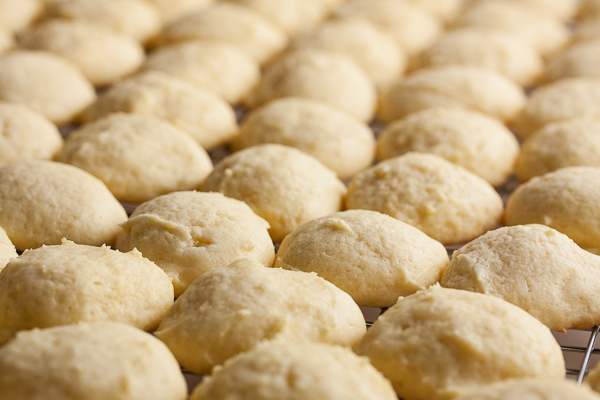 The orange juice doesn't really end up contributing much flavour. Prior to adding the dulce de leche, it's a very delicately flavoured cookie – not too sweet, but sweet enough to enjoy on its own.
I used a store-bought dulce de leche for these cookies. Generally I prefer to make things from scratch, but while it's not difficult to make, it is time-consuming. If you'd like to give it a shot, there are lots of instructions and different methods online. Most recipes start with a can of sweetened condensed milk, like this recipe from David Lebovitz. There's a stove-top method too (here, among other techniques), but I've read some horror stories about exploding cans, plus there are concerns about the BPA in the can leeching out during the heating, so I haven't tried this one. And if you're feeling really ambitious, both Alton Brown and Martha Stewart have recipes that are completely from scratch.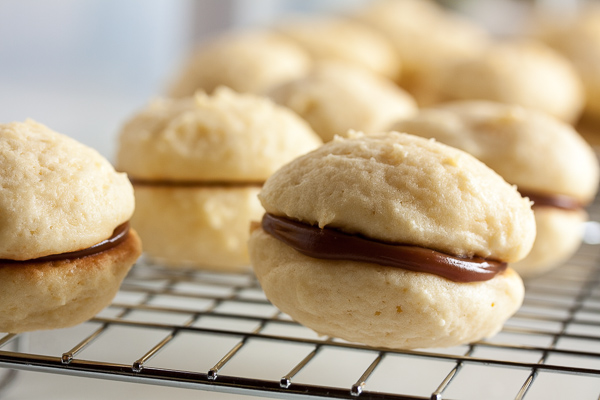 I ended up using the entire jar of dulce de leche! The first few cookies I sandwiched, I didn't put a lot of filling in and you couldn't really taste it. So I went back and added enough that it was oozing out the edges. While you can definitely taste it, the flavour of the dulce de leche doesn't completely overpower the cookie. It's a nice balance.
My coworkers are loving these and I have no doubt they'll all be gone before the end of the 2nd day.
I definitely like this cookie (it's important to note that I think I've eaten about 30 of them myself), but now I'm really curious to try a "proper" alfajore. If you know of a good recipe, please post a link in the comments!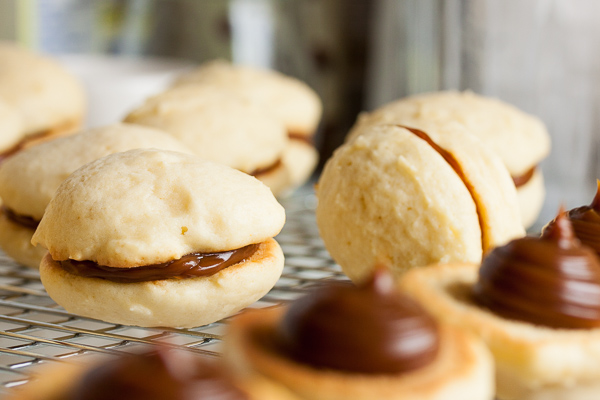 Adapted from Alfajores from the Martha Stewart site. The recipe states that it makes about 30 cookies when portioned out using a tablespoon. I used a tablespoon-sized cookie scoop and ended up with 45 finished sandwich cookies.
ingredients
3 cups all-purpose flour
2 teaspoons baking powder
1 teaspoon salt
3/4 cup unsalted butter, at room temperature
1-1/4 cups granulated sugar
2 large eggs, at room temperature
3/4 cup milk
1/4 cup freshly squeezed orange juice
1 teaspoon pure vanilla extract
for the filling
dulce de leche, cajeta, or jam, store-bought or homemade
for finishing
confectioners' sugar (optional)
Preheat oven to 350°F.
In a medium bowl, whisk together the flour, baking powder, and salt. Set aside.
In the bowl of a stand mixer fitted with the paddle attachment, beat the butter and sugar together on medium speed until light and fluffy, about 2 or 3 minutes. Scrape down the sides of the bowl and add the eggs, one at a time, beating well after each.
Turn the mixer down to low and add the dry ingredients in batches, mixing until just combined.
Add the milk, orange juice, and vanilla, and continue to mix until a smooth dough is formed, 1 or 2 minutes (I combined the liquids all together first and then added them in a steady stream as it mixed).
Using a small cookie dough scoop or a tablespoon, portion the dough onto the baking sheets about 2 inches apart to allow for spreading.
Bake for about 10-14 minutes, until lightly golden around the edges, rotating the baking sheet halfway through. Mine didn't colour until the full 14 minutes. Allow to cool on a wire rack for a few minutes before removing the cookies from the pan and allowing them to cool completely before assembling.
finishing the cookies
Once the cookies have cooled completely, you can either just spread the filling on with a knife, or transfer it to a pastry bag and squeeze a dollop onto the bottoms of half of the cookies – don't be afraid to be generous. Sandwich together with the rest of the cookies. If desired, you can then sift some powdered sugar on them to finish. I didn't bother with that step (mine got tossed into a tupperware container and then into a cookie jar), but if you're going to serve them right away it would look pretty.