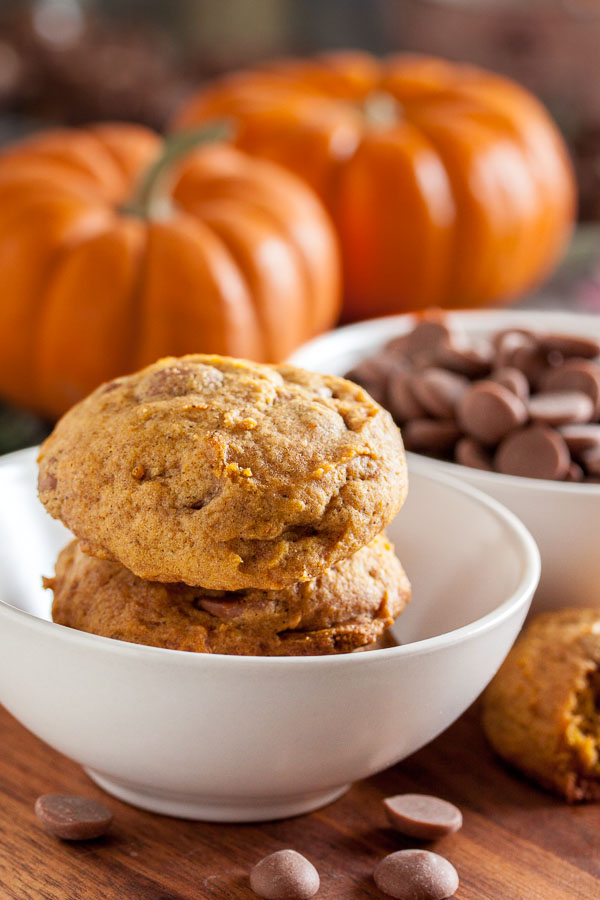 Is everyone sick of pumpkin yet? Too bad. Haha! I'm still totally into it, and since I'm the one choosing the recipes, we get pumpkin again. After the pumpkin muffins I made the other week with the chocolate chunks, I really wanted to try a pumpkin chocolate chip cookie this week. So here we go…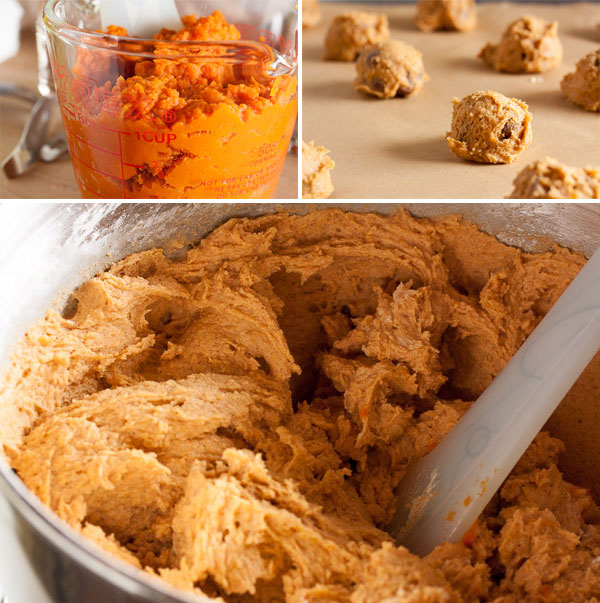 Because pumpkin purée has a really high water content, baking with it produces a really soft, fluffy, cake-like cookie. I have absolutely no problem with that. Some people strive to make a chewy pumpkin cookie (they're good, and they're out there if that's your preference). Personally, I could go either way. Chewy cookies are great, but I'm also just fine with light, pillow-y soft cookies, and my coworkers loved the texture of these and finished them off in no time. I've made soft cookies before, and they're always popular. I'm sure I'll make them again.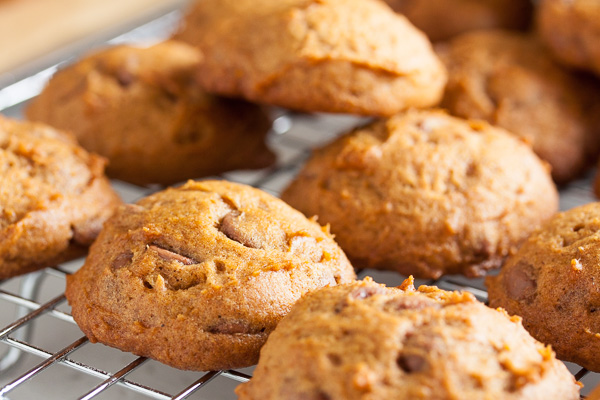 I thought the recipe sounded okay as-is, but on reading the comments section, there was a definite running theme. Commenters practically unanimously thought the cookies were too bland, so they doubled up on the spices. At least one person tripled the spices, but I didn't want to go quite that far. At least not on my first attempt at the recipe. Many people doubled up on the amount of pumpkin too; but while modifying the spices is one thing, I didn't want to start messing around with the ratio of wet to dry ingredients. That could potentially screw up the texture of the cookies completely and is something that needs to be methodically tested. Which I just didn't have the time for right now. In the end? I don't think it needed more pumpkin. If you decide to experiment with that, please comment and let us know how they turned out!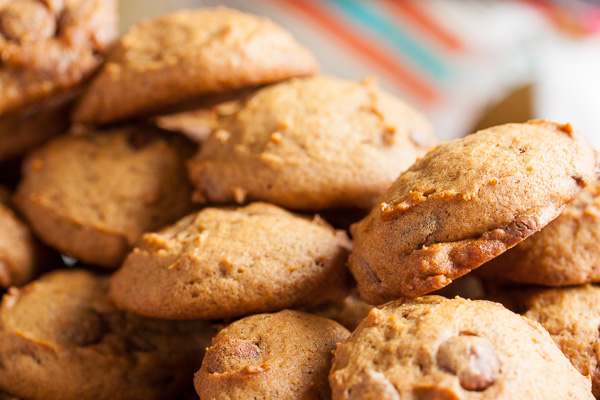 So I doubled up on the spices, but not the pumpkin. And when I tried one of the finished cookies, at first I thought "woahhhh, that's way too much spice". I was wondering if all those commenters were working with old spices or something because I found them unpleasantly strong. But as often happens with spice cookies, the flavours just needed a day to settle down a bit. By the second day, the spices were still strong, but in a good way. I'm really enjoying the balance of flavours now, so I went ahead and updated the recipe with the doubled amounts. Just guessing, but I don't think the cookies would necessarily be bland with the original amount of spices, they just wouldn't have that same punch of flavour. If you'd prefer something more subtle, you can cut the spice quantities that I've listed in half.
If you go with the spice quantities as I've listed them, just remember these cookies will taste best the next day.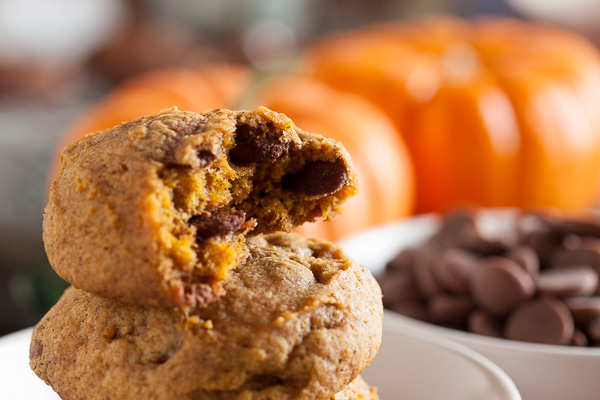 pumpkin chocolate chip cookies
Adapted from George Duran's recipe at The Food Network. The original recipe states it makes about 60 cookies, but I got 87 cookies using a scoop slightly larger than 1 tablespoon. Note that I doubled the spices from the original recipe, based on recommendations in the comments section.
ingredients
1 cup unsalted butter, at room temperature
1 cup white sugar
1 cup light brown sugar
2 large eggs
1 teaspoon vanilla extract
1 cup canned pumpkin purée
3 cups all-purpose flour
2 teaspoons baking soda
1/2 teaspoon salt
2 teaspoons ground cinnamon
1 teaspoon ground ginger
1/2 teaspoon ground nutmeg
1/2 teaspoon ground cloves
2 cups milk chocolate chips
Preheat oven to 350°F.
In a medium bowl, whisk together the flour, baking soda, salt, and spices. Set aside.
In the bowl of a stand mixer fitted with the paddle attachment, beat the butter and sugars together on medium speed until light and fluffy, about 3 or 4 minutes. Scrape down the sides of the bowl and add the eggs, one at a time, beating well after each. Add the vanilla and pumpkin purée, and beat again to incorporate. The mixture will be really wet at this point.
Turn the mixer down to low and add the dry ingredients, mixing until just barely combined. Remove from the mixer and fold in the chocolate chips with a spatula. I usually prefer to knead inclusions in by hand to ensure they're distributed evenly, but this batter is so thin that it was easy to stir them in.
Using a small cookie dough scoop or a tablespoon, portion the dough onto the baking sheets about 2 inches apart to allow for spreading.
Bake for about 15-20 minutes, until lightly golden brown around the edges, rotating the baking sheet halfway through the baking time. Allow to cool on a wire rack for a few minutes before removing the cookies from the pan and allowing them to cool completely.