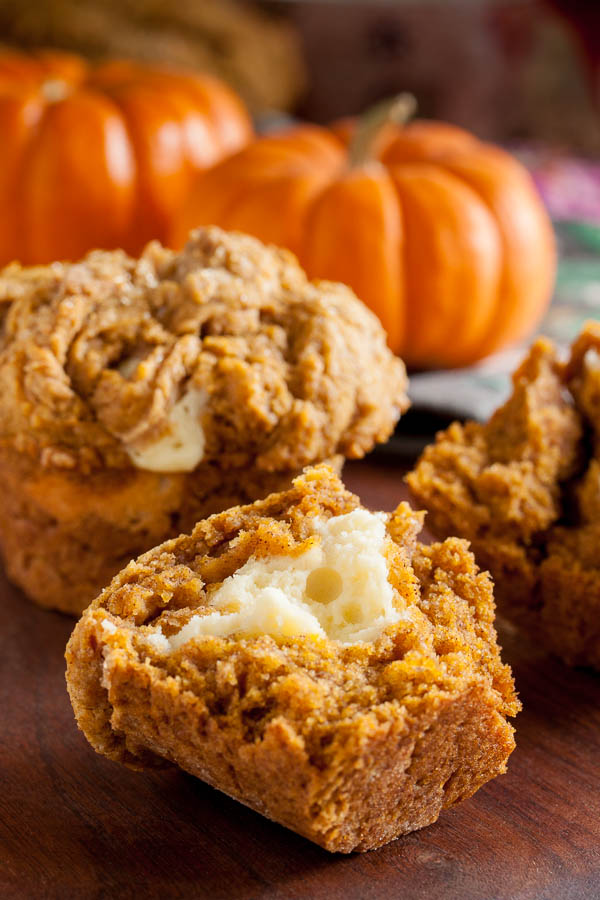 I'm still on the pumpkin love train, and since I needed to bake some muffins this week, I decided to turn to pumpkin yet again. I've done two recipes now that combine pumpkin and chocolate (delicious!), so I wanted to switch it up and try something else this week. What else works with pumpkin? If you've ever had pumpkin cheesecake, the answer is obvious.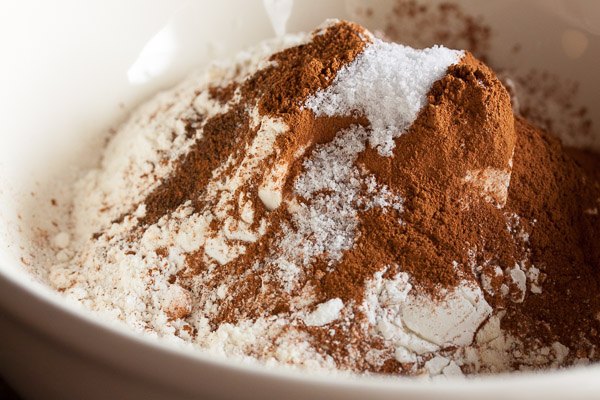 I've had pumpkin cream cheese muffins before, most notably from Starbucks. It really is a great combination, and it's even better when paired with a mocha. Preferably a double mocha. Yum. Look at that. I purposely choose a recipe without chocolate, and somehow manage to find a way to have it with chocolate anyway. Heh.
The recipe I chose to try is actually titled "better than Starbucks". Is it? It's definitely good, but the Starbucks muffin is a different animal altogether, so it's hard to compare. The Starbucks muffin is much sweeter, and the cream cheese centre is soft and gooey, while the cream cheese in this one is blended with egg and flour and bakes up quite firm. BUT, Starbucks muffins have that tell-tale mass-produced flavour and texture.
This muffin contains a lot of oil and pumpkin purée, making it incredibly moist, almost creamy in texture. The texture is really amazingly good. It totally reminds me of a pumpkin pie. Also, while most "pumpkin spice" treats are all about the spice and not so much about the pumpkin, this muffin is definitely pumpkin, with the spice being more secondary. I think it could actually stand to have a bit more spice, but it's still good as is, just more subtle than what we're used to.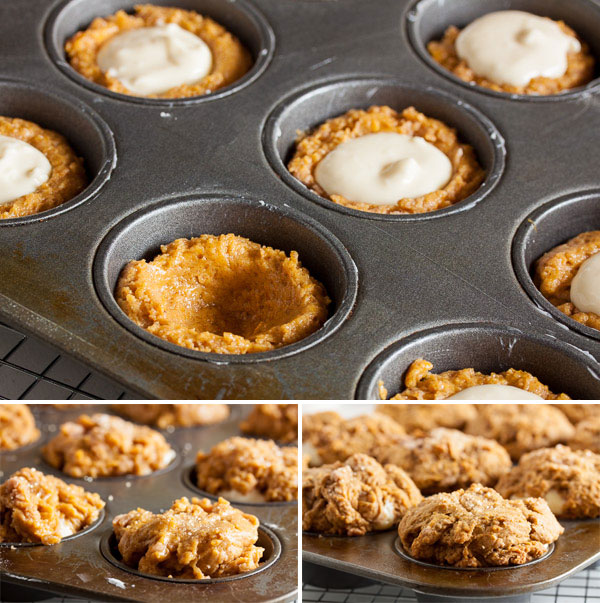 The recipe says to fill the muffin tin with batter and then create a hole in the top to fill with cream cheese. I figured I'd be all clever and hide the filling in the middle and then cover it with more muffin batter. Sounded great in theory, but in reality the cream cheese filling got squished and oozed out the sides a bit. I was expecting the filling to stay creamy (like Starbucks) and worried that the muffin tops would just pull right off, but as I said, the filling actually baked up pretty firmly, and the muffin held together beautifully.
And speaking of the cream cheese filling, I had a lot of excess. I put a little more than a tablespoon in each muffin (which I thought was a lot), but I still had almost 1/4 cup of filling left over. So don't be shy with the cream cheese.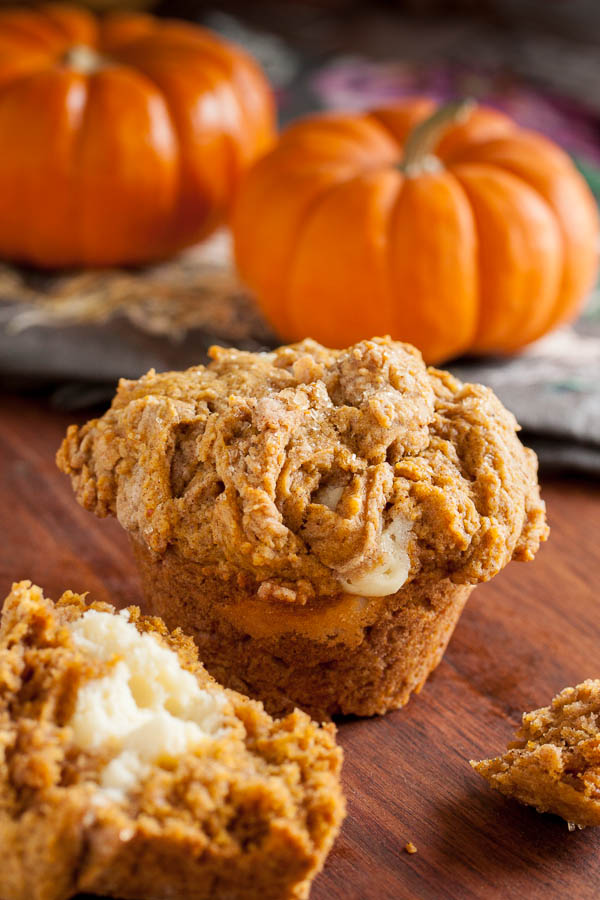 pumpkin cream cheese muffins
Adapted from Dinner with Julie. The recipe says it makes 1-1/2 dozen muffins, but I got 1 dozen good-sized muffins using my usual muffin batter scoop. I guess it's up to you how big you want to make them.
ingredients
3 cups all purpose flour
1 tablespoon cinnamon
1/2 teaspoon nutmeg
pinch allspice
2 teaspoons baking powder
1 teaspoon baking soda
1/2 teaspoon salt
1 large egg
1 can pumpkin purée (14 ounce / 398 ml)
1 cup sugar
1 cup canola oil
2 teaspoons vanilla
for the filling
6 ounces cream cheese, softened
1/4 cup sugar
1 large egg
2 tablespoons flour
for finishing
demerara or coarse sanding sugar (optional)
Preheat oven to 350°F.
Lightly grease your muffin tin, both inside and along the top edge. I usually use a silicone pastry brush and a bit of vegetable shortening. It just takes a few seconds. Alternately, you could just use paper liners.
For the filling, cream together the cream cheese, sugar, egg, and flour. This can be done by hand or with a mixer. Set aside.
In a large mixing bowl, combine flour, baking powder, baking soda, salt, and spices. Whisk together well and set aside.
In another bowl or a large measuring cup, lightly beat the egg. Add the pumpkin purée, sugar, oil, and vanilla, and whisk to combine.
Pour the wet ingredients over the dry, and gently stir together until just blended. It's okay if there are still some streaks of flour – with muffins, undermixing is always better than overmixing.
Using a large spoon or ice cream scoop, portion the batter into the muffin tin. Using the handle of a wooden spoon, make an impression in the top of each muffin and add a spoonful of the cream cheese mixture. Sprinkle the tops with demerara sugar.
Bake for about 25 minutes, rotating the pan halfway through the baking time, until a toothpick inserted in the centre of a muffin comes out clean. Allow to cool on a wire rack for about 5-10 minutes before removing from the muffin tin.