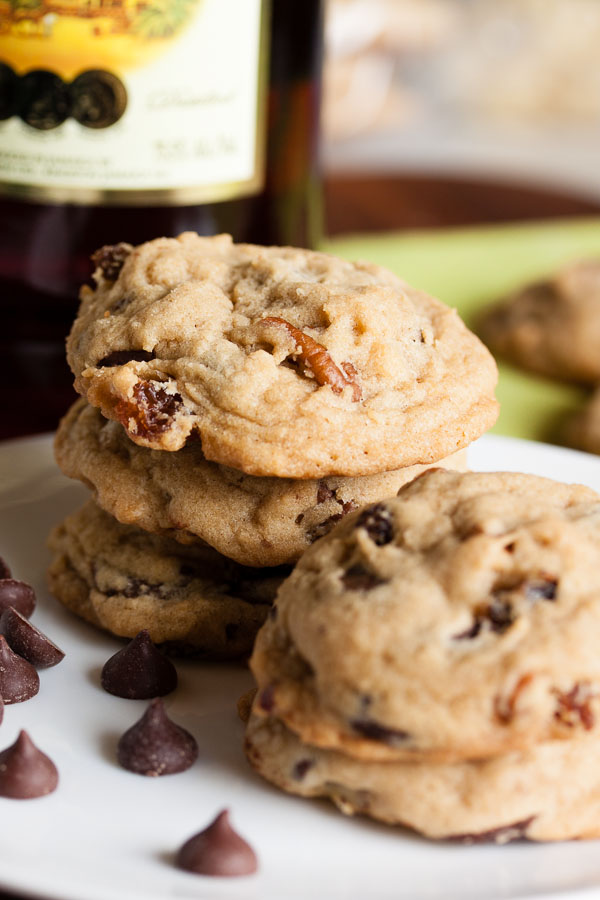 Who here loves raisins?! I can almost hear the big resounding "ewwwwww!" Okay, wait, wait – come back. I know you're not going to believe this, but this cookie is NOT the raisin cookie we all know and (apparently) hate. For one thing, the raisins are soaked in dark rum. For SIX HOURS. Picture that. Sound more promising? And that's just the beginning…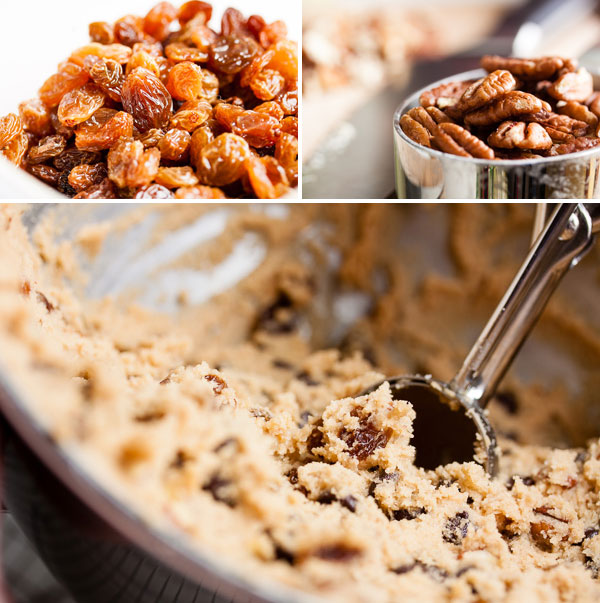 As if soaking in dark rum for SIX HOURS isn't enough, then the flavor is bumped up even more with the addition of rum extract. Is that enough? What if we add crunchy pecans? No? How about a LOT of semi-sweet chocolate chips? Thaaaat's more like it…
I've heard more than one person complain that they hate raisins. I'm not a big fan, I'll admit, but I don't hate them. I keep them on-hand for a chickpea tagine recipe I like to make. And Whole Foods makes a killer oatmeal raisin cookie. But often when I run into a recipe calling for raisins, I'll substitute dried cranberries instead. This recipe, however, intrigued me. I came across it when I was looking up last week's recipe, and I haven't been able to stop thinking about it. All those flavours together sounded fantastic – rum, pecans & chocolate.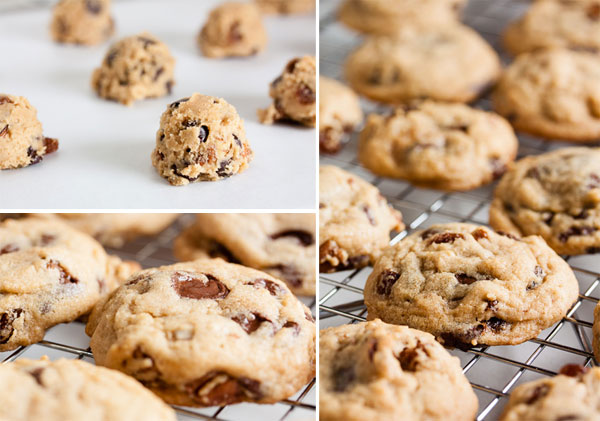 It reminded me of a recipe I have for chocolate banana bread made with dark rum that's absolutely amazing. The flavours all work so beautifully together. And that's what I was imagining when I read this cookie recipe.
The recipe calls for dark raisins and dark rum, both of which are less sweet than their lighter-coloured counterparts. If a package is labelled simply "raisins", it's probably dark raisins (they're the most common variety in the US). Unfortunately, I didn't have dark raisins, only sultanas. I've never done a side-by-side taste test of the two, but I figured it wasn't worth a run to the store to get the correct ones. It's not going to be bad, just different.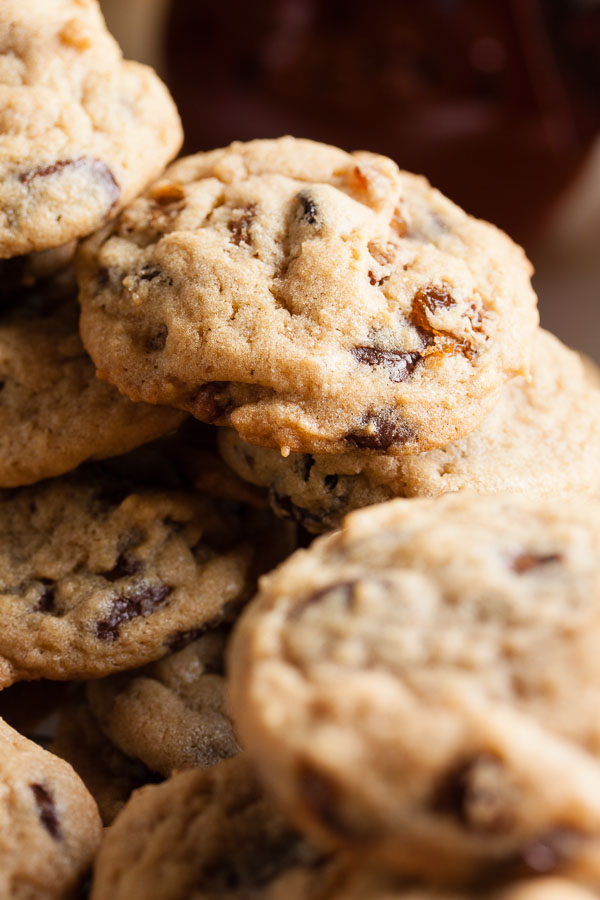 I had to take a bit of a leap of faith with this recipe. The ingredients list includes chopped pecans, but there's no mention of them in the instructions. So… one of those is obviously a mistake. Should they be there or not? Don't know. Sounds good though, right? So I kept them in.
In the end, this cookie is soft and dense and chewy and tastes like RUM and chocolate. Very much rum. The raisins provide an occasional burst of sweetness, but I think they're primarily there as a vehicle for the rum. The pecans are a good addition, giving a bit of crunch to contrast the softness. I ate three of them before they'd even cooled, so trust me when I say I'm a fan of this cookie.
And yes, okay, raisins, but once they've soaked up the rum, that's really all you taste.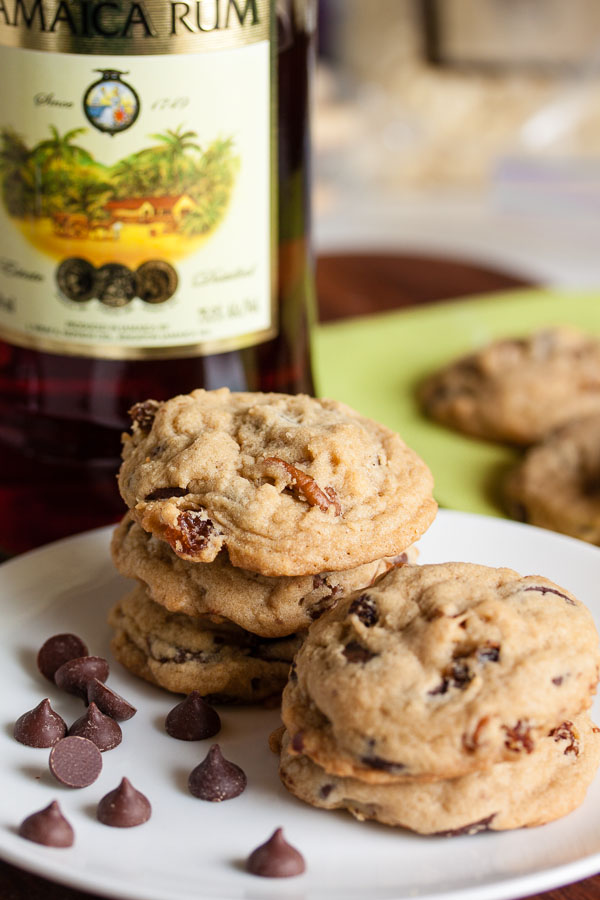 rum raisin chocolate chip cookies
Adapted from The Good Cookie by Tish Boyle. The recipe states it makes 72 cookies when the dough is measured in 2 tablespoon mounds. I got 72 cookies using my usual cookie scoop which is slightly more than a tablespoon (maybe 1-1/4?).
ingredients
1 cup dark raisins
1/4 cup dark rum
2-1/2 cups all-purpose flour
1 teaspoon baking soda
1/2 teaspoon salt
1 cup unsalted butter, slightly softened
1 cup firmly packed dark brown sugar
3/4 cup granulated sugar
2 large eggs
1 tablespoon vanilla extract
1/4 teaspoon rum extract
3/4 cup pecans, coarsely chopped
2 cups semisweet chocolate chips
In a small bowl or plastic container with a tight-fitting lid, combine the raisins and rum. Cover and let soak together for at least six hours, or overnight.
When ready to bake, preheat oven to 350°F.
In a medium bowl, whisk together the flour, baking soda, and salt. Set aside.
In the bowl of a stand mixer fitted with the paddle attachment, beat the butter and sugars together on medium speed until light and fluffy, about 3 or 4 minutes. Scrape down the sides of the bowl and add the eggs, one at a time, beating well after each. Add the vanilla and rum extract and beat again to incorporate.
Turn the mixer down to low and add the dry ingredients, mixing until just barely combined. Remove from the mixer and add in the chocolate chips, chopped pecans, and raisins (including any excess rum) either with a spatula or by hand. I prefer to knead inclusions in by hand to ensure they're distributed evenly.
Cover the bowl with plastic wrap and let rest for about 10 minutes.
Using a small cookie dough scoop or a tablespoon, portion the dough onto the baking sheets about 2 inches apart to allow for spreading.
Bake for about 9-11 minutes, until the edges begin to brown but the cookies are still soft, rotating the baking sheet halfway through the baking time. Allow to cool on a wire rack for a few minutes before removing the cookies from the pan and allowing them to cool completely.