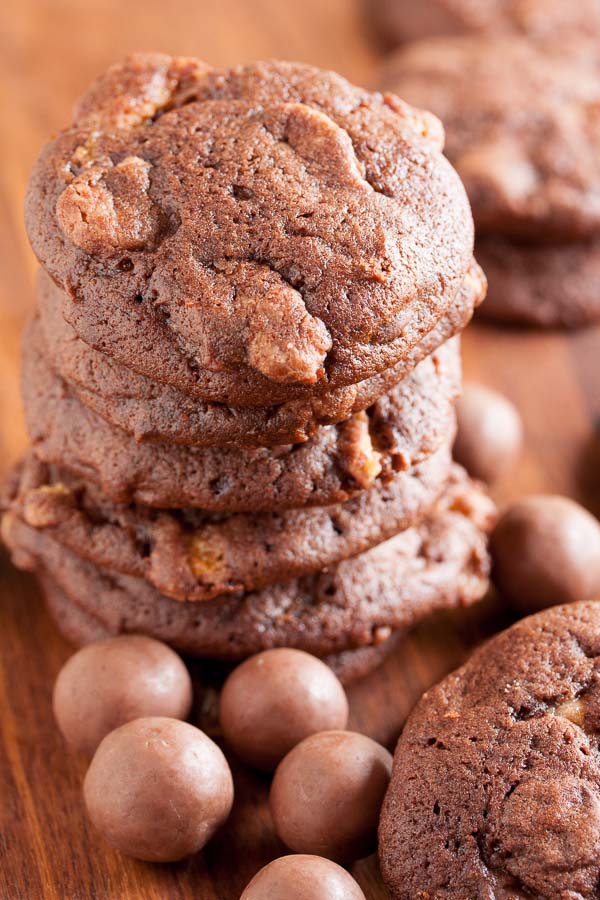 When I was a kid, I'd heard of malted milk and chocolate malteds, but I'd never had one. I always imagined it was some sort of fancy milkshake or something. Of course I'd had chocolate malt balls (YUM) and robins eggs (also yum!) – I always loved those treats. Occasionally I'd get one of those awesome milk cartons full of Whoppers for Christmas – that was the best when I was a kid! But I never made the flavour connection between "malted milk" and "chocolate malt balls". Duh. And it wasn't until I was trying to come up with a homemade frappuccino recipe that I first bought some Ovaltine and discovered what it was all about. Have I mentioned "yum"? Yum.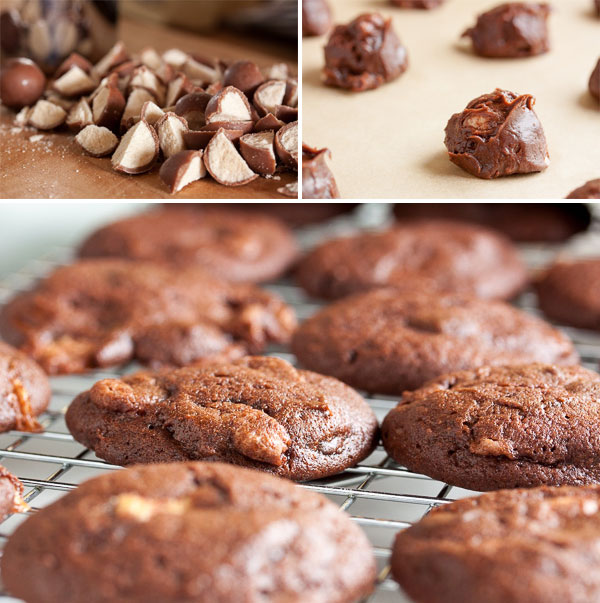 Malt is a great flavour on its own, and combined with chocolate it's even better. They do wonderful things for each other. And this cookie has lots of both – cocoa powder and malted powder in the cookie, plus both chocolate chips and chocolate malt balls added. Layer upon layer of flavour, all of it good. Don't expect a deep chocolate-y flavour, though. These are sweeter and milkier, more like a really good chocolate milk.
This cookie dough is really soft, with a texture more like a chocolate frosting. The cookies spread out quite a bit as they bake, and the resulting cookies are also really soft. They actually stuck together a little bit in the cookie jar.
If you like Whoppers, you're going to love this cookie. I got lots of compliments and requests for the recipe, and one of my coworkers who said she's not generally crazy about chocolate cookies (whaaaaaaaat??) had to know what was in these that made them so good.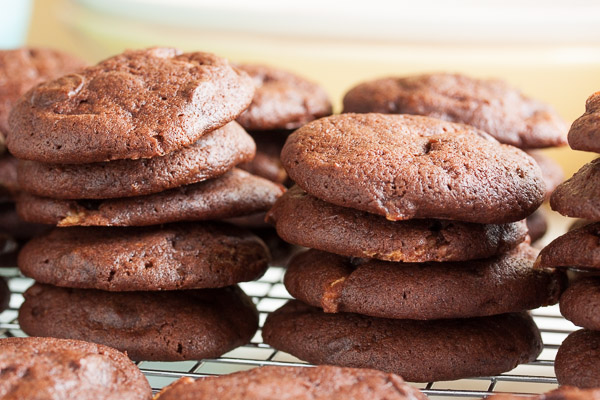 I actually bought the Whoppers to make these cookies weeks ago, but the weather turned way too hot way too quickly, and there was no way I was going to be baking a thing. Amazingly, I restrained myself and the bag remained unopened on my counter. Willpower, right? Well, it may have had something to do with the freezer full of popsicles distracting me. Mmmmmm…
But finally we had a bit of a break from the heat, and even some rain! Good thing too, given all the wildfires in the province right now. It's pretty scary, to be honest. We get wildfires in BC every summer, but not so often on the coast. We're classified as a rainforest for goodness sake! Not this summer, though. And it looks like it's going to be a long, dry, hot summer. I think you can look forward to a lot of popsicle and no-bake recipes this year.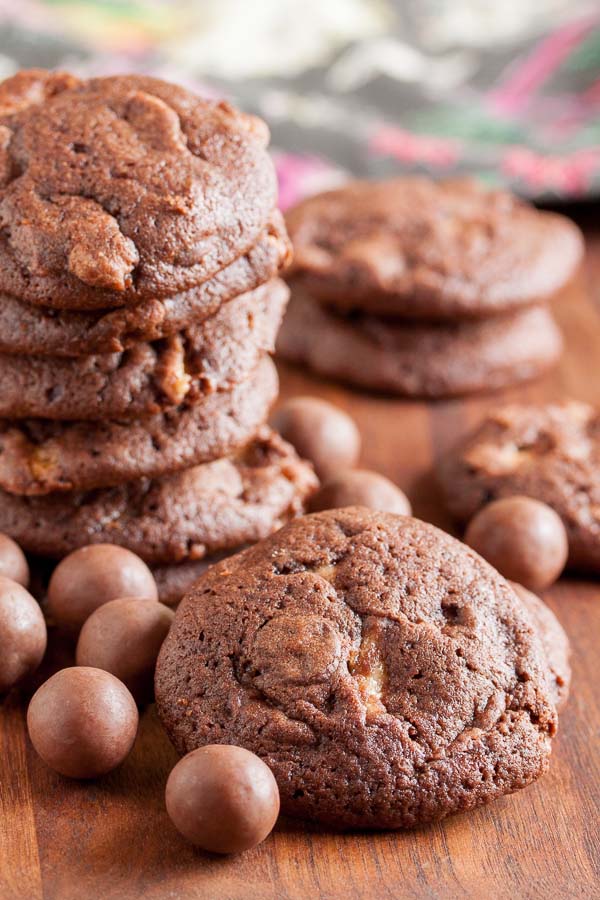 chocolate malted whopper cookies
Adapted from Dorie Greenspan's "Chocolate Malted Whopper Drops" from Baking: From My Home to Yours. The recipe says it will make about 30 cookies, but I got 62 using a slightly larger than tablespoon-sized scoop.
ingredients
1-3/4 cups (220g) all-purpose flour
1 cup (120g) malted milk powder (or Ovaltine, regular or chocolate)
1/4 cup (30g) unsweetened cocoa powder
1-1/2 teaspoons baking powder
1/4 teaspoon salt
1/2 cup + 3 tablespoons (11 tablespoons/154g) butter
2/3 cup (134g) sugar
2 large eggs
1 teaspoon pure vanilla extract
1/4 cup (60mL) whole milk
2 cups (250g) chocolate covered malt balls, coarsely chopped (like Whoppers or Maltesers)
1 cup (175g) chocolate chips or chunks
Preheat oven to 350°F.
In a medium bowl, whisk together the flour, malted powder, cocoa powder, baking powder, and salt. Set aside.
In the bowl of a stand mixer fitted with the paddle attachment, beat the butter and sugar together on medium speed until light and fluffy, about 3 or 4 minutes. Scrape down the sides of the bowl and add the eggs, one at a time, beating well after each. Add the vanilla and beat again to incorporate.
Turn the mixer down to low and add half of the dry ingredients, mixing until just barely combined. Add the milk, mix until just combined, and then the remaining dry ingredients, beating again until just combined. Remove from the mixer and fold in the chopped chocolate malt balls and chocolate chips with a spatula. Normally I prefer to knead inclusions in by hand to ensure they're distributed evenly, but this dough is really soft – almost like a frosting.
Using a small cookie dough scoop or a tablespoon, portion the dough onto the baking sheets about 2 inches apart to allow for spreading.
Bake for about 11-13 minutes, rotating the baking sheet halfway through the baking time. Allow to cool on a wire rack for a few minutes before removing the cookies from the pan and allowing them to cool completely.