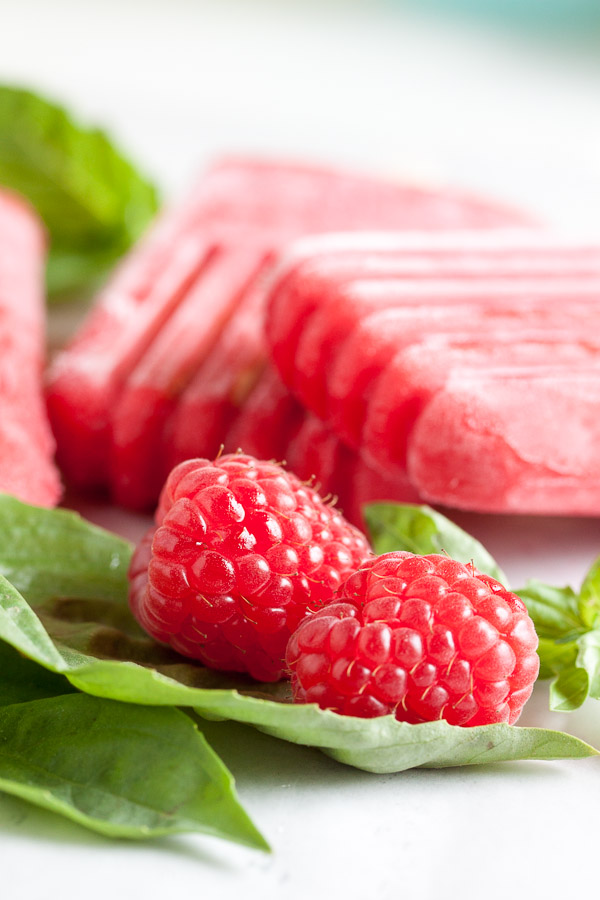 I'm still visiting the farmer's market every weekend, and I just can't say no to all of the lovely, plump berries in season right now. We're nearing the end of the strawberries, but the raspberries still seem to be going strong. I'm not the type of person who will sit and snack on them on their own, but I'll happily use them in smoothies or turn them into popsicles.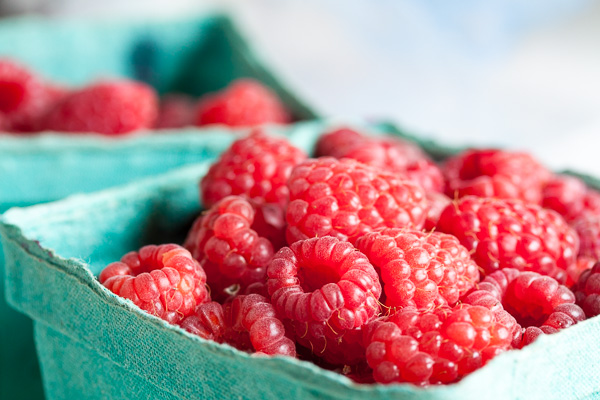 I've mentioned before that there's a fantastic chocolate shop in my neighbourhood that has a lot of really interesting seasonal flavours – like gingerbread caramels, crantini truffles, and coconut-lime eggs – all made with fresh ingredients. One of my favourites is their lemon basil truffle. I had no idea those two flavours would work together, but they offered me a sample one day and I was hooked. It really works. So when I saw this recipe for raspberry and basil? I was absolutely expecting good things. And yes, this popsicle is a good thing.
It's unfortunate that raspberries just don't last long in the fridge once you buy them. If you're the type of person who can sit down with a bowl of raspberries and eat the whole thing, that's not a problem. But I'll maybe have one or two at a time. And before I know it, they're getting mushy. There's a lot you can do with raspberries to make them last beyond the summer – you can straight up freeze them, or make them into jam – but raspberry popsicles is more up my alley. And I like the idea of stocking my freezer with frozen treats in preparation for the summer ahead.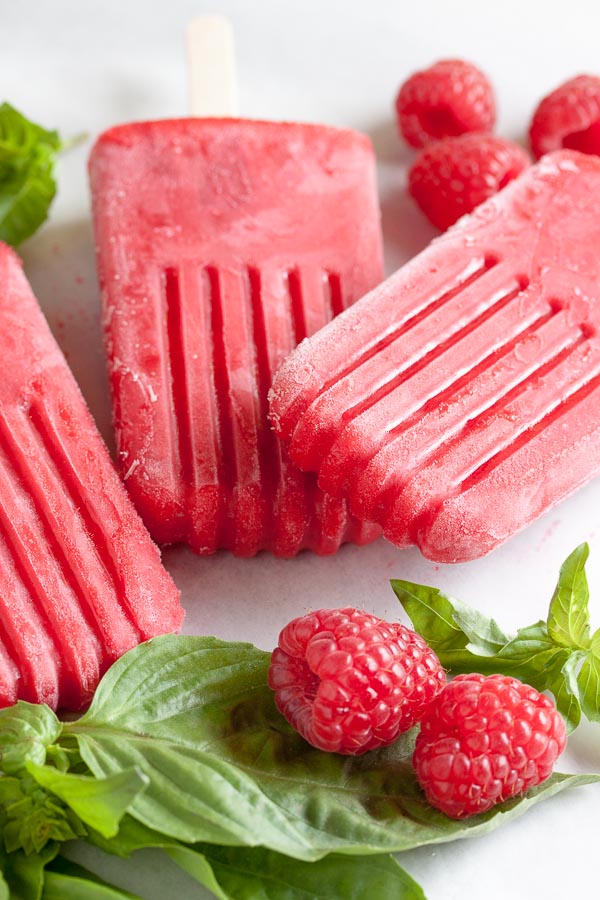 raspberry basil popsicles
Adapted from People's Pops by Nathalie Jordi, David Carrell & Joel Horowitz. Makes about ten 3-ounce popsicles.
ingredients
1 cup (200g) sugar
1 cup (236mL) water
leaves from three 6-inch sprigs of fresh basil
4 cups (about 1 pound / 454g) raspberries
Combine the water and sugar in a small saucepan and stir over medium heat until the sugar has completely dissolved. Add the basil leaves and continue to heat until the liquid begins to simmer. This will just take a few minutes. Remove from the heat and allow the basil to steep while the liquid cools.
Purée the raspberries in your blender until smooth. If you want a super smooth popsicle, you can then strain the liquid through a sieve, but it's really not necessary.
Remove the basil from the sugar syrup, squeezing as much liquid out as possible. Discard the leaves.
Add the sugar to the puréed raspberries, stirring and tasting as you go. You may not need to use all of the syrup you made – it depends on how tart or sweet your raspberries are. You definitely want the mixture to be on the sweet side, as a lot of that sweetness is lost after freezing. Trust your senses.
Pour the liquid into your popsicle moulds and freeze for about 5 hours. Enjoy!