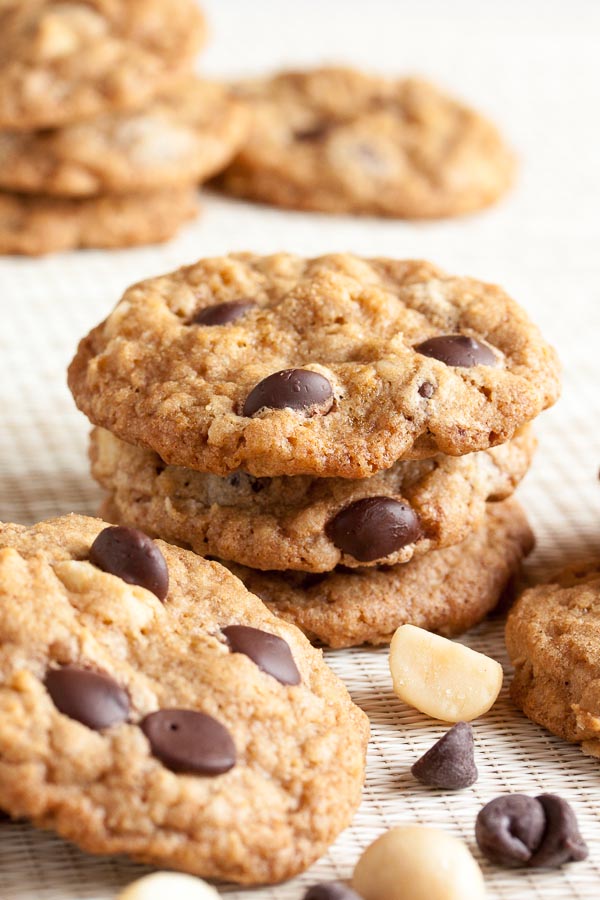 When I made the pumpkin chocolate chip cookies with cranberries and pecans a few weeks ago, I kept getting distracted by the recipe on the facing page. Macadamia chocolate chip cookies. Yum, right? I was this close to making this one instead, but I didn't have enough macadamia nuts. So I added them to my shopping list and made sure I bought some at the first opportunity. I'm so glad I did, because this cookie was worth going out of my way for an ingredient.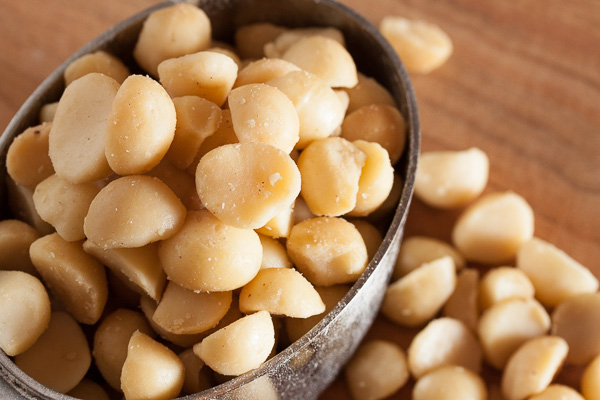 Macadamia nuts aren't an ingredient I usually have on hand. For one thing, they're super expensive, so I only buy them when I need them. I don't run across that many recipes that call for them, and honestly, they're not something I want to keep around for snacking on (soooo fattening).
Well, apparently I overestimated how many macadamia nuts I'd need for this particular recipe (I bought waaayy too many), so stay tuned for another recipe soon so I can use them up! I just need to find one…
These cookies puff up and spread out quite a bit, but they flatten out as they finish baking. The original recipe said to bake for about 25 minutes, but I found that way too long. I ended up baking them for about 17 minutes. That could be because I made my cookies smaller than what they suggested. Or it might have been a typo in the original recipe. Or maybe my ancient oven was too hot. Just keep an eye on them and use your best judgment.
At its heart, this is a really good oatmeal chocolate chip cookie recipe, and the macadamia nuts add a beautiful buttery crunch. And of course macadamia nuts are a great combination with the chocolate (we've all had those chocolate covered macadamia nuts from Hawaii, right?).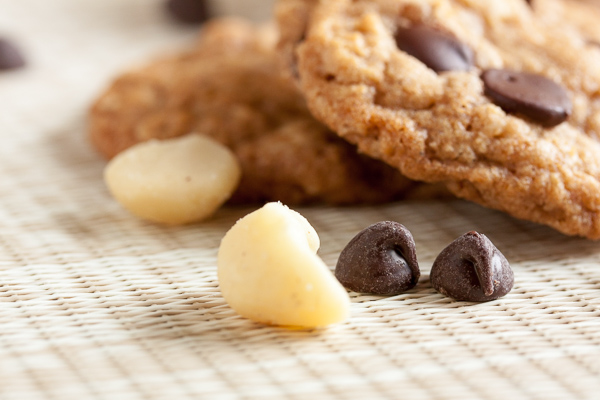 macadamia chocolate chip cookies
Adapted from Tate's Bake Shop: Baking For Friends, by Kathleen King. The recipe says it will make about 42 cookies, but I got 70 cookies using my usual slightly larger than tablespoon-sized cookie scoop. The original recipe specified salted butter, but I made them with unsalted and they turned out great. I'm sure either one will be fine.
ingredients
1-3/4 cups (220g) all-purpose flour
1-1/2 cups (150g) old-fashioned rolled oats
1 teaspoon baking soda
1 teaspoon salt
1 cup butter (227g), at room temperature
1-1/4 cups (275g) firmly packed dark brown sugar
1/2 cup (100g) granulated sugar
2 large eggs, at room temperature
1-1/2 teaspoons pure vanilla extract
1-1/2 cups (262g) semisweet chocolate chips
1 cup (150g) coarsely crushed or chopped macadamia nuts
Preheat oven to 325°F.
In a medium bowl, whisk together the flour, rolled oats, baking soda, and salt. Set aside.
In the bowl of a stand mixer fitted with the paddle attachment, beat the butter and sugars together on medium speed until light and fluffy, about 3 or 4 minutes. Scrape down the sides of the bowl and add the eggs, one at a time, beating well after each. Add the vanilla and beat again to incorporate.
Turn the mixer down to low and add the dry ingredients, mixing until just barely combined. Remove from the mixer and add in the chocolate chips and macadamia nuts, either with a spatula or by hand. I prefer to knead inclusions in by hand to ensure they're distributed evenly.
Using a small cookie dough scoop or a tablespoon, portion the dough onto the baking sheets about 2 inches apart to allow for spreading.
Bake for about 20-25 minutes, until lightly golden brown, rotating the baking sheet halfway through the baking time. I ended up baking them for just 17 minutes, so keep an eye on them. Allow to cool on a wire rack for a few minutes before removing the cookies from the pan and allowing them to cool completely.