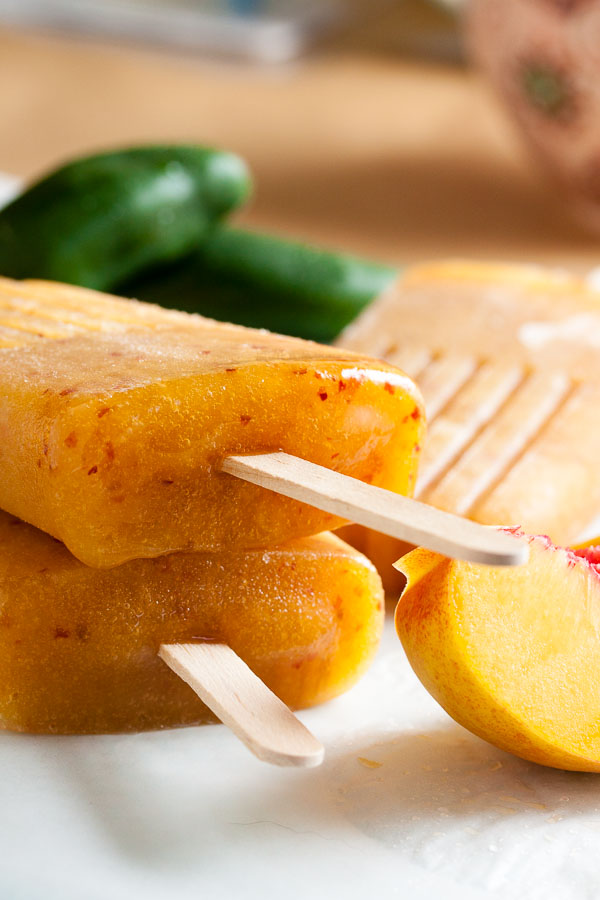 A bit of heat in an otherwise sweet treat is a beautiful thing, like jalapeño jelly, and chocolate cookies with fresh grated ginger. Even mango salsa, although technically I guess that's a hot dish with a bit of sweetness. I remember my old English teacher telling me about her time living in Mexico, and one of her favourite things was oranges with hot sauce injected into them. So of course I had to try one – trust me, it's a treat! I've even been known to dip pieces of chocolate in salsa – don't mock, it's good! So when I saw this recipe for peach jalapeño popsicles, I was ready for something amazing. We're right in the middle of peach season here, so the timing couldn't be better.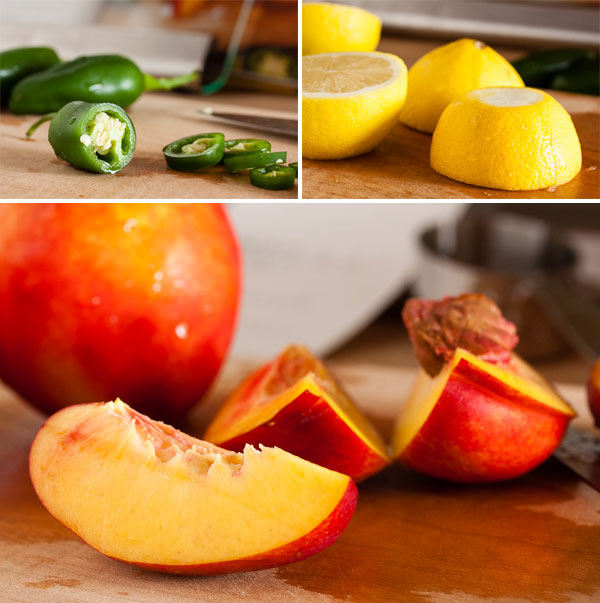 A word of warning. The original recipe didn't say anything about what size of jalapeño to use. And me, wanting to ensure the jalapeño flavour didn't get lost altogether, I picked a big one. And the original instruction is to simmer the pepper for 5-10 minutes in the sugar syrup, and of course I chose to simmer for the full 10 minutes. Yeah, I ended up with jalapeño popsicles with a hint of peach. Sigh.
So back to the drawing board for me.
Unfortunately, I used up all my peaches on my first attempt at this recipe, so I had to use my nectarines for the second attempt. But that's just fine. Other than the fuzzy skin, they're apparently practically the same thing! (lies – I actually prefer nectarines). Seriously, nectarines are actually a type of peach. Neat, huh? So for the purposes of this recipe, nectarines will work just fine.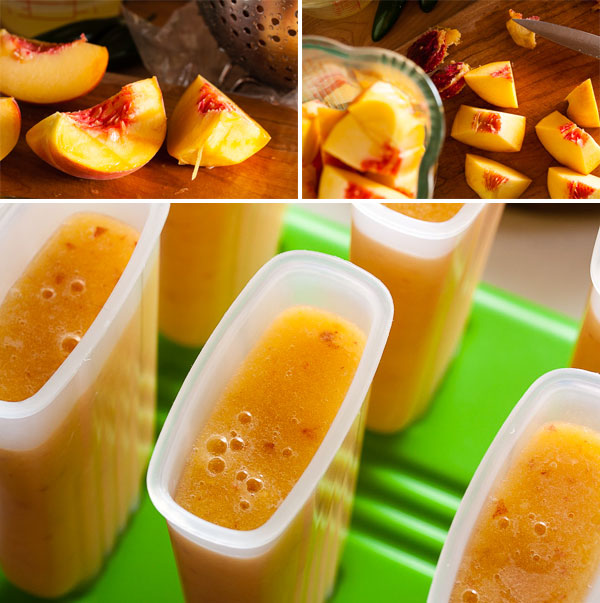 Second time around, I used a much smaller jalapeño and I brought the syrup to a simmer and removed the peppers pretty much immediately after that. The sugar syrup still had a very pronounced flavour, but it no longer overpowers the flavours of the fruit. This is a much better balance. Sweet and fruity with just a bit of a bite. Perfect.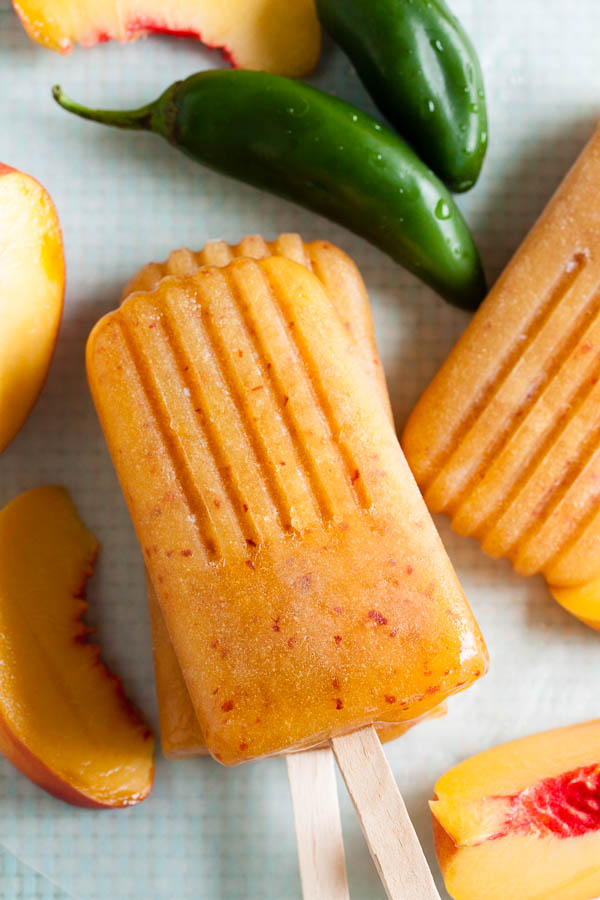 Adapted from People's Pops by Nathalie Jordi, David Carrell & Joel Horowitz. Makes just over six 3-ounce popsicles. I think I got 7-1/2 out of this recipe.
Note: In my experience, the best way to cut a peach or nectarine is to cut around the pit, much like with an avocado. Go all the way around the fruit, stem to base, and then again to form 4 wedges. Then just angle your knife between the wedges and they'll pop right off the pit. You'll get all the fruit with no waste!
ingredients
1-1/4 pounds fresh peaches (about 4 or 5 tennis ball sized)
3/4 cup sugar
3/4 cup water
1 small jalapeño pepper, thinly sliced
2 tablespoons fresh lemon juice
If your peaches are ripe and juicy, go ahead and quarter them for the blender. If not, you'll want to roast them to bring out their flavour.
Preheat your oven to 350°F. Cut the peaches in half, rather than quarters. Place them cut side down on a baking sheet, and bake for about 20 minutes – until the skins and flesh have softened. Remove from the oven and allow to cool.
Combine the sugar and water in a small saucepan and stir over low heat until the sugar has completely dissolved and the liquid is clear. This will just take a few minutes. Add the sliced jalapeño and increase heat to bring to a simmer. The original recipe said to simmer for 5-10 minutes and then allow to rest off-heat for several minutes before removing the jalapeño. I found that too strong, and removed the jalapeño from the sugar syrup immediately after it reached a simmer, and then allowed the syrup to cool. You should end up with about 1 cup of sugar syrup.
Combine the peaches and lemon juice in your blender and purée. You can make it as smooth or chunky as you like.
Transfer the puréed fruit to a large measuring cup or a bowl with a pour spout. Add the sugar syrup and stir well to combine. Taste it at this point – it should be sweet and fruity with a bit of heat.
Pour the mixture into your popsicle moulds and freeze for about 5 hours. Enjoy!