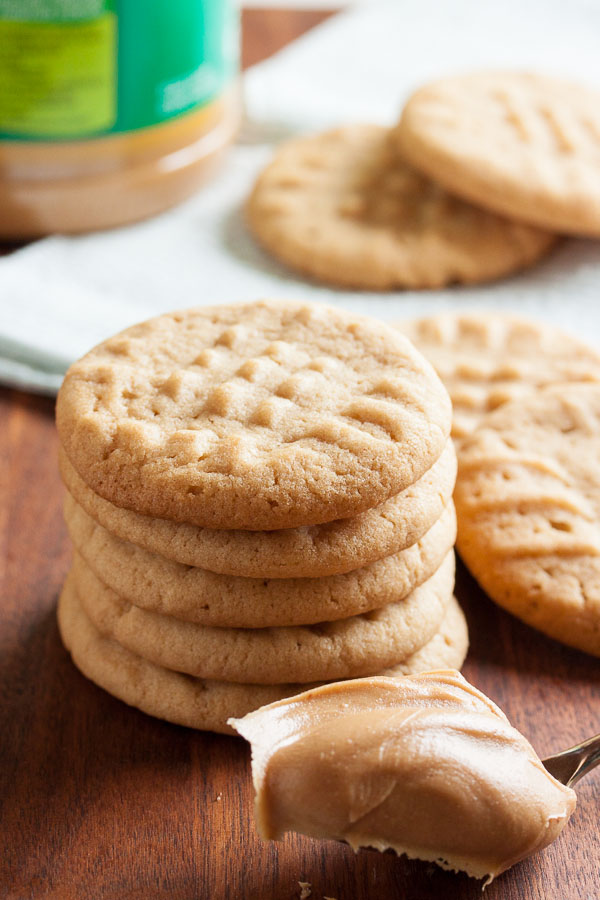 I've made a lot of peanut butter cookies in the past few years, but I'm not hearing any complaints. I think I could bring peanut butter cookies in every week and I still wouldn't hear complaints – it's a cookie everyone is always happy to see. And luckily there are a lot of variations out there, so I don't think we'll be running out of recipes any time soon. Whether it's a crisp peanut butter cookie, or a soft one, whether it's got crunchy nuts or chocolate chips added, or is just plain peanut butter like this one – it's all good.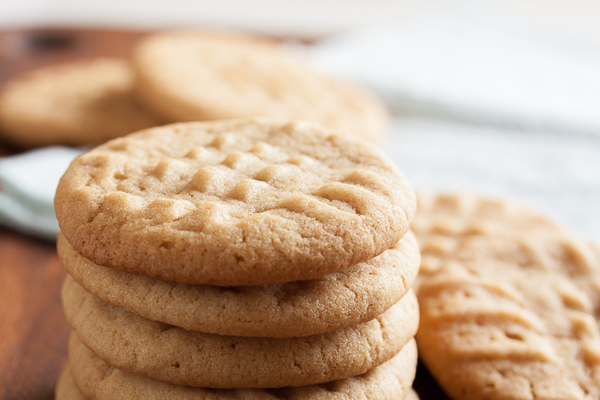 The dough for this cookie is soft and fluffy, almost like a thick frosting. And with 2 eggs, plus both baking powder and baking soda, they spread out and puff up quite a bit as they bake. Then they drop back down, making them dense and chewy.
The recipe says to bake for just 10 minutes, or until they begin to colour around the edges. Mine didn't show any colour at 10 minutes, so I left them in until they did – about 13 minutes. After they'd cooled a bit, they were a little crunchy around the edges (nice!), but still soft and chewy overall. In my experience, cookies like this are generally softer the next day. These cookies, however, got crunchier. Still a good cookie (I'm a fan of crunchy cookies), but they didn't have the soft texture promised. Totally my fault. So don't look for a lot of colour before you pull them out of the oven. Once they begin to brown, you've gone too far. Once again – they'll still be good, just not a soft peanut butter cookie.
I really like this cookie. I think it would be absolutely perfect sandwiched with some banana ice cream, then drizzled with a bit of chocolate. Oh yeah. My recommendation is to bake them now before it gets too hot, and freeze some for ice cream sandwiches in the summer.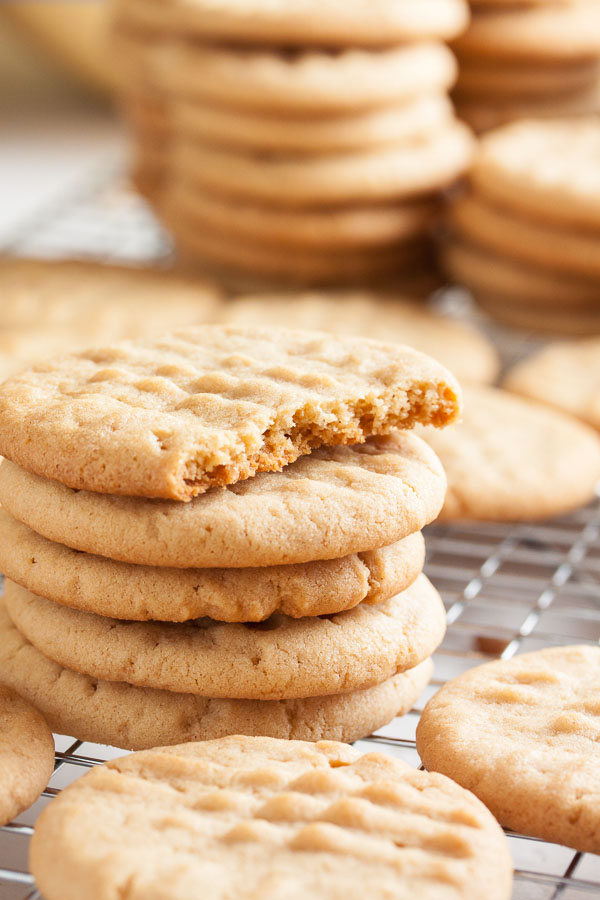 chewy peanut butter cookies
Adapted from The Sweet Melissa Baking Book by Melissa Murphy. The original recipe says it will make 2 dozen cookies – I doubled the recipe and got 74 cookies. I'll assume I rolled my balls a little smaller than they did.
ingredients
2-1/2 cups (312g) all-purpose flour
1 teaspoon baking powder
1-1/2 teaspoons baking soda
1/2 teaspoon salt
1 cup (227g) unsalted butter, at room temperature
1 cup (200g) granulated sugar
1 cup (220g) firmly packed light brown sugar
1 cup (250g) smooth peanut butter
2 large eggs
Preheat oven to 325°F (165°C).
In a medium bowl, whisk together the flour, baking powder, baking soda, and salt. Set aside.
In the bowl of a stand mixer fitted with the paddle attachment, beat the butter, sugars, and peanut butter together on medium speed until light and fluffy, about 3 or 4 minutes. Scrape down the sides of the bowl and add the eggs, one at a time, beating well after each.
Turn the mixer down to low and add the dry ingredients, mixing until just barely combined.
Form the dough into small balls and place about 2" apart on a baking sheet – these cookies will spread out quite a bit as they bake. Press the balls down slightly with the tines of a fork.
Bake for about 10 minutes, until just barely beginning to brown around the edges, rotating the baking sheet halfway through the baking time. If you over bake these cookies, they'll end up crunchy rather than chewy – still a good cookie, but not necessarily the texture you want. Allow to cool on a wire rack for a few minutes before removing the cookies from the pan and allowing them to cool completely.