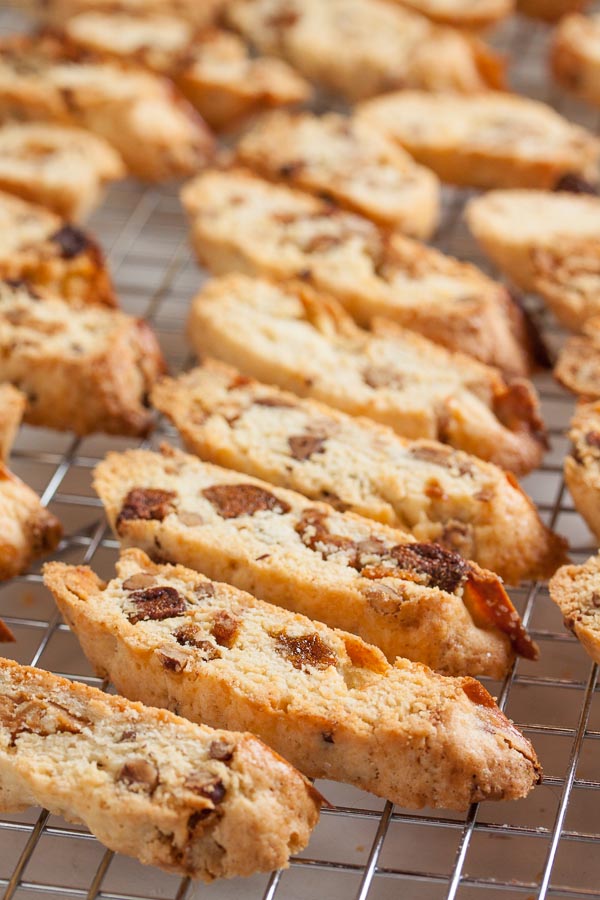 I saw this recipe in one of my cookbooks awhile ago and knew it would be a perfect summer cookie. Lovely crispy biscotti with tropical flavours, including pineapple? Yum! So I've been holding off on making it, waiting for sunny days. As we head into summer proper, though, my kitchen gets hotter and hotter, and less and less a place I want to be spending a lot of time. And turning on the oven? Forget about it. So this may be one of the last baking recipes I post for awhile. Unless we have a nice cool rainy weekend – then I'll break out the baking sheets again. Instead, be prepared for a lot of popsicles and no-bake recipes. Everyone loves those, right? Right. But this week was still not too bad temperature-wise, so this week we still get proper cookies.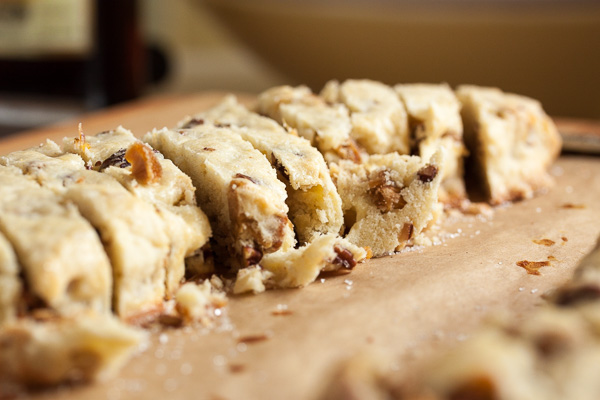 I'll be honest, as excited as I was to try this recipe, I wasn't sure how I felt about them once all was said and done. The best part about biscotti is the crunch, but while these cookies are perfectly crunchy, they have 2 kinds of dried fruit in them, giving them a bit of chew as well. I wasn't too sure I liked the contrasting textures. That didn't, of course, stop me from eating several of them. Trust me, the flavour is great!
My coworkers, however, were crazy about them. And kept coming back for more. I asked what they thought about the fruit in there, and they didn't know why I was even questioning it.
So there you go. If you're lucky enough to have a kitchen that doesn't get too hot in the summer (maybe you have air conditioning, you lucky bum), give this recipe a try. Maybe throw in a bit of coconut too, to make them even more tropical-flavoured!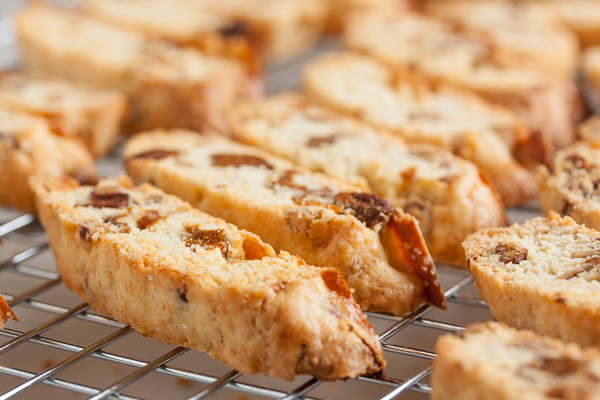 Adapted from Butter Baked Goods by Rosie Daykin. The original recipe says it will make 18 large biscotti when the dough is baked in a single log. I made 4 smaller logs and got 48 small biscotti.
ingredients
2 cups (250g) all-purpose flour
1-1/2 teaspoons baking powder
1/4 teaspoon salt
1/2 cup (113g) unsalted butter, at room temperature
3/4 cup (150g) granulated sugar
2 large eggs
2 tablespoons dark rum
1/2 cup (60g) pecans, toasted and chopped
1 cup dried pineapple (100g), chopped into 1/2-inch pieces
1/2 cup dried apricots (100g), chopped into 1/2 inch pieces
egg wash
1 large egg
2 tablespoons cold water
sanding sugar
for coating (optional)
2 cups (350g) white chocolate chips
2 tablespoons (28g) butter
Preheat oven to 350°F (177°C).
To toast the nuts, spread them in a single layer on a baking sheet and toast them in the oven for approximately 10 minutes, turning them every few minutes or so to cook evenly. Trust your senses – they'll start to smell fragrant when they're ready. You can do this step and then set them aside to cool while you prepare the rest of the ingredients. Once cool, chop them coarsely, or break them up into pieces by hand.
In a medium bowl, whisk together the flour, baking powder, and salt. Set aside.
Once you've chopped your dried fruit, toss it with about a tablespoon of the flour mixture to prevent the pieces from sticking together – just enough to coat them. Set aside.
In the bowl of a stand mixer fitted with the paddle attachment, beat the butter and sugar together on medium speed until light and fluffy, about 3 or 4 minutes. Scrape down the sides of the bowl and add the eggs, one at a time, beating well after each. Add the rum and beat to incorporate.
Turn the mixer down to low and add the dry ingredients, mixing until just barely combined. Remove from the mixer and knead in the nuts and chopped dried fruit.
If you'd like large biscotti, form the dough into a single log, about 18" long and 3" wide and flatten slightly. If you'd prefer smaller cookies (like me!), form the dough into 4 small logs, about a foot long each. You can fit 2 on a cookie sheet. Flatten slightly.
In a small bowl, make your egg wash by whisking together the final egg and the cold water. Brush some of this on each of the logs and sprinkle with the sanding sugar.
Bake for about 25-30 minutes, until the logs are lightly golden and feel firm, rotating the baking sheet halfway through the baking time.
Remove from the oven and allow to cool on a wire rack for about 10 minutes. Once they've cooled, transfer the logs to a cutting board. Using a serrated knife, slice each log diagonally into about 3/4" thick slices.
Transfer the slices back to your baking sheet and bake for another 5-8 minutes. Remove from the oven again, flip the slices over, and bake for another 5-8 minutes. Remove from the oven and allow to cool on a wire rack for a few minutes before removing the cookies from the pan and allowing them to cool completely.
If you choose, you can dip them in or drizzle with melted white chocolate. Personally I'm not a fan of dipped biscotti – I think they're perfect as-is. But if you have a sweeter tooth, gently melt the white chocolate and butter in a double-boiler over low heat (carefully – white chocolate melts quickly). Dip half of each biscotti in the chocolate and then return to the wire rack to set. Alternately, you could use a fork to drizzle the white chocolate directly onto the biscotti on the wire rack.